Gambling in New Brunswick, Canada

Welcome to our gambling guide for New Brunswick, Canada, which will teach you about the various gambling pursuits you can do in this region. This will include the best casino venues, how to gamble online and the laws surrounding all forms of wagering. While Picture Province's gambling landscape is dominated by Casino New Brunswick, the biggest gambling venue in the region, the real money gambling landscape is diverse and includes online casinos, poker and sports betting.
New Brunswick gambling overview
All gambling in New Brunswick is governed by the Criminal Code of Canada, which basically refers the governance back to the specific province.
Residents of New Brunswick have many forms of legal gambling in which they can partake, including visiting several land-based casinos, visiting a local race track, playing bingo, lotto or, of course, partaking in the many forms of online wagering.
Because Canada does not specifically outlaw offshore gambling websites, citizens are legally allowed to play at both websites licensed within their own borders and elsewhere. This means can bet with many of the best betting sites in the world, with these bookies regulated in places like Malta and the United Kingdom.
Canadian betting sites are also available to New Brunswick residents, with these often licensed by a local regulator or the Kahnawake Gaming Commission. There are sportsbook bonus offers available as a perk to those who bet online from New Brunswick.
---
---
Sports betting in New Brunswick
The Atlantic Lottery Corporation runs both regulated land-based and online sports betting options in New Brunswick, with this selection — which includes PRO-LINE Fantasy, PRO-LINE, PRO-LINE Futures and Stadium Bets — rather limited in comparison to what sportsbooks based overseas will offer.
There are obvious pros to betting with a website licensed in Canada — such as SportsInteraction — over an offshore betting site, like peace of mind that you are wagering somewhere safely, and that you're supporting a local business, which pays tax in Canada.
However, if you are like the WGL team, you will prefer to gamble where you can get the best odds and more options. This leaves us with sports betting sites based and licensed in overseas territories, which can sound daunting, but in reality they probably face a higher level of regulatory scrutiny from a body such as the United Kingdom Gambling Commission or the Malta Gaming Authority.
Some of the popular sports Canadians bet on regularly include professional US Leagues like Major League Baseball, NBA and NFL, but there is also great interest in domestic competitions like the Canadian Football League and the 2019-launched Canadian Premier League.
In short, if you are based in Canada, it is perfectly legal to wager with an online gambling website, or gamble at one of the various land based gaming venues..

---
Online casino gambling in New Brunswick
Online casino gambling in Canada can be done at websites licensed in Canada and at offshore online casino sites. What is the difference, you might ask? It just comes down to licensing in the end with similar software available at both offshore and Canadian online casinos including some of the biggest brands in the industry such as Playtech, Microgaming and Net Entertainment.
The games available at online casinos mirror those at land-based casinos, although as a general rule of thumb you will find more varieties of titles at the virtual version. This means you can play blackjack, roulette, baccarat, slots and many other casino games. Some online casinos might even have a total game number of more than 2000 titles.
Without a doubt one of the highlights of the online casino world is live dealer, which is as it sounds, a card game being beamed live on to your computer, TV or mobile device.

---
Lottery in New Brunswick
The New Brunswick Lotteries and Gaming Corporation (which is part of the Atlantic Lottery Corporation), which is governed by the Gaming Control Act, is responsible for lotto games in this province of Canada.
The Atlantic Lottery Corporation (ALC) is jointly owned by the four Atlantic provincial governments which are New Brunswick, Prince Edward Island, Nova Scotia and Newfoundland and Labrador. This arrangement allows the prizes to be bigger because the provinces have shared liquidity.
There are many different weekly and daily draws held by the ALC with tickets available at many retail outlets and off its official website.
The ALC is an important fund-raising tool for many charities, sporting clubs and government organization with profits returned to the provinces.
Lottery draws in New Brunswick have taken a hit, like much of the world, since Lotto betting sites like Lottoland have emerged. Lotto sites like Lottoland are basically bookmakers that allow you to bet on the results of draws. The downside? Lottoland is an offshore company meaning they don't pay taxes in New Brunswick, and the lotto revenue is not going back into the community.

---
Racing in New Brunswick
Saint John has one of the only active horse racing racetracks in New Brunswick, with the sport struggling for support and members in years gone by.
Exhibition Park Raceway in Saint John holds harness racing during the season (May-September). Exhibition Park is more than just a race track with many slot machines, bingo facilities for more than 750 guests and a racebook available for those watching the horses. The facility is open seven days a weeks.
The other race track, which also holds harness racing, is the Fredericton Raceway and Exhibition Centre, which is one of the oldest of its type in Canada. This track houses 150-odd horses, has covered seating for over 1000 and boasts several popular restaurants.
One thing we will say about the race tracks in New Brunswick is that, even though they don't hold the highest class of racing or house the best jockey or top trainers we've come across, they are truly beautiful and well worth a visit.
New Brunswick Horse Racing, which is the official body of the sport in the province, has long been agitating for more support from the local government, but is yet to receive any extra backing of this kind.
While horse racing in Canada is not a huge sport, the fact it exists for betting means it plays an important role in the wagering landscape.

---
Gambling laws in New Brunswick
Under the Criminal Code of Canada, the responsibility to legalize or ban all forms of gambling basically comes down to individual provinces.
To be more precise, Section 207 of the aforementioned code, allows the province to conduct and manage lottery schemes with any law brought in by the sitting government.
This also allows charities, local events and religious organizations to hold fundraisers and events which could be deemed gambling.

---
Gambling venues in New Brunswick
There are numerous gambling venues in New Brunswick of varying sizes and types. Probably the best gambling venue in New Brunswick is the Casino New Brunswick, which regularly tops the revenue list for venues in this region. The best gambling venues in New Brunswick, Canada are:
---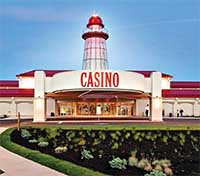 Casino New Brunswick
Address: 21 Casino Drive, Moncton, New Brunswick
Info: Casino New Brunswick has more than 10 different table games and many slots. Is probably the biggest casino in this province of Canada.
---
Eagles Nest Casino New Brunswick
Address: 17 Muwin Lane, Woodstock First Nation, NB E7M 0B1,
Info: Owned by the Woodstock First Nation Economic Development Corporation, this casino has video lottery, bingo, slots, card games and plenty of other events and activities.
---
Grey Rock Casino
Address: 100 Chief Joanna Blvd, Madawaska Maliseet First Nation, NB E7C 0C1, Canada
Info: You will find poker, bingo, many slots and heaps of events happening at this venue. The Totem Rewards Club is also a popular initiative.
---
Saint John Exhibition Park Bingo
Address: 159 McAllister Dr, Saint John, NB E2J 2S6, Canada
Info: Has all-day bingo games on Tuesdays and Sundays and is located in the well-known multi-purpose venue.
---
Fredericton Raceway
Address: 355 Smythe St, Fredericton, NB E3B 1N1, Canada
Info: This venue holds live harness racing and is among the oldest in Canada, having clocked up close to 200 years.
---
St Mary's Entertainment Centre
Address: 185 Gabriel Dr, Fredericton, NB E3A 5V9, Canada
Info: Its claim to fame is that it is the largest bingo centre in Atlantic Canada. Holds real money bingo games every night of the week and is also a large community hub.