The 10 best jockeys in the world
Our updated list of the world's top jockeys in 2022 includes a return to the top 10 for William Buick after a wonderful 2021 and a return to our No.1 spot for the English wizard Ryan Moore.
Frenchman Pierre-Charles Boudot makes way from the top 10, after he was suspended by France Galop in May 2021 because of a rape allegation arising from a party in February. The other jockey to be pushed out of the 10 is Australian Zac Purton, who had another solid year but was beaten to the Hong Kong jockeys' title by the wonderful Joao Moriera.
MORE: Why you should consider the jockey challenge option
Moore landed the Longines World's Best Jockey title for a third time in 2021 adding to his wins in 2014 and 2016. That award is measured on results from what are deemed the top 100 group 1 races in the world, although we like to look more broadly and also reward outstanding performances in major domestic jockeys' premierships. Performances in more important races, of course, still carry greater weight.
Moore was simply outstanding in 2021, with his group 1 wins including the Hong Kong Vase aboard Mogul; the Al Quoz Sprint on Extravagant Kid; Prince of Wales's Stakes on Irish galloper Love; the Diamond Jubilee Stakes on another Irish horse in Dream of Dreams; and the Coral-Eclipse plus the Irish Champion Stakes on French-bred superstar St Mark's Basilica.
Returning to our list of the best 10 jockeys in the world heading into 2022 was William Buick. He had a great year, pushing another young star in Oisin Murphy all the way in the race to be named champion flat jockey of Britain.
Buick also had a wonderful run in big races in 2021, while Murphy won the the champion flat  jockey title for the third consecutive year. Murphy is only in his mid-20s and if he can keep himself in good shape,  he will likely remain on this list for many years to come.
The other newcomer to the top 10 in 2022 is US-based French rider Flavien Prat, who has been around the mark in recent years but stepped up again in 2021 to qualify in our eyes.
Prat was one of the top riders in the US in 2021, but added some cream on the top with his win in the Preakness Stakes aboard Rombauer.
The task of listing the 10 best active jockeys in the thoroughbred world is always fraught with difficulty. How does one compare riders from different jurisdictions? What criteria should be used? Have I forgotten someone obvious to many punters out there? Am I letting the hip-pocket nerve cloud my judgement?
There is little chance of finding consensus among racing fans, and this top 10 list is certain to create more arguments than it solves.
But this is the brief from the powers that be at the World Gambling List, so here are my best 10 hoops, updated for 2022.
---
Also read: 10 best trainers in the world
---
How did we settle on our final list?
Most of those named pick themselves by virtue of their outstanding results. They all boast great strike rates, finish high up in their respective riders' championships and also can step up as needed to compete on the international stage.
But these riders are also set apart by the simple fact they nearly always extract the best out of their mounts. And they seldom make mistakes despite the pressure heaped upon them to make split-second decisions in the heat of battle while steering a 500-odd-kilogram thoroughbred while perched precariously on its back.
These are the riders whose mounts can be bet on with confidence that jockey error won't cost you dearly.
---
1. Ryan Moore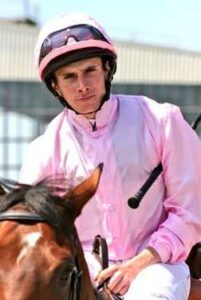 Nationality: English
Home base: Britain
Has gone from strength to strength as the main jockey for legendary trainer Aidan O'Brien's Ballydoyle operation. No matter where he is racing, Moore demands respect from rivals and rarely puts a foot wrong. Like many of these saddle superstars, Moore was born into a racing family, with his father a trainer and siblings Jamie, Joshua and Hayley all riders.
Moore has been champion jockey in Britain multiple times and collected most of the big races including a couple of Derbies. But it has been his success around the world that puts him into the top echelon. In 2014 he even bounced back from disappointment in previous visits to win arguably Australia's biggest two races: the Cox Plate (Adelaide) and the Melbourne Cup (Protectionist). But Moore has also won group 1 races in Ireland, Italy, Germany, the UK, France, the UAE, Japan, Hong Kong, Canada and the US.
---
2. Irad Ortiz, Jr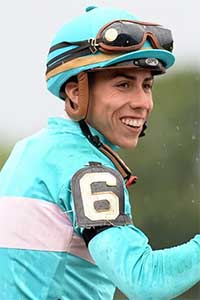 Nationality: Puerto Rican
Home base: United States
Has been on a steady rise up the ranks but has really exploded in the past couple of years. At the Breeders' Cup meeting in 2019, he landed four winners, headed by Vino Rosso in the $US6 million Breeders' Cup Classic. Ortiz's younger brother Jose Ortiz is also a top jockey, while his uncle and grandfather were respected riders. He was born in 1992 so is at an age where he will only improve. Ortiz Jr plies his trade mainly in New York, and collected his first American Classic in the 2016 Belmont Stakes, aboard Creator. He has regularly racked up grade 1 victories since beginning his professional career in 2011.
---
3. Christophe Lemaire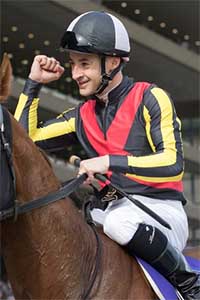 Nationality: French
Home base: Japan
The Frenchman has had such great success in Japan and demands inclusion. Japan racing is among the best in the world, reaping the rewards of long-term thinking which secured the best bloodlines available. It also helps when superstars such as Lemaire choose to ply their trade in the country.  We are always happy to have him steering anything we bet on in Japan or even Hong Kong. Lemaire is the leading jockey in Japan and has made a habit out of winning some of the biggest races in one of the sport's toughest environments. It has taken a fair amount of grind, but he is starting to earn the recognition he deserves on the world stage. He continued his dominance in 2021, winning the JRA title for the fifth consecutive year.
---
4. Frankie Dettori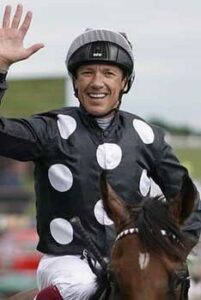 Nationality: Italian
Home base: Britain
Unquestionably the best-known jockey on the planet and his string of wins demands inclusion at or near the top of the list.  After his much publicised split with Godolphin in 2012 as well as a suspension for alleged cocaine use, it would have been easy for Dettori to settle back to a quieter life. Yet he has not and is still riding at close to the peak of his powers at the ripe old age of 50. There may be no repeats of his effort to ride all seven winners on the card at British Champions' Day at Ascot in 1996, but he is still a force to be reckoned with. An all-time great with a kick (and a star jump) left.
---
5. James McDonald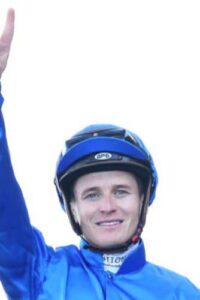 Nationality: New Zealander.
Home base: Sydney
This New Zealander who plies his trade mostly in Australia is a phenomenon. McDonald, who turned 30 in January 2022, dominated the ranks of apprentices and then senior jockeys in his homeland, winning junior titles and two senior titles before the age of 20. McDonald was the first jockey in NZ to ride more than 200 winners in a season. He has already landed titles in the hugely competitive Sydney jockeys' premiership in 2013-14, 2015-16, 2018-19, 2019-20 and 2020-21, and was the No.1 rider for Godolphin in Australia until his career hit a serious hurdle. McDonald was disqualified for 18 months in 2016 for profiting from a bet on one of his mounts. It cost him the retained role with Godolphin, but the good news for JMac fans is he has returned to the saddle as good as ever. He is back at the top of the ranks in Australia and he seems certain to return soon to Europe, where he has already enjoyed success. He added the Melbourne Cup in 2021 aboard Verry Elleegant among another string of group 1 successes for the season. At the peak of his powers.
---
6. Flavien Prat
Nationality: French
Home base: United States
Prat has been on a steady rise since permanently entering the ranks of riders in the United States in 2015. He has been in the top 11 in prizemoney won every year and was fifth on the list in 2021, with a superior strike rate to his rivals. Of course, Prat was a star rider before arrived in America, winning the apprentices' title there as well as group 1 races, and in the US he has already won the hallowed Kentucky Derby in 2019 aboard longshot Country House, which won the race after the wayward Maximum Security, which passed the post first, was disqualified for causing interference. Prat does not turn 30 until mid-2022 and could reach even greater heights.
---
7. Oisin Murphy
Nationality: Irish
Home base: England
The young Irishman is no stranger to controversy but we had to include him despite his chequered history in 2020.  Murphy copped a three-month ban in November 2020 after testing positive for cocaine at a meeting in France earlier in the year. His argument that he had not taken cocaine but had sex with a women who had taken the drug was accepted by the racing authorities in France. Nonetheless, Murphy was the champion flat rider in British racing for the second straight year and made it a hat-trick in 2021. Still only 26, Murphy can speak four languages and boasts Frankie Dettori as a mentor. He claimed his first group 1 win on Aclaim in the Prix de la Foret at Longchamp. Murphy is the first jockey to win three British flat jockey titles in a row since Brian Hughes completed the feat in 2014.
---
8. Joao Moreira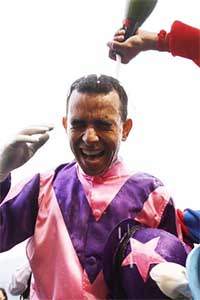 Nationality: Brazilian
Home base: Hong Kong
"The Magic Man" is a Brazilian who has found incredible success in Asia, first in Singapore and then since heading to the racing mecca of Hong Kong, not to mention a hugely successful if short stint in Japan. On Friday, September 26, 2013, he rode eight winners from eight rides on the nine-race card at Kranji racecourse in Singapore. He comes from humble beginnings in Brazil but took Singapore by storm and has become the punters' pin-up boy in Hong Kong, where weight of support from Chinese gamblers makes almost anything he is on among the favourites. He wanted a permanent switch to Japan but failed to secure a full-time Japan Racing Association licence, failing the notoriously difficult written exam. So it's back to lighting up the tracks of Hong Kong and elsewhere for now, adding another jockeys' title in 2020-21.
---
9. Joel Rosario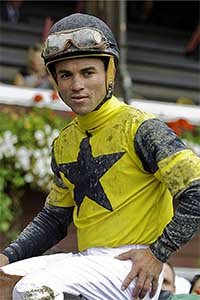 Nationality: Dominican
Home base: United States
Rosario has been among the top six prize-money winners among US jockeys every year for the past 10, which speaks to his remarkable consistency. And probably also to that intangible quality all the riders on this list possess: the ability to effortlessly coax horses to adopt a high cruising speed before they are even asked for the ultimate effort.
Rosario has also brought his quality to many of the big meetings around the world, collecting a World Cup in Dubai and winning at Royal Ascot. Not to mention successes in Breeders' Cup races and in the Kentucky Derby. You know he will never let you down in the clinches; he has 12 siblings so knows what it's like to fight for his share in whatever endeavour he tackles.
---
10. William Buick
Nationality: Norwegian/British
Home base: Britain
Buick is at the peak of his powers and has been destined for the top of the jockey ranks since a young age. His Scottish father Walter was champion jockey in Scandinavia eight times, while mother Maria was an outstanding equestrian rider in show jumping and dressage. Buick holds dual Danish-British citizenship and was sent to Britain early on and rode his first winner as a teen in 2006 at Salisbury. He was apprentice in the powerful Ian Balding stable before linking up with John Gosden and is now retained in Britain, along with James Doyle, by the world's most powerful stable Godolphin. A star of the sport.
---
Scroll to the bottom of the article to join the discussion. Have the World Gambling List's horse racing experts got it right? We'd love to hear from you!
Which jockeys just missed our top 10 in 2022
Honourable mentions to the following jockeys (and there are sure to be others who deserve a mention but we have overlooked): Jose Ortiz,  Damian Lane, Anton Marcus, Damien Oliver, Craig Williams, Jamie Kah, Jim Doyle, Andrea Atzeni, Japanese legends Yutaka Take and Yuichi Fukunaga, Brazilian whiz Silvestre de Sousa, Mike Smith, Mickael Barzalona … the list goes on.
---
Jockeys formerly in our top 10 in the world
John Velazquez
Nationality: Puerto Rican
Home base: New York
Johnny V fits into the veteran category of jockey but sits comfortably in the list of the all-time greats. It's hard to argue against the inclusion of someone who has ridden around 5500 winners with career prizemoney of close to $US400 million. Velazquez was inducted into the US Horse Racing hall of fame in 2012 but has a few years left yet among the top echelon of riders.
---
Hugh Bowman
Nationality: Australian
Home base: Sydney (Australia)
Bowman is a master judge of pace and a true horseman. He has the uncanny knack of getting his horses to settle beautifully over longer distances; indeed, many of his greatest triumphs have come in races such as the Victoria Derby and ATC Australian Derby, where his skill in getting young, inexperienced horses to race truly comes to the fore. It has not always been smooth sailing, but in recent years he has been pushed to greater heights in Sydney with the arrival of the likes of James McDonald. Bowman has landed Sydney jockeys' premierships in 2008-09, 2011-12, 2014-15 and 2016-17 and sits comfortably among the top few jockeys in the highly competitive Australian ranks. He will also forever be remembered as the man steering the mighty Australian mare Winx in her record-breaking feats.
---
Kerrin McEvoy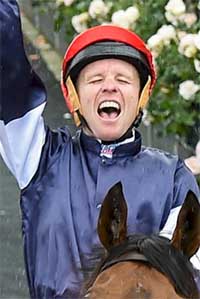 Nationality: Australian
Home base: Sydney
It has become impossible to ignore Kerrin McEvoy's record of consistently finding successes in the biggest races in Australia. The kid from Streaky Bay in South Australia burst on to the scene as a youngster when he won the 2000 Melbourne Cup in Brew, aged just 20. Since then he has added two more victories in Australia's greatest horse race, winning on Almandin in 2016 and Cross Counter in 2018.
Along the way he has had successful stints in Europe as well as being a powerful force in so many of Australia's big carnivals. McEvoy won the first two runnings of the rich The Everest sprint on Redzel. On a personal note he is married to former jockey Cathy Payne, the sister of Michelle Payne, the first female jockey to win the Melbourne Cup (Prince Of Penzance, 2015).
---
Christophe Soumillon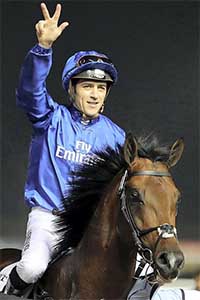 Nationality: Belgian
Home base: France
Born in Brussels in 1981, Soumillon is a regular at the biggest race meetings in the world and rarely leaves empty-handed. He has dominated French racing and also landed some of the biggest prizes elsewhere.
Soumillon once rode five winners on Prix de l'Arc de Triomphe day, including three group 1 races. Many rate him as the best of all, and he is a near certainty on any list of best jockeys.
Another to have teamed with legendary trainer Andre Fabre and risen to the top. He was born into the sport as the son of jumps rider Jean-Marc Soumillon. He is tall for a jockey but his wife, the former Miss France and TV presenter Sophie Thalmann, towers over him at almost six feet tall!
---
Javier Castellano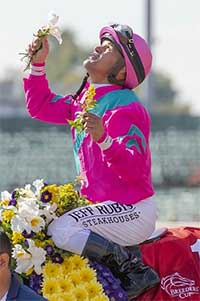 Nationality: Venezuelan
Home base: New York
The Venezuela-born Castellano has been a phenomenon in the US, topping the list for prizemoney earners in 2013, 2014 and 2015 and winning four consecutive Eclipse Award as outstanding jockey. Like so many of the very best riders, Castellano was born into the saddle with his late father, uncle and brother all jockeys. Castellano left Venezuela for Florida in 1997. He's the ice cool rider so at home when the top-grade races roll around. He was added to the US Hall of Fame in 2017 and, as at January 2019, his career mounts had collected prizemoney of more than $US322 million.
---
James Doyle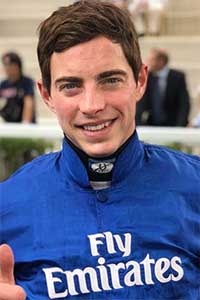 Nationality: English
Home base: Britain
Doyle has been a quality rider for many years. You just know that Godolphin only allow the best horsemen to don the famous blue colours and Doyle has been retained by the giant training operation since 2014. Doyle was also the choice jockey of the Queen at the 2019 Royal Ascot meeting, where he rode Magnetic Charm to a second placing in the Sandringham Stakes.
Doyle has won many group 1 races in England, Ireland, France and Dubai. His mother Jacqueline was a horse trainer and his sister Sophie also rides. Born in 1988, Doyle is at the peak of his powers and is one of the jockeys you want to see steering your horse when the money is on.
---
Maxime Guyon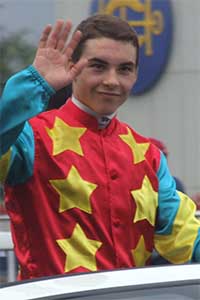 Nationality: French
Home base: France
No less a figure than legendary French trainer Andre Fabre once said of this young rider that he had the ability to be one of the greatest jockeys of all. And Fabre should know. He was a legendary rider himself before becoming even more renowned preparing horses to run fast.
Guyon plies his trade in Europe but made a massive impact during a short stint in Hong Kong, the most competitive of arenas for jockeys. He has wonderfully soft hands and horses seem to settle beautifully for him, and he also never seems overawed whatever the stage. One can expect him to stay among the top of the riding ranks for many years.
---
Pierre-Charles Boudot
Nationality: French
Home base: France
The Frenchman has been a star jockey for a long time but took it to a new level in 2020. Not only did he win the French jockeys' title with 220 winners, but he announced himself on the world stage with two wins at the Breeders' Cup meeting in the United States, in the Breeders' Cup  Filly and Mare Turf (Audarya) and Mile (Order of Australia) after both those horses' original French riders tested positive to  COVID-19. Boudot tied for the French title in 2015, won outright with an astonishing 300 winners in 2016 and finished runner-up in 2017, 2018 and 2019 before hitting the top again in 2020. The son of late trainer Marc Boudot won his first race in 2009 and his biggest win came in the  2019 Prix de l'Arc de Triomphe on Waldgeist. In 2021, however, he was suspended by the French racing authorities over an allegation of rape which relates to an incident at a party at Cagnes-sur-Mer in February, 2021. He has denied the allegation but his case was still pending as at January 2022.
---
Zac Purton
Nationality: Australian
Home base: Hong Kong
Persistence has paid off for this world-class rider, who broke a long winning streak for Douglas Whyte to win the Hong Kong jockeys' premiership in 2013-2014. He then upstaged the great Joao Moreira in a head-to-head battle to win the title again in 2017-2018 and repeated the dose in 2018-19 and 2019-20.
Purton has been consistently among the top riders in the red-hot HK arena for more than a decade after rising through the ranks in Brisbane and then Sydney in the powerful Australian racing scene. Purton is now often called up during the big races in his homeland and competes ably with the best in the world. We always feel confident when Purton is atop the horse we have backed.