Top online poker sites 2023
The online poker scene in regulated gambling markets is largely dominated by several big brands, with these including Pokerstars, 888 Poker and Party Poker. Having said this there is are many more online poker sites servicing various countries around the globe. Our article will highlight the various types of online poker that you can play, plus highlight the best real money poker sites. The best online poker sites for 2023 are:
100% up to the value of $1000
AmericasCardroom.eu is readily available for US poker players and is one of the best non-regulated gambling sites.
Online poker games available
While it will depend on the online poker site you are playing at, there are many different types of poker available to play, with these including the super-popular variations like Texas Hold'em and Omaha, right through to your niche games like Razz and 8-Game Mix. The table limits will available in these variations will also depend on the operator, with the more action happening the bigger the limits.
Texas Hold'em
Texas Hold'em Availability: High
Betting structures available in online Texas Hold'em: Limit, No Limit, Pot Limit
Guides: Texas Hold'em Rules, Texas Hold'em Strategy
The no.1 online poker variation is Texas Hold'em with it readily available at every poker site worth their salt. Texas Hold'em is the traditional game you will find at land-based casinos and easily the most popular version found at online casinos. If you're playing at one of the bigger poker sites, you might find high roller tables with blinds of $100 and $200, with other tables including 1c/2c blinds, 25c/50c blinds and pretty much every table limit you can think of.
Omaha High/Low
Texas Hold'em Availability: High
Betting structures available in online Texas Hold'em: Limit, No Limit, Pot Limit
Guides: Omaha Poker Rules
Probably the second most popular variation of online poker, with it having many similarities to Texas Hold'em. The big difference is that players are given four hole cards in Omaha, instead of two. In Omaha Hi/Lo the pot is divided between the top hand for high and top hand for low, with these judged by the traditional poker hand rankings. Other variations we have seen of Omaha poker include Omaha Eight, which is when you must score an eight minimum to qualify for the low part of the pot.
5 card Omaha
Texas Hold'em Availability: Medium
Betting structures available in online Texas Hold'em: Limit, No Limit
Guides: 5 Card Omaha rules
Both 5 Card Omaha and 5 Card Omaha Hi/Lo are available to play for real money online at respected poker sites, including Pokerstars and 888 Poker. As a general rule, if an online poker operator is busy they will have several different tables of 5 Card Hold'em available, plus regular scheduled tournaments. You're more likely to find a higher-limit game, if you plan in advance and look at the tournament schedule. The gameplay is much like regular Omaha games, but each player is dealt a fifth hole card pre-flop.
6+ Hold'em
Texas Hold'em Availability: Low
Betting structures available in online Texas Hold'em: Limit, No Limit
This is prime example of how poker has adopted to the online realm. 6+ Hold'em is a lot like Texas Hold'em except all cards six and below are taken from the deck. The other key change is everyone posts an ante before a hand. Only the first player after the dealer, the player on the button, is the only one to post a blind. The hand rankings vary slightly, with a flush beating a full-house and an Ace can tap in for a 5, in a 5-9 straight.
7 Card Stud Low or Razz Poker
Razz poker Availability: Medium
Betting structures available in online Texas Hold'em: Limit, No Limit
Guides: 7 Card Stud
Most people have heard of Razz poker, which is an online form of 7 Card Stud Low. This version of poker is all about building the worst possible 5 card hand. Yep you read it right this is a version of online poker where the winner is crowned by having the worst hand. The structure or Razz poker online, is the same as 7 Card Stud except it is played as a "low" game, where the worst hands win. Flushes and straights are losing hands in Razz, with the best possible 5 card hand being 5,4,3,2,A.
7 Card Stud
7 Card Stud Availability: High
Betting structures available in online Texas Hold'em: Limit, No Limit, Pot Limit
Guides: 7 Card Stud
7 Card Stud might not be as popular as it once was, but there are still plenty of loyal players out there. 7 Card Stud is found commonly when playing online poker, with table limits in ring games starting starting, using Pokerstars as an example, from $0.04/$0.08 and going up to $100/$200. There are also daily 7 Card Stud tournaments at most online poker sites. WSOP, which has 7 Card Stud bracelets, runs online satellites for the events in the lead up to the event each year. 7 Card Stud begins with players being dealt two cards face down and one card face up. The player with worst-ranked upcard then pays the "bring-in". The betting then proceeds as normal.
5 Card Draw poker
Razz poker Availability: Low
Betting structures available in online Texas Hold'em: Limit, No Limit, Pot Limit
Guides: 5 Card draw rules
Five Card Draw is not a game that we have found to be common when playing online poker, and even when it is available, the table limits we have found have generally been very low. A quick scan of Pokerstars schedule when writing this article and we did not see any decent 5 Card Draw games on the horizon. In 5 Card Draw you are attempting to make the best five-card hand after one draw, or swapping out cards you don't want. To start, players are dealt five hole cards, before a round of betting; when concluded players can then discard the cards they don't want. There is then another round of betting, with the winner crowned when everyone folds, or it goes to showdown and the best 5 card hand wins.
HORSE
HORSE Availability: Medium
Betting structures available in online Texas Hold'em: Limit, No Limit
HORSE is the ultimate game for those who think they know a thing or two about poker. Hold'em, Omaha, Razz, Seven Card Stud, Seven Card Stud Eight or Better make up the different poker games in HORSE. Online poker sites like Pokerstars have some really competitive HORSE games, with big pots on a weekly basis. You will also find Sit and Go HORSE tournaments at Pokerstars. 888 Poker and Americas Cardroom also have HORSE available.
There are plenty of other version of online poker available in 2023, with many of the top gambling sites having variants like Pai Gow Poker and Caribbean Stud available for real money.
---
Best online poker sites 2023
The World Gambling List loves online poker and we understand the lay of the land. The best online poker sites are clearly some of the bigger brands in the world, such as Pokerstars and 888Poker, but having said this many players will not be able to sign up at these sites because of their location. This means they have to play at poker sites licensed in places like Curacao, Costa Rica and the Kahnawake Gaming Commission. This quick poker sites reviews will help you identify an online poker site for you.
Pokerstars
URL: Pokerstars.com
Player Volume: High
Pokerstars sign up bonus: Yes
Ring games: Yes
Tournaments: yes
Poker Games: Texas Hold'em, 6+ Hold'em, Showtime Hold'em, Omaha High, Omaha Hi/Lo, Pokerstars Fusion, 5 Card Omaha, 5 Card Omaha Hi/Lo, Courchevel, Courcheval Hi/Lo, Seven Card Stud, Seven Card Stud Hi/Lo, Razz (7 Card Stud Low), Five Card Draw, 2-7 Single Draw, 2-7 Triple Draw, HORSE, 8-Game Mix, Badugi.
888Poker
URL: 888Poker.com
Player Volume: High
888 sign up bonus: Yes
Ring games: Yes
Tournaments: yes
Poker Games: Texas Hold'em, Omaha Hi-Lo, Omaha Hi, 7 Cards Stud, Snap Poker, 888 God of the Arena, Blast Poker, Pick'Em8
Full Tilt Poker
URL: FullTilt.com
Player Volume: High
Full Tilt sign up bonus: Yes
Ring games: Yes (Min blinds: 0.01/0.002. Max blinds: 500/1000)
Tournaments: yes
Freerolls: Yes
Poker Games: Texas Hold'em, Omaha, Omaha 8 or Better, Razz, Stud, Stud 8 or Better, Draw Poker, HORSE, Mix Games, Rush Poker
Party Poker
URL: PartyPoker.com
Player Volume: High
Party Poker sign up bonus: Yes
Ring games: Yes (Min blinds: 0.01/0.002. Max blinds: 500/1000)
Tournaments: yes
Freerolls: Yes
Poker Games: Texas Hold'em, Omaha, 7 Card Stud, Pot Limit Omaha, Pot-Limit Omaha Hi-Lo, 7 Card Stud Hi/Lo, Limit Hold'em Blackjack
Coral Poker
URL: Gaming.Coral.co.uk
Player Volume: Medium
Tiger Gaming sign up bonus: Yes
Ring games: Yes
Tournaments: yes
Freerolls: Yes
Poker Games: Texas Hold'em, 6+ Hold'em, 7 Card Stud, Omaha, Omaha Hi/Lo, 5 Card Stud, Razz, casino games.
Unibet Poker
URL: https://www.unibet.co.uk/poker
Player Volume: Medium-Low
UniBet Poker sign up bonus: Yes
Ring games: Yes
Tournaments: yes
Freerolls: Yes
Poker Games: Texas Hold'em, Banzai, Omaha
William Hill Poker
URL: https://poker.williamhill.com
Player Volume: High
William Hill sign up bonus: Yes
Ring games: Yes (Min blinds: 0.01/0.002. Max blinds: 500/1000)
Tournaments: yes
Freerolls: Yes
Poker Games: Texas Hold'em, Omaha, 7 Card Stud, 5 Card Stud, Turbo, Micro buy-ins, Omaha Hi/Lo.
Tiger Gaming
URL: TigerGaming.com
Player Volume: High
Tiger Gaming sign up bonus: 100% up to 100
Ring games: Yes
Tournaments: yes
Freerolls: Yes
Poker Games: Texas Hold'em, 6+ Hold'em, Omaha, 7 Card Stud, 5 Card Stud, Fast Fold Poker, Windfall Poker, Jackpot Poker
How to play real money online poker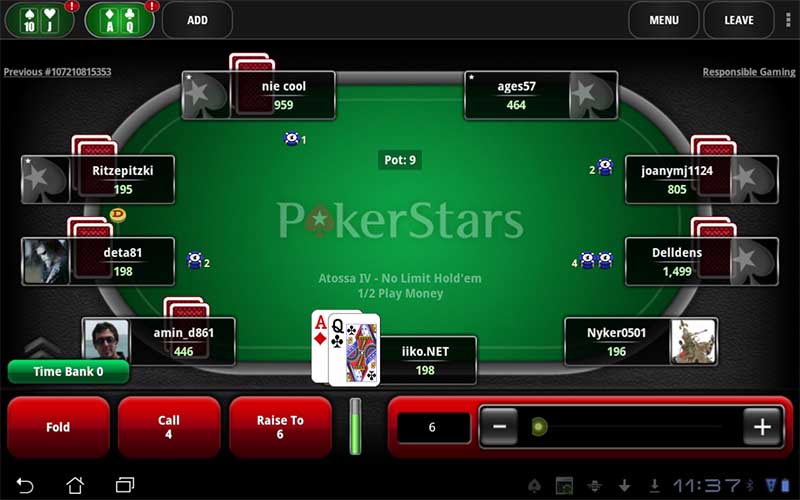 Real money online poker can be played from the comfort of your home, with it one of the most popular gambling pursuits in the world in 2023. How common online poker is will largely depend on the gambling laws in your country. Much of the world is serviced by the big poker companies, we have mentioned on this page, but even if you are in a place which has banned online poker, you will still be able to play, but with a website based in an offshore location.
Choosing a poker site: Online poker can be played at many different sites, you will either be able to play at poker sites like Pokerstars and Party Poker, which are regulated in the UK, or poker sites licensed by places like Curacao, that allow their licensees to accept players from anywhere.
Should I accept a poker welcome package? Whether you should accept a poker site sign up bonus, or welcome package, sometimes depends on the wagering requirements and always depends on your own preference. At some of the best online poker sites the bonus wagering requirements are far too hard to play-through, meaning you are basically playing for fun. Many poker players also choose not to accept bonuses, because they are either high stakes level, or believe that the cons outweigh the pros when it comes to wagering requirements and poker bonuses.
Funding an online poker account: Playing real money poker is not possible unless you fund your account. This is done via many different methods, including credit and debit cards, web wallets and online payment processors. You can read more about poker site banking options further down on this page. Free rolls are also available at most online poker operators.
Download vs Instant play poker: Often online poker sites, even for mac computers, will have software to download which allows you to access their poker suite. These are usually small executable files that take a few minutes to install. Instant play poker is when you play via your internet browser, on the website of the chosen poker site. If you're in a country with tough gambling laws, there is every chance that the downloadable poker options will be limited.
The poker games available and buying in: The poker titles available to play will largely depend on the site you are playing at. For instance Pokerstars has got many more titles, than a smaller boutique poker offering, like Unibet. Classics like Texas Hold'em, 7 Card Stud and Omaha are commonly found at the top online poker sites. As a general rule poker sites will have all of the upcoming tournaments and ring games listed, with blinds, a buy-in button and how long until the tournament kicks off. As long as your account is funded, you will be able to buy-in and take a seat at a table.
Real money poker gameplay: After you have taken a seat at an online poker table, you are officially ready to begin. The beauty of online poker is that the game prompts you along the way. Meaning even if your poker skills are developing you will be able to follow the gameplay.
Poker account verification process: Often playing at real money poker sites you will be required to verify your account (within 72 hours of opening it in the UK) and prove your identity before you can withdraw. The best poker sites will have an online verification process, or verify you automatically using the details you used signing up; while others will make you send in scans of things like driver's license or utility bills
Cashing out poker winnings: The methods of being able to withdraw your money at online poker sites include things like bank transfers, checks and web wallets. You can read more about withdrawing poker winnings on this page.
Online poker strategy
Online poker has changed the way we play the game, with a new generation of statistically driven player players emerging. While the champion live players will always have a place in poker, with the ballsy bluffs and ability to read the man, this new wave of player takes the emotion out of playing, playing each card on what will statistically hold them in good stead. This technique is honed by playing hours and hours of online poker, where no one can see your emotion, using tools and plenty of strategy advice initially before crafting your own style, and way of tilting those odds more in your favour.
The World Gambling List has got many strategy guides for online poker players, with all types of players catered for, from the beginner, right through to the experienced player who is looking to hone or refine part of their poker strategy.
General poker guides:
Everything you need to know about poker
Beginner's guide to online poker
What are freerolls in online poker?
Online freerolls are a great way to win real cash for no risk. But how should you approach them? If you've been struggling with your online tournament form recently, then freerolls could be your next port of call. Almost all poker rooms offer some kind of free to enter tournament, with real cash prizes.
A recent development in the world of online freerolls has seen the emergence of zero balance tournaments. These events allow players to participate for real cash without ever making a deposit.
So, how should you approach freerolls? The number of players for these events are likely to be inflated in comparison to buy-in tournaments, due to this you can expect a wide range of skill levels from your opponents.
Many players will be participating for the first time, attracted by the thought of free money. These players are likely to be the weakest due to their inexperience. There will also be real money players who are playing simply for fun, expect wild playing styles from these guys! There are frequent freerollers too, earning small but regular income from their hard work. The regulars will, in most cases, be showing the greater degree of skill.
Free rolls strategy
There is little point in limping into too many pots early on in freerolls. This is where most of your opponents will lose their chips. Instead, wait for premium starting hands such as: AQ, AK, QQ, KK and AA then raise to reduce the number of callers. Ideally you'll only get one or two calls with a big raise, should you attract three or more then show great caution post flop, especially if your pocket Kings are facing an A high flop!
As you progress to the latter stages, expect the quality of opposition to be much higher than at the beginning. If you have created yourself a large stack, use it to 'bully' stacks who will be struggling in the coming rounds, as you close in on the money these players will become very passive for fear of missing out on the cash. This type of fear is apparent in buy-in tournaments on and off line, as well as freerolls.
On the whole a 'tight, aggressive' playing style is considered the most productive in freerolls. Try not to play too many marginal hands early on and be selectively aggressive as the tournament progresses. You could find yourself with a healthy bankroll from your efforts.
History of poker: Moving into the online poker age
Online poker is the game that catapulted online gambling into the mainstream, with it largely blowing up following an underdog's victory at the World Series of Poker. Online poker has had plenty of bumps in the road, including the infamous Black Friday wipeout in the USA in 2009, while other markets have also felt the overzealous reach of authorities. These days online poker is a billion dollar business with upwards of 100 different poker sites servicing every country in the world, yes, even if online gambling is illegal in your country you will be able to play at many of the best poker sites.
It seems that poker is a game that has been around for an eternity but there is much speculation surrounding the origins of the game. Many historians believe that the name is derived from the French game 'poque' which in turn began as the German game 'pochen'. It is not 100% clear that these games have the same origin but there are many similarities.
The most likely origin of the game comes from an amalgamation of many different games, in particular the Persian game known as 'as nas' which Persian sailors taught French settlers in New Orleans. There is a variant that is most commonly believed to be the origin of poker and that game is the Renaissance 'primero' and the French 'brelan'. Brelan produced a common card game called 'brag' or 'bragg' that is popular in England. If all these games are studied, then elements can be found in poker as we know it today. Brelan involved dealing 3 cards and 'bluffing' or betting high stakes whilst holding a poor hand to mislead your opponents and out play them.
The earliest known record of poker being played in America was recorded in New Orleans in 1829 where a deck of 20 cards was dealt out between four players and it was up to the players to guess and bet on who had the hand with the most value. The game spread throughout the country, due to gamers on the Mississippi river boats, where gambling was a common pastime. Early poker was commonly known as 'the cheating game' and as the game spread west it became engrained in the frontier pioneering culture.
Poker tables began springing up all over the country in every saloon in every town. During the civil war the game spread further and the English 52 card deck was used. Many variants of the game were adopted such as 'straight', 'stud' and 'draw' and American developments followed such as Wild Card when the joker was introduced to the game and later the 'split-pot'. American servicemen took the game over seas, in particular Asia when they were stationed there.
The game has experienced a massive revival due to the popularity of online casinos. The game was picked up by a whole new generation, as playing online was a less daunting experience than going to a casino so many players honed their skills on the virtual felts. While online poker has grown the game substantially, the live poker scene is still booming, although there is a distinct online flavour to much of the talent these days. By this we mean, the mechanical online players, have found ways to adapt their statistics-based approach to poker into the live game.
Online poker is heavily dominated by several big brands, with the biggest gorilla being Pokerstars, which is licensed to operate in many countries and has many sub-domains that are just facing one country. Pokerstars liquidity is massive, with the biggest player base out of all online poker operators, but 888Poker, Party Poker and other sites that target black markets like the USA – such as Americas Cardroom — have are also considered to be giants in the online poker world.
Depositing real money to online poker sites
As a general rule when playing online poker for real money you will be playing at a site that targets where you are in the world. This means they often will have common banking deposit methods used in the country you are in. Some examples of this include Canadians having access to iDebit and Interac to make gambling deposits. What we are saying is it's impractical to list every deposit method found at online poker casinos, so we will just list some of the most common.
Visa
Mastercard
Neteller
Skrill
Entropay
Ukash
Paypal
Litecoin
Cashing out at poker sites
Making withdrawals at online poker operators is generally an easy process if you are in a jurisdiction that allows people to play online poker. Cashing out methods at the best online poker sites can be done via methods like bank transfers, check, web wallets and even transferring back to Visa cards. Also depending on the site, you might be able to cash out instantly via cryptocurrency methods such as bitcoin and Ethereum.
Your own personal situation will determine how long your poker site withdrawal takes, with things like whether you are playing with an offshore site coming into consideration. For instance if you are playing at an online poker operator licensed in Curacao, but you live in Australia, a withdrawal via bank transfer might take 10 days. However if you are playing at a United Kingdom poker operator and live in the UK, you will be able to do a bank transfer, that will be approved and finalised within 48 hours.
You can read our online poker reviews to find out more about the cash out length times at poker sites, with this being one of the key criteria tour reviews. We understand the important of being able to access any money you have won on the poker tables.
Online poker licensing
There are a handful of countries that have set up gambling regulators to police online poker, with many of these countries also allowing their licensees to service other countries.
Many countries have now regulated online poker and police its operations with their own local regulators. For instance, Scandinavian countries like Denmark and Sweden have their own regulators, and don't allow their citizens to play with offshore poker sites.
There are however a number of other countries that don't really address online gambling in their laws, which means offshore poker sites are free to offer their services in these jurisdictions. These include countries like Canada and New Zealand, whose residents can play at basically any online poker website they like. Some of the more popular online poker regulators that international players should look for include:
United Kingdom Gambling Commission
Curacao e-Gaming
Costa Rica
Malta Gaming Authority
Online poker commonly asked questions
The team at the World Gambling List is often getting asked questions about playing online poker from a variety of people, from right around the globe. These range from questions about online poker laws, online poker rules, right through to queries about poker operators. We can be reached at contact@worldgamblinglist.com. We always do our best to answer your questions, and when we do we put our responses here. or if they are private we treat them as such.
Can Australians play online poker? Unfortunately Australians are heavily restricted when it comes to online poker, with the update of the Interactive Gambling Act effectively banning online gambling. This does not mean Australians can't play online poker, it just means the best poker sites like Pokerstars and 888Poker no longer accept signups from here. The World Gambling List chooses not to promote real money interactive gambling to Australians.
What poker site has the best tournaments? Without a doubt, if you can sign up, Pokerstars has the best poker tournaments, with events generally starting every few minutes. These tournaments range from micro buy-ins right up to high roller events. The bigger tournaments will also have satellites attached to them, where you can buy into the satellite for a small fee and potentially earn a main event ticket. 888Poker and Party Poker also have plenty of tournament action, while Americas Cardroom and Ignition Poker have tournaments on regularly, and serve some gambling markets that are hard to reach.
Can I play real money poker with Paypal? Paypal is the most popular web wallet in the world, with it used by hundreds of different gambling sites as a deposit method. Whether you can use Paypal will depend if there is legal gambling in your country, or even state. As a general rule if you have regulation surrounding online gambling in your country, you will be able to fund an online poker account with Paypal.