Top online roulette sites 2023
Online roulette is a staple at all of the top online gambling sites in 2023, with it coming in two distinctly different formats: random number generated and live dealer. RNG roulette is essentially playing against the computer in a fair environment, while live roulette is watching a feed of a human croupier via your computer, smartphone or other device. You can navigate our guide to online roulette here or sign up at one of these leading online roulette sites:
---
Top online roulette sites in 2023
Online roulette is available at almost all online casinos in 2023, with it one of the most popular real money games to play. The top roulette sites will have both RNG roulette titles and also feature live roulette, with their being pros and cons for both types. In this section we'll highlight our top 10 online roulette casinos:
Betway Casino
Betway sits comfortably among the best online roulette sites in the world, largely because they have so many different tables open in their live section. For instance at the time of writing this article, they had 32 different roulette tables open for business. Betway's roulette is powered by Evolution Gaming and Net Ent, which are two of the most respected developers. Read our Betway review for more information.
Jackpot City Casino
One of the oldest online gambling sites on the web, Jackpot City Casino roulette is still going strong in 2023. While JPC slots games are powered by Microgaming, the live casino is now powered by Evolution Gaming. This means you will find great RNG roulette games by Microgaming and live games by Evo, which clearly makes Jackpot City a top roulette site. Read our Jackpot City Casino review for more information.
Leo Vegas Casino
Leo Vegas is universally regarded as one of the best online casinos on the planet, and roulette players won't be disappointed. Leo Vegas probably has the best live roulette section out of all the gambling sites we promote, with this including mobile games. The self-proclaimed King of Mobile, Leo Vegas has upwards of 50 different online roulette games and sits comfortably among our top 10 roulette casinos. Read our Leo Vegas roulette review.
---
Best real money roulette games online
The online roulette world is growing all the time and with it are more and more iGaming development companies attempting to gain a foothold. This means finding an online roulette game to play for real money can be daunting. You have to consider things like rule variations, RNG or live, is the casino legit and even things like whether you are eligible to sign up.
The best real money roulette games online include both live dealer titles and RNG versions, although it's definitely the former that is most popular in 2023. The best online roulette sites for real money will allow you to play across a number of different screen sizes, meaning you can also play on mobile.
Real money roulette sites are also likely to allow you to claim sign up offers, although it is common that this game will not clear wagering requirements at an acceptable rate. Instead you should use your casino bonuses on things like online slots, that clear wagering requirements at 100% (don't take our word for it, always check the terms and conditions of casino offers).
---
Types of online roulette
While most land-based casinos will only have European, American and maybe French roulette available, the online world has sprung up many different types of roulette.
It's important to understand how the different rules might work when playing online roulette, because just one less number or slight twist, can change the game dramatically in the house's favour.
Below we highlight some of the common types of online roulette:
European Roulette
One of the key things about European roulette is that it offers players better odds than you'll find in other versions, including American. This is due to the fact that the American version has an extra double "0" that isn't present on the European wheel.
This might not seem significant but the addition of the "00" tile actually gives the casino a better advantage as the house always wins when the ball lands on 0 or 00. This advantage is therefore automatically reduced when one zero's is taken away, as is the case with European roulette.
French Roulette
French roulette also only has one "0" on the wheel. But in addition, this roulette version also features two important rules that have a knock-on effect on betting outcomes. A rule known as La Partage means a player will only lose half of his/her bet if the ball lands on zero on all outside bets placed. The rule doesn't apply to inside bets.
In addition, the En Prison Rule in French roulette effectively puts inside bets "in prison" whenever the ball lands on zero. Which means instead of getting half the bet back as in the La Partage rule, the bet stands for the next spin. If then on the next spin players win their bet they get out of jail free. Should they lose then they forfeit their entire wager.
American Roulette
American roulette is one of the mostly widely available and played variations, both on and offline in casinos today. Although records show it isn't as old as its European and French variations, American roulette is still considered by many to be the standard version of this classic casino game.
In American roulette the numbered wheel features an additional "00" square as well as the standard "0" found in French and European roulette. The inclusion of this "00" isn't a positive for players though. It actually increases the house edge and drags the player odds down. So it's unsurprising that online and land casinos overtly favor this roulette version the most.
Mini Roulette
As the name suggests, the wheel is smaller than a standard 0-36 numbered wheel. In fact, mini roulette wheels only go up to 12 and, like the European version, only feature a single "0" square.
If the ball happens to land on the "0" tile, half of the stake of all bets are returned to players. Other than that exception, and the miniature wheel size, bets can be placed in just the same way as with standard roulette versions, and no additional rules apply.
Multi Ball Roulette
In multi ball roulette up to 10 balls can be in play at any one time. The number of balls in use has a direct effect on the odds and players can select and deselect balls until they reach a total they're happy with.
The odds in multi ball roulette also increase because no two balls can land in the same pocket. Giving you more chances to correctly guess the outcome.
Bets are taken just the same way as in traditional one ball roulette and as well as inside and outside bets, additional call bets can be made on top too.
Multi Wheel Roulette
Multi wheel roulette online features up to 8 wheels spinning simultaneously. The bets you make will extend across all 8 wheels, though it is possible to reduce the amount of wheels in play at any one time by deselecting them until you get to your desired number.
The wheels follow the single "0" European roulette version and winning bets either remain on the table for the next round, or can be taken back and added to your bankroll. Every wheel in play spins independently, giving you up to 8 individual chances to win, and markers will help to illuminate winning outcomes.
---
Live dealer online roulette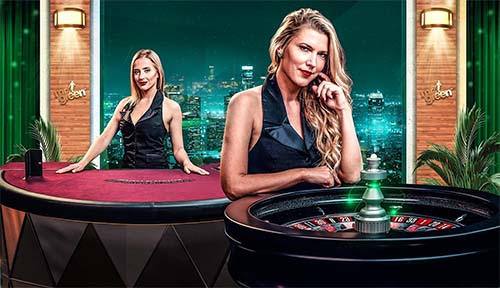 One of the biggest advancements in online roulette has been the advent of live dealer, with this taking the popularity of digital devil's wheel games to a new level. Live dealer online roulette gameplay is much the same, but it is a much more immersive experience for the player. Rather than looking at a digital table, players are watching a video feed of the croupier controlling the table. Just like in a casino, the croupier will take the pill and send it around the wheel. As a player you will watch the ball tumble around the wheel before landing on a number.
Players, in between spins, will have the option of placing their bets in this version of online roulette. However, unlike in RNG games there is a set time that you have to place your bets and the croupier will not wait for you. After "last bets" are taken the game advances and the result is determined, just like in any other standard game of roulette.
You will find many different versions of roulette in live dealer format, with these including American, European and French versions. However the latter is rare and in some countries you will not find it all. The most common variant of online roulette in live dealer format is European, with iGaming giants like Microgaming, Playtech and NetEnt all featuring this game prominently.
---
Is online roulette legal?
Online roulette falls under the same laws as online gambling, with these changing depending on where you are in the world. Globally, online roulette laws could fall into three distinct categories — black markets, grey markets and white markets.
While online roulette might be banned in your country, it does not mean you can't play, it just means you might technically be breaking laws in your country. For instance, Australians are considered some of the biggest gamblers in the world, but officially online roulette is banned. In this case, and in almost all other jurisdictions, it's highly unlikely a player would get in trouble for gambling online.
Below we'll break down how online roulette laws might work in your country:
White roulette markets: This includes countries like the United Kingdom and Sweden that have fully regulated online gambling. White markets have licensed casinos and provide some of the safest conditions when gambling online.
Grey roulette markets: This includes countries like Canada, New Zealand and many others that are yet to address online gambling in their laws. Essentially grey markets allow people to gamble online at offshore online roulette sites. The best part about grey markets for casino operators is that they generally won't pay tax on customers from these jurisdictions.
Black markets: Black markets are places that have banned online roulette. For instance Australia and China are black markets, where citizens are banned from playing at online casinos, and the top UK and EU brands will not operate in these regions. Instead roulette sites in places like Curacao will target black markets.
---
How to play online roulette
If you are new to online casinos it can be daunting delving into your first roulette game. In this section we will run you through the steps that it takes to successfully play real money roulette on the web — a process that should take less than a five minutes.
Register an account with an online roulette site:

The first thing you need to do is find an online casino that will accept your custom. For instance UK casinos might not accept Americans and vice versa, while you also need to ensure the roulette site also has the game you want to play. The registration process at online roulette sites is straight-forward and includes providing things like your name, address, phone number and email address.

Live dealer vs RNG roulette:

You need to decide whether you will play random number generated roulette or a live variant. RNG is probably more prevalent across the globe and involves a graphical interface, while live roulette is a video feed of a human dealer throwing down cards. As a general rule online casinos will have a live casino section, which is convenient for us given this is our preferred way of playing online roulette.

Funding your online casino account:

Playing online roulette for real money is impossible unless you can fund your gambling account. There are literally hundreds of different casino payment methods, with these include things like credit and debit cards and web wallets. Be aware sometimes casino bonuses won't be available with some deposit methods.

Finding a live roulette table:

If you want to play RNG roulette, move to step 4, otherwise visit the live casino tab of your chosen online casino. If there is not a live casino section, go to the table games. Generally you will find table limits that will suit low limit players, while the upper-end of the best online roulette sites will include the ability to bet up to 10k per hand on outside bets, while 500 units is generally a high rollers limit on the inside bets when playing. Live roulette tables are laid out much like you would see at a real casino, with it possible to choose your bet denomination and wager size simple by clicking and dragging virtual chips.

Playing RNG roulette at online casinos:

RNG roulette games are generally found together in the table games section of your chosen casino. Sometimes they may even have their own "online roulette" section. RNG roulette is usually 100% powered by computers and involves no human interference. The RNG roulette games we promote on the World Gambling List are all audited by third parties and are deemed safe. The bet placement, much like a live roulette site, is done by

Cashing out winnings at the top roulette sites:

If you are lucky enough to hit a good win while playing online roulette, one of the most important things to be able to do is withdraw your winnings. Often online roulette sites will have a weekly or monthly cap on how much you can withdraw, while there is usually many less options to cash out with. Popular ways to withdraw at online casinos includes bank transfer, web wallets and cards.

Troubleshooting online roulette in 2023:

While we could lie and say you won't run into any troubles when playing online roulette for real money, but the truth is that often something can go wrong. That's why it's important that your online roulette site has a strong customer service department and a good reputation. The World Gambling List can vouch for the gambling sites on our site, but do your homework if you are playing elsewhere.
---
Deposit options at roulette sites
Making payments when playing at online casinos is one of the most important aspects of it, after all you are dealing with real money and want it to stay safe. The good news is there are numerous ways roulette sites allow you to make payments, with these including credit and debit cards, web wallets like Paypal and Neteller and even cash payments. Read our various guides to casino deposit options:
Casino banking types
More casino banking
Online roulette history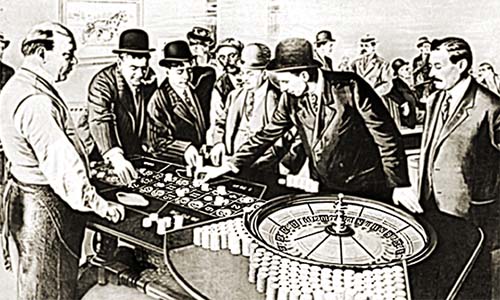 Roulette games have been around in electronic form since the mid 1970s and the emergence of computer technology. There was a great fascination with roulette and other casino games in this era because of mathematicians hell bent on replicating games of chance in an electronic form. This lead to the emergence of casino games powered by random number generators (RNGs).
It wasn't until the mid '90s that online casinos for real money emerged. While there were a few attempts at monetizing online casino games prior to Microgaming's emergence it was the present day global iGaming giant who really brought it into the mainstream.
These early online casinos were powered solely by RNGs and featured one or two variants of roulette. Over time the range of games and the way we play them has changed. For instance it is now common-place to see live dealer roulette at online casinos.
Live casinos began to happen in around 2010 and feature a croupier streamed live to your screen and a table (in a graphical interface) to place your bets on. This studios are hosted in various countries around the world with Microgaming, Evolution Gaming, Playtech and Net Entertainment some of the main players in 2020.
Without a doubt the online roulette world is growing every year, with advancements like 3D games and different ways of consuming them, such as the much talked about Oculus Rift or Google Glass, which give you an almost lifelike experience when you put on your goggles.
The online roulette world has grown extensively year on year up until 2020, and this will not slow down anytime soon, with markets such as the USA beginning to introduce regulation. This is not to mention the bevy of new players that were attracted to online roulette after the 2020 shutdown of most casinos around the world because of the covid-19 pandemic.
The popularity of online roulette has been hastened in recent years because of the covid-19 pandemic, which lead to the closure of many gambling venues around the world. However, it meant people were locked at home and took full advantage of online roulette tables and pumped millions of dollars into virtual gambling sites.
The growth in online casinos has lead to an increase in the variety of online roulette game variants, with many different side bets and twists on the classic European and American versions.
---