Online casino games
There are many different varieties of online casino games available but only about a dozen core casino games that have stood the test of time and become classics. The best online casino games available will have similar or better odds than their counterparts in land-based gambling establishments and be governed heavily by respected regulators.
Every year casino companies design and manufacture new types of online casino games in an effort to come up with the next big hit, but in reality, most new games are new takes of old games and very few make the grade and get taken up by you, the gambler.
Some of the most popular online casino games in the world include:
Most popular online casino games list
The top online casino games list for 2023 includes:
Baccarat
Baccarat is a popular online casino game, in part because it offers a house edge of only 1.06% – one of the lowest any casino game has to offer. Baccarat is a glamorous, leisurely paced card game favoured by James Bond. The object of the game is for each hand to total as close to nine as possible. Unlike in blackjack, players can't choose to hit or stand, the dealer follows strict rules as to which players will be hit with extra cards.
Blackjack
Blackjack is perhaps the most popular casino table game. A simple game, each player competes against the dealer to get as close to 21 as possible without exceeding it, or going bust as it is widely known. Players choose to hit or stand until they are happy with their hand. After all players have stood or busted the dealer plays their hand. Once the dealer stands or busts everyone's cards are compared and the winners are declared.
Casino War
If you think you don't know how to play Casino War, then you're wrong. You most likely played it many times as a kid and it's one of the easiest casino card games to learn. You place your bet and draw a card from the deck, which usually compromises of six standard packs of cards. The dealer then draws a card and if your card is higher in value than the dealers, you win. In the event of a tie, you can choose to go to 'war' against the dealer and attempt to beat him again. A really simple idea but sometimes they turn out to be the best.
Craps
Craps is mainly played in the US but all online casinos offer this game, too. Fast, furious, fun and can be confusing. Fortunes can be won and lost in minutes with a house edge ranging from 1% to as high as 16%. Craps is a dice game played on a large betting table. One player will shoot the dice and everyone else will bet on what numbers the dice will fall on. There are a huge variety of possible bets, evens or odds, low numbers or high and many, many more.
Fruit machines
Just like the games you'll find flashing in the corner of your local British boozer. Fruit machines are a fun variation of slots games with bonus rounds and trails. Fruit machines generally have three reels displaying symbols such as fruit, numbers and gold bars. The aim is to get three of a kind across the middle row (this can vary), then opt to collect your winnings or gamble them on a bonus round and trails to potentially win thousands. Only a few online casinos offer UK-style fruit machine games, with a popular title being Pub Fruity.
Keno
Keno started life over 2000 years ago and can be classed as perhaps one of the oldest (and simplest) casino games. In keno, there is a bank of 80 numbers from which a player can pick as many as 15 or 20 numbers. The object of the game is to match as many of your chosen numbers to those selected at random by the machine. Many keno games have progressive jackpots attached so although the house edge is a massive 25% to 29%, the payouts can be very high.
Pai gow poker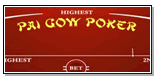 Pai gow poker is yet another online casino game with its roots in ancient China. Pai gow poker is played with a standard 52-card deck plus a wild joker. Players and the dealer are dealt seven cards, which are assembled into a five-card hand and two-card hand. The five-card hand must score higher than the two-card hand. The object of the game is to beat the bankers' two hands with higher ranking hands. The player can win both hands, lose both or push (tie).
Roulette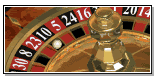 Along with blackjack, roulette is one of the most popular casino games in the world. There are two main varieties of roulette, single zero (European roulette) and double zero (American roulette), with single zero offering the best odds. The numbered wheel is mounted horizontally and a matching table layout serves as the betting area. A wide range of bets can be placed as to which number the roulette ball will rest on. Chips can be placed on an individual number, odds or evens, red or black and numerous other combinations.
Sic Bo
Despite having a complex-looking table layout, Sic Bo is a simple dice game. Players make their bets by placing chips on sections that designate possible combinations of results of the dice. After all bets have been placed the dealer will shake and throw three dice. The results are entered into the results table and the winning areas will be illuminated. The pay-offs can range from a small 1:1 to a massive 1:180 with a house edge ranging from nearly 3% to more than 33%.
Slot machines
Slots are without doubt the single most popular game in casinos, online and offline. Simply pay your credit, spin the reels and match the symbols to win. Traditionally with three reels, many slots games now have up to and over five reels and multiple pay lines so there are even more ways to win. The more credits you use (Max Bet) the higher the potential payout. Many online casinos feature slot machines with huge progressive jackpots that often go over the million pound/dollar/euro mark. If you hit the jackpot on a progressive slot you can win seriously big. These online slots are constantly being released, with many different slots providers operating across the globe.
Video poker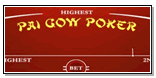 An electronic version of poker, which of course works very well online and is a relatively easy casino game to play. A five-card hand of draw poker is displayed. There are many variations of video poker with some offering wildcards and bonus options and varied pay tables. Always read the game instructions and pay tables before playing. Remember, you're playing against a machine that cannot bluff; the quality of your hand is everything. One of the most popular versions of video poker is Jacks or Better.
Scratch cards
The scratchies that we buy at newsagents and other retail outlets across the world are now available to play for real money at online casinos. Scratch cards work buy buying a ticket of a certain denomination, you can then reveal what symbols or numbers you have by clicking on the correct spots — much less work than the physical ticket. Another great feature of scratch cards as a casino game is that they as a general rule clear bonus wagering requirements at 100%. Read our guide to the best scratch cards online.
---
Other casino games
Most online casinos offer a vast array of other games. These include Caribbean Poker, Let it Ride and Spanish 21 as well as many hybrid versions of more familiar casino games. As of the past two years there has been a new breed of games that feature in some online casinos. These are called instant win or 'fixed odds games'. However, the house edge on these games is excessive and they require no skill whatsoever. A good rule to stick to is to always read the game rules and try to find out the house edge before you make a bet to avoid any nasty surprises.
Live dealer online casino games
Live dealer has probably been the biggest improvement in online casino gaming in the past 10 years, with most online casinos now having this available to players.
Live games are as they sound: you have a person beamed onto your screen via an online casino, with a digital table also in front of you. Which, just like in a casino, allows you to place your bets, hit, fold and even communicate with the other players via live chat.
Live games are generally only available to real money players, which means you will have to fund your account to gain a seat at the table. Many of the most popular games such as blackjack, roulette, baccarat and various poker variants are available in live dealer format.
Mobile casino games
While mobile casino games have been around since the early days of mobile phones, it is really only in the past 10 years that they have exploded.
Now there are hundreds of different games available to play on mobile. Most casinos are built mobile first and statistics show that more than half of all gamblers do their business on their smartphone or tablet – remarkable really.
The games available on mobile are largely dominated by online slots, with nearly all of the iGaming software providers also releasing their games on handheld devices.
While the table titles on mobile were made up of random-number-generated games for many years, since around 2016 there has been live dealer available, and it will continue to grow as WIFI speeds keep improving and the 5G mobile network is rolled out globally.
You will find that in general the mobile website of a casino will be more stripped back, with fewer games, deposit options and potentially even less features. But this is improving all the time and we fully expect the features available on mobile to one day outstrip those of desktop computers and smart TVs.
Quick tips for choosing real money casino games
A good general rule of thumb for online bettors to subscribe to is this: Avoid playing games online that you would avoid playing in the real world. If you walk past the keno area in live casinos or if you don't purchase scratch-off instant lottery tickets, don't buy them online.
As for games such as Caribbean Poker, Let It Ride, Three Card Poker, and to a lesser extent, Baccarat and Spanish 21, be careful that you are not tricked into playing a hybrid version with a similar-sounding name but with entirely different rules and house edges.
As is the case with real life casinos, do not allow bonuses to dictate where you play or how you play. As the old saying goes, "there's no such thing as a free lunch." Online casinos do not offer bonuses and perks because they're nice guys. They make those offers because they want your business and ultimately your money.
Always be sure to read the fine print about whatever bonuses are offered. There are many clauses and conditions. If it was that easy, all you'd have to do to make money on Internet casinos would be to jump around signing up and collecting bonuses. There is often a minimum deposit for a required length of time and an amount of play that is expected of you. There are gambling thresholds set that the casino requires you to meet before you become eligible to receive the bonus. Use caution when being lured by sign-on and play bonuses.