Slots gambling in 2020
Slots have come a long way since their inception late in the 19th century. Slots gambling is done all over the world but has perhaps undergone its biggest transformation in the last 25 years. The creation of online slots has largely revolutionized the gambling industry, with billions of dollars wagered ever year on these virtual slot machines. Our guide to slots gambling, slot machine strategy, types of slot games and other aspects of real money play is extensive. You can use the following navigation to find what you are looking for:
Slot machines history & timeline
The thrum of slots is synonymous with casinos around the world. You'll hear the clinking of coins falling, jackpots going off and excited cries as winners are declared.
The Nevada Gaming Commission says around 70 per cent of revenue at casinos in the USA is from slot machines. It is a similar high rate in markets such as Australia and the United Kingdom. It is lower in the Chinese market, where baccarat and other high-stakes games are king.
The humble slot has its origins in New York where Sittman and Pitt created a gambling machine similar to what was to become the slot. It had five drums and 50 cards and was based on poker.
The prizes were anything from a free drink to a cigar; they were chosen by the bars that all suddenly seemed to have these trendy little gadgets.
The limitations, because there were so many possible payouts in this poker-based game, forced the slot to ultimately take a step back, to take a step forward.
Due to the vast number of possible wins, it proved practically impossible to come up with a way to make a machine capable of making an automatic payout for all possible winning combinations.
Charles Fey is credited with creating the first slot machine with a much simpler automatic payment mechanism. It had three reels and was called the Liberty Bell. It had horseshoes, diamonds, spades, hearts and, of course, a Liberty Bell on its reels.
After the release of Liberty Bell in 1907, mechanical slot machines became extremely popular in the USA, even though slots were swiftly banned in Fey's home state of California.
The first widely accepted video slot was created in 1976 and passed rigorous testing by the Nevada authorities. From there they have grown extensively. Many of the world's leading slots providers are in countries as diverse as Australia, the USA, England and Sweden.
Online slots are also the largest money-spinner for casinos on the Internet. It is impossible to gauge just how much money is spent worldwide on online slots but it would be a staggering figure.
Types of slot machines
We will look at this topic more extensively in other articles, but here is a brief overview of the types of slots you will find in casinos. It's crazy to think there are more than 2400 slots at the Bellagio alone. There are literally millions of slots in various countries around the world.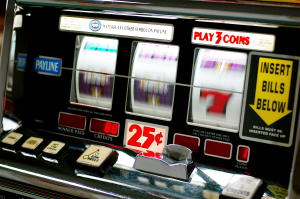 3 reel: These are the classic slot machines with three reels with symbols on them. When you hit a winning combination you are rewarded. Most 3-reel slots allow you to bet anything from 1 to 3 coins. Generally the payout rate is better when you put in more coins, meaning the same payout combination may have better odds if you have put more money down. For instance, a combination might pay out 2-1, but if you bet max coins it might pay 3-1.
5 reel: These work on the same principle as three-reel slots. Except they give you more 'ways' to win. It costs a coin to activate each payline and you can generally bet up to 10 coins per payline. For instance, you might bet two coins on each line, meaning it would cost you 10 coins in total for each spin. Different 5-reel slots have different bet limits but it is not uncommon to play 5-reel games which allow you to bet $500 per spin.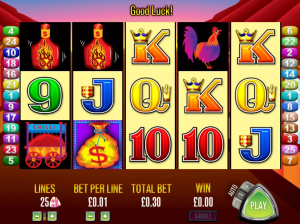 Video slots: These are based on slots with reels, but instead of actual spinning reels are powered by random number generators. Because they are powered by computer there is often more than five reels and usually juicy features, or side games that can be activated. The video slot is probably the greatest single advancement in slot machines, and we will be forever grateful.
Bonus slots: These are slots that allow the player to get a feature when you hit the correct symbols on the same pay-line. The bonus can come in the form of free spins and even a multiplier which will boost winnings. Bonus slots are among the most popular land-based games.
Progressive slots: These take a small monetary portion of each spin you have, putting it into a jackpot pool which can reach into the millions on some of the bigger games. While the payouts may not be as frequent, the rewards are generally huge when you hit a minor or major jackpot. The most well-known progressive is the Megabucks Network, which starts at $10 million, but has got as high as $30,000,000 before going off. Progressive jackpot slots have been a big contributor as to why slots gambling has got so popular online.
---
Online slot machines for real money
It's crazy to think it's been more than 20 years since we were first treated to an online slot machine. Our first experience was with an early Microgaming demo product on a dial-up modem. It's safe to say there has been a lot of progress in online gambling since.
Now punters can play online slots on their computers, smartphones and tablets. Early on there were just a handful of companies trying to develop casino software; now there are hundreds of tech companies attempting to bust into gambling.
Remarkably, Microgaming still sits at the top of the heap when it comes to online slots, with the industry veteran providing stunning themed games and many of the most popular progressives.
Some of the challengers in online slots are NetEntertainment, BetSoft, Playtech, TopGame and RTG. We will cover these companies in individual articles down the track, but for now, we will give you a few of our favourite slots titles.
Six of the best online slots
Game of Thrones: We just want to be clear – if there was a Breaking Bad slot it would be No.1. But instead we have to settle for the second-best show of recent times – Game of Thrones. There are several variations on the game, with the standard 243 ways to win and 1024-ways variants. The game features many of our favourite characters from Westeros.
Mega Moolah: Microgaming takes out the top two spots in our sexy six, and second spot goes to their most popular progressive game. It earns its spot simply because the payouts are so big. Twice punters have won more than €5 million. It has 5 reels and 25 pay-lines and features mini, minor, major and mega jackpots.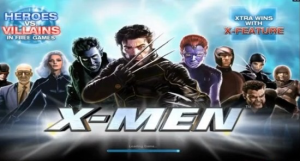 X Men: A themed slot by leading software developer Playtech, X Men is a 5-reel, 25-pay-line game. It features well-known characters such as Professor Xavier, Wolverine, Nightcrawler and Storm and Cyclops. It has an above-average payout percentage of 96.02.
Mr Vegas: This online slot is a favorite of the crew at the World Gambling List — Jack in graphics even looks like Mr Vegas. It's a BetSoft production (yes, a production) and features a swaggering, yellow-haired heart-throb entering a casino. The side games include roulette and blackjack and the graphics are sensational.
Beach Life: A trendy progressive video slot by Playtech, obviously with a surf theme. It regularly has jackpots in excess of USD $5 million. There are also several other features triggered by wilds. The tacky beach tunes are a highlight.
Pub fruity: Another Microgaming title to round it out. We have all played Pub Fruity before and know how simple it is. There is just something about this game that takes us back to the late 1970s, so we had to include it. Oh to be young again.
---
Slots payout percentages
Slots payout percentages vary significantly. Often if a slot is in a regulated environment, like Las Vegas, the laws will ensure a certain percentage of all money put in is returned.
Depending on where you are, land-based slots can pay out anything from 81% to 97%. Almost always the percentage falls somewhere in between.
Online players generally get a much better deal, with the fact there are lower running costs meaning they can afford to give more back to the player. You will struggle to find an online casino that doesn't pay out at least 95% of all money put into slot machines.
At both land-based venues and on the internet the payout percentages should be transparent, but they not always are, which is a great bugbear of the World Gambling List.
Slots strategy
There is no magic formula here. If you didn't know previously, slots are a game of luck. The winnings are paid out as a percentage of money put in by all players.
However, there are a few things you can do to make sure you make the most of your slots game time. For starters, always make sure you are playing enough coins and lines to qualify for available jackpots. The last thing you want to do is get the correct sequence and fail to qualify for a major jackpot.
The only time any skill actually comes into a slot game is when there are side games. This is more likely to happen at an online slot, but there have been a few exceptions where a poker machine has had a side game which involved skill.
An example is the Mr Vegas slot with blackjack and roulette both featuring. Obviously if you know how to play these two games you will do much better in the bonus round.
Other names for slots
The term slot machine is distinctly American English. If you live in the United Kingdom you probably call a slot anything from a fruit machine, to a puggy and, of course, just the slots. In Australia and New Zealand slots are known as pokies.
Slots names by country
Australia: Pokies, poker machines
New Zealand: Pokies
Japan: pachisuro or pachislo
USA: Slots or slot machines
China: Slots
England: Puggy, poker machines, fruities
Holland: speelautomaten
Germany: speelautomaten