Best online slots tournaments – How to win real money
Online slots tournaments are a highlight of real money gambling sites in 2020, with 100s of different leaderboard events running right now. Casino slots tournaments basically pit all opted-in players against each other to see who can earn the most points in an allotted time period, with the winner generally claiming cash or prizes as their reward.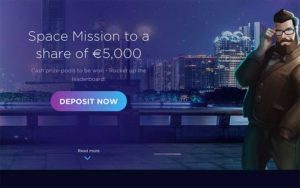 Enter Genesis Casino's Space Mission to win a share of €5000, ...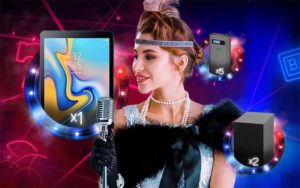 Fortune Clock Casino's Jazz Festival is a slots tournament that ...
---
Top online casinos for slots tournaments in 2020
The World Gambling List has deals in place with many online casinos that feature slots tournaments. These gambling sites will have both free play or freerolls and real money buy-in slots tournaments. Our top gambling sites for slots tournaments in 2020 are:
How to earn points in slots tournaments
Slots or casino tournaments in essence earn you points for each dollar you spend at the gambling site after opting in. Each casino game accrues points at a different rate if they are eligible for the specific tournament.
While we have seen cases where casino tournaments will also encompass things like table games expenditure and video poker, we are going to focus primarily on slots tournaments in this article.
As a general rule for every $1 spin you will earn a point in the slots tournament, with the more points you earn the more chance you have of climbing the ladder and into the cash and prizes.
Online casinos will usually have the slots tournament leaderboard available for players to look up, with it updating dynamically, meaning you can attempt to time your run like a well-trained racehorse and avoid getting caught in a prolonged battle at the point end.
Note well: Not al slots tournaments at online casinos will work off the 1 point per dollar rule. So make sure you read the fine print of any slots tournament you enter.
---
Different types of slots tournaments
Online slots tournaments are relatively new in comparison to other forms of online gambling, and they can vary greatly from casino to casino. Usually the thing that changes is the method of how you win the tournament. For instance we have seen slots tournaments that declare the winner using the following methods:
Biggest win: Some slots tournaments might decide the winner by simply giving first prize to the biggest winner during the allotted time period. This could work off a single spin win, or the entirety of your winnings.
Mission-based: Mission based slots tournaments will usually give you tasks you must complete to either earn points, or it could be a timed race with the first past the post the winner. These tasks could be as simple as playing a certain slot for a set amount of spins, or even getting a feature on a certain slots game.
Leaderboard: Leaderboard slots tournaments simply see you earning points for playing slots. The more points you get the higher you will be on the leaderboard. These are probably the easiest type of slots tournaments to understand.
Buy-in slots tournaments: These will have a fee to enter. Often the competition will be hot in buy-in slots tournaments, but you can almost guarantee the prizes will be awesome.
Freeroll slots tournaments: These will have no fee to enter and are more common than buying into a slots tournament. Freerolls usually have hundreds of people enter them, but can still provide some great prizes, including physical items and bonus money to use at the casino.
---
Tips for playing in slots tournaments
When playing in online slots tournaments you need to understand what you are doing, because these tournaments can vary great from one another. The following are some general tips for playing in slots tournaments:
Understand the rules: It's an all too common theme we hear from slots players: that they've been screwed over by unfair rules. The way to beat this, is to understand the rules of the slots tournament before you enter. Five minutes reading can save you plenty of money.
Know what you are playing for: You might already have the latest Samsung tablet, or you're a staunch Apple man, so what is the point of playing in a slots tournament offering this as a prize? This information will be available before opting-in or starting a slots tournament.
Avoid the con job slots tournaments: Some online casinos just are not reputable and you should not play in their online slots tournaments — no matter what they are offering you as a prize. A good way to learn about a gambling site's reputation is to read some casino reviews and player opinions.
Minimum bet to earn points in a slots tournament: There is no point entering a slots tournament if you only lay down 20 cents per spin, when you need to spend a dollar per spin to earn any points. Again it comes down to reading the fine print of the real money slots tournament before beginning play.
Spin fast if it's a timed slots tournament: This is common-sense, but it's surprising how many people take their time even if they have a very limited time to score points in a slots tournament. Spin those slots reels as quickly as possible because more spins equals more chance of winning.
Be realistic, or you will blow your bankroll: If you're entering into a massive slots tournament with lots of entries, there is not much point if you only have a few quid to lose because you will never finish high enough on the leaderboard to cash. If you desperately want to play in a slots tournament, do your homework and find a tournament with some softer opposition.
Time your slots tournament run (stages): Knowing the different stages of any tournament is crucial. For instance does Roger Federer want to be playing his best tennis in week 1 of the Australian Open? No he doesn't. It's the same in slots tournaments, you want to be within striking distance, but not leading and aim to time your winning run in the last hours or days of an event. Timing is everything when playing in leaderboard slots tournaments.
---
Slots tournament prizes
Often the top 100 players in a slots tournament will get a prize, and while the people at the bottom of the leaderboard will generally only get a $10 or $20 bonus bet, it is from very little outlay.
Without a doubt those playing for the cars or massive cash prizes (think $10,000+) can get competitive up at the top of the leaderboard, we have seen people win great prizes from very little outlay. It really does depend on the competition that rocks up on any given day.
As for the specific prizes that players can win playing slots tournaments, these vary dramatically. For instance we have seen a UK casino giving away a car worth $50,000 over a month long tournament. Other slots tournaments might have a $1000 or $2000 cash prize for first place and run over a week long period.