Crown Casino Melbourne guide 2023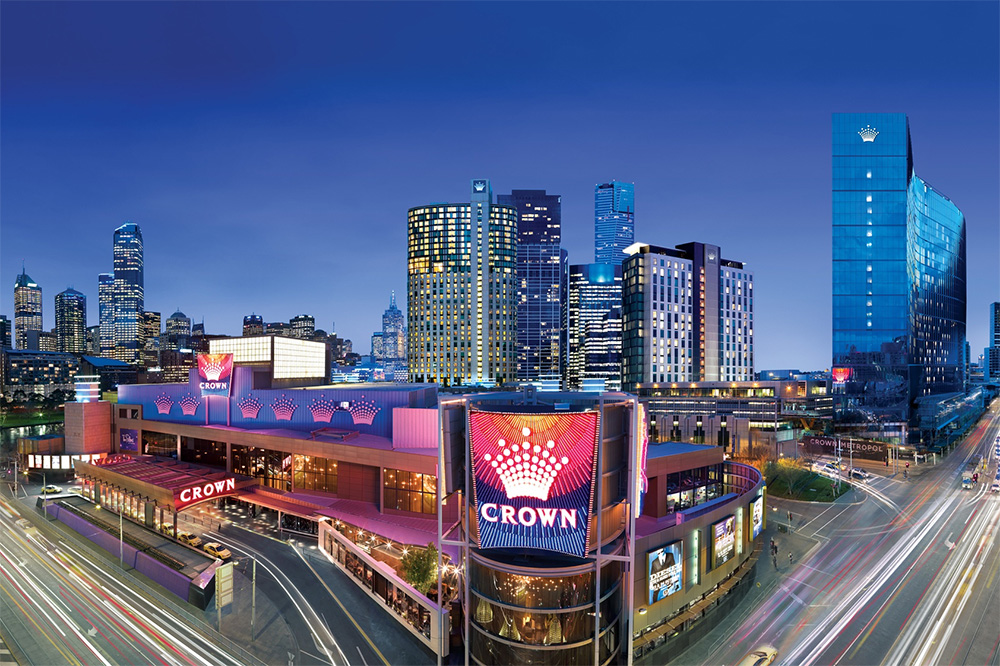 Crown Melbourne is the No.1 gambling venue in Australia, and the only casino in Victoria. Crown Melbourne has more than 500 tables and 2400 pokies in the massive South Bank building situated on the Yarra River.
While gambling is obviously the main event and the reason Crown Melbourne exists, the venue is also extremely popular as a shopping and entertainment precinct, with some of Australia's best restaurants situated in the complex.
ALL: Casinos in Australia
Crown Melbourne is home to the famous Mahogany Room, named after the champion racehorse Mahogany, which is the VIP high rollers area where some of the world's wealthiest punters have played games such as baccarat, poker, roulette and blackjack.
The Aussie Millions poker tournament is also a huge part of Crown Melbourne's identity, with the best players from all over the world converging on the venue every January for two weeks of poker, culminating in the Main Event, worth more than $7 million.
Gambling at Crown Melbourne
Crown Melbourne offers the most diverse gambling experience in Australia, with the venue licensed for 540 tables and 2600 poker machines. In this section of our Crown Melbourne guide we will run you through the casino games on offer, and what to expect when you step onto the gaming floor:
Table games at Crown Melbourne
The Big Wheel: Largely unique to Australian casinos, the Big Wheel is simply a wheel of fortune-style game where you spin the wheel and win or lose.
Caribbean Poker: Much like 5 card stud, Caribbean Stud has a progressive jackpot attached to it. Definitely a game to keep an eye out for.
Casino War: An exceptionally easy game to play, Casino War pits you directly against the dealer. If your hand is better that the dealer's you win.
Craps: The most well-known of the dice games, Craps is not frequent at Crown Melbourne, although we have had a glorious run in the Mahogany Room a few years back. You might struggle to find an affordable table if your budget is low.
Mississippi Stud: A new game at Crown Melbourne, Mississippi Stud has a house edge going on close to 5%, which puts it almost on the banned list for us. But if you are looking for a fun poker game, it could be worth having a look at.
Pai Gow: Pai Gow is one of the oldest gambling games recorded, and you can play it at Crown Melbourne. Pai uses Domino-like blocks with red and white dots. Crown Melbourne also has a variation called Bonanza Pai Gow with it including two bet types: The bonus bet and the tie bet.
Fully automated table games: You know those games where there are 20 screens situated around a big screen at casinos? Well, Crown Melbourne has plenty of these electronic digital games. But in our opinion why go to a casino to sit down at a computer? If that is the style of game you fancy, you're better off playing at online casinos.
---
Poker at Crown Melbourne
Crown Melbourne is easily the best poker venue in Australia, with tables open 24/7 during peak times, including during the annual Aussie Millions poker tournament.
Crown Poker has a variety of tournaments open to players with most bet levels catered for, with it common to have a minimum buy-in for each table. For instance the lower end of cash tables will require players to have a minimum bankroll of somewhere between $50 and $100.
High roller tournaments and cash games are also available but are not as common, although you will almost always find tables with blinds of $5/$10, $10/20 and $50/$100.
While you will find other variations of poker games available in the poker room at Crown Melbourne, including 5 Card Stud, Omaha and Omaha Hi/Lo, Texas Hold'em is easily the No.1 game in the venue, which is a reflection of its popularity in Australia.
Another feature of the poker at Melbourne Casino is the WSOP Texas Hold'em variation which has a progressive jackpot attached to it, giving players a chance to win a share of $50,000.
Poker War is also worth a look, despite an unfavourable 5% house edge. It's a combination of poker and Casino War.
Unfortunately Crown Melbourne does not host any online poker rooms, which are banned under Australian gambling laws.
---
Crown Melbourne Mahogany VIP room
The Mahogany Room is an exclusive VIP gaming area located within the Crown Casino in Melbourne. The Mahogany room offers a luxurious and private gaming experience for high-rollers and VIP players. Here's some information about the Mahogany Room:
Accessing the Mahogany Room: The Mahogany Room is a members-only area. To gain access, individuals must become a Mahogany Room member and meet the eligibility criteria established by Crown Casino.
Melbourne Casino Gaming Facilities: The Mahogany Room provides a range of high-stakes table games and gaming machines in an intimate and sophisticated setting. Members can enjoy various table games, including blackjack, roulette, baccarat, and poker, as well as a selection of electronic gaming machines.
Personalized Services: The Mahogany Room offers personalized services to its members. This includes dedicated hosts, private gaming salons, and exclusive amenities to enhance the overall VIP experience. Often, if you are betting enough in the Crown Casino VIP room, you will be given free drinks and accommodation.
Dining and Beverage Options: The Mahogany Room features a private bar and dining area where members can enjoy a selection of gourmet cuisine and premium beverages in an intimate and refined setting.
Events and Promotions: The Mahogany Room often hosts exclusive events, promotions, and tournaments tailored for its members. These events can include private parties, live entertainment, and special gaming experiences. The World Gambling List team have seen many a Melbourne celebrity or socialite at these Mahogany Room functions.
Responsible Gaming: While the Mahogany Room caters to high-stakes gambling, Crown Casino promotes responsible gaming practices. They provide support and resources to ensure members can enjoy their gaming experience in a responsible and controlled manner.
The Mahogany Room, while catering for the high-end of town and many Asian tourists, does still have to abide by all responsible gambling functions as set out by the Victorian Liquor and Gaming Commission.
---
Crown Melbourne Hotels
Melbourne's Crown Casino is home to some of the most luxurious and popular accommodation in Melbourne, with its central location one of its key drawcards.
The accommodation at Crown Melbourne includes: Crown Towers, Crown Metropol, Crown Promenade and Crown Spa, with all these hotels housed within walking distance of the gambling floors.
Don't expect to find a room at Crown for under $AUD200 a night, with some of the better rooms running well into the thousands of dollars per night.
Another key asset of the Crown accommodation offering is the fact it is so close to the restaurants.
---
Crown Casino Melbourne restaurants
Crown Casino in Melbourne is home to a wide range of restaurants and dining options, catering to various tastes and preferences. Here are some popular restaurants at Crown Casino Melbourne:
Nobu Melbourne: A world-renowned Japanese restaurant offering a fusion of traditional and contemporary Japanese cuisine. Known for its sushi, sashimi, and signature dishes.
Dinner by Heston Blumenthal: A high-end restaurant by celebrity chef Heston Blumenthal, offering a modern take on historic British dishes with a touch of innovation and theatricality.
Rockpool Bar & Grill: A classic steakhouse known for its premium Australian beef, seafood, and a selection of fine wines. The elegant and sophisticated setting adds to the dining experience.
Rosetta: An Italian restaurant featuring authentic Italian cuisine with a contemporary twist. Specializing in dishes from different regions of Italy, including pasta, seafood, and wood-fired pizzas.
Conservatory: A buffet-style restaurant with a diverse selection of international cuisines. Enjoy a range of dishes from fresh seafood and sushi to Indian curries and desserts.
Silks: An upscale Chinese restaurant offering Cantonese cuisine and an extensive menu of dim sum, seafood, and traditional Chinese specialties.
The Atlantic: A seafood-focused restaurant showcasing the finest seafood sourced from Australia and around the world. Enjoy oysters, crustaceans, and fish prepared with culinary expertise.
Gradi: An Italian pizzeria known for its authentic Neapolitan-style pizzas cooked in wood-fired ovens. It offers a casual and relaxed dining experience.
Spice Temple: A restaurant specializing in contemporary Chinese cuisine with flavors inspired by the regional cuisines of China. Known for its bold and spicy dishes.
Ging Thai: A Thai restaurant serving traditional Thai dishes, including curries, stir-fries, and noodles. It offers a vibrant and lively atmosphere.
Please note that availability, operating hours, and reservation requirements may vary for each restaurant at Crown Casino Melbourne. It's recommended to check the Crown Casino Melbourne website or contact the specific restaurant for the most up-to-date information and to make reservations if required.
---
Crown Melbourne Q and A
What is the address at Crown Melbourne?
Crown Melbourne
8 Whiteman St
Southbank VIC 3006
What is the Phone number of Crown Melbourne?
(03) 9292 8888
Is Nobu at Crown Melbourne?
Nobu is located in the Crown complex on the Yarra River in Melbourne, with this leading restaurant known for its Japanese food.
How do I join the Mahogany Room?
The Mahogany Room, for VIP high roller gamblers, is only open to those who know a member or have proven they are a high value player on the regular tables at the casino. To become a member at Crown Melbourne's Mahogany Room you need to have at least $10,000 to deposit into the cage.
Does Crown Casino have an online gambling portal?
Unfortunately Australia does not allow online casinos legally, which means Crown does not have an online gambling site. We expect this to change if regulation is brought in around online gambling in Australia, with it currently banned under the Interactive Gambling Act.
Does Crown Melbourne have sports betting available?
Crown Melbourne has several sports bars where a TAB is available. This means you can bet on Australian sports and racing and international events inside Crown Melbourne venue. You are also free to bet with Australia's top betting sites via mobile and desktop while at Crown Melbourne.