FICA sports betting bonus offers
South African punters will often have the opportunity to claim a FICA bonus, which essentially gives players a free bet for verifying their account. FICA stands for Financial Intelligent Centre Act, and FICA sports betting bonuses are uniquely available at South African bookies. An example of a great FICA bonus in South Africa is at Betway.co.za which gives customers a R25 free bet when you complete the verification process. Our guide to FICA bookie bonuses will guide you through the process of claiming an offer, plus run you through the top FICA bonuses for 2022:
Best FICA bonuses at South African betting sites
There are upwards of 30 different betting sites in South Africa, although they don't all have FICA bonus offers in 2022. In fact, relatively few bookmakers have a FICA bonus, but the good news for sports fans is that we have been through the legal offers and presented the best of them. The best FICA bonuses for 2022 are:
Betway.co.za: Betway South Africa has a R25 free bet available when you complete your FICA documentation. Basically, to claim the FICA bonus at Betway, you just need to create a new account and upload your FICA documents. Betway is a great bookie and its promotions are probably the best out of all the operators. Betway review.
SupaBets.co.za: SupaBets is another betting site with a FICA bonus in South Africa. SupaBets has a huge selection of sports betting and racing markets, and is a well respected brand with retail outlets, on top of its online betting offering. Supabets review.
HollywoodBets: Another well-known betting brand in South Africa, HollywoodBets has a R100 FICA bonus. It's a simple process, just create an account and upload the required documents. A few hours later you will have access to one of the top FICA betting offers. HollywoodBets review.
How to claim a FICA bonus at SA bookmakers
Claiming a FICA bonus is a simple process that might vary depending on what bookmaker you are signing up with. In this section we have given a general outline of what you need to do to claim a FICA bookmaker promotion:
Find a SA bookmaker with a FICA bonus

The first part of claiming a FICA sports betting bonus is to find a bookmaker that has one up for grabs. Our top FICA bonuses are available in the table above. Websites like the World Gambling List are the best place to find FICA bonus offers.

Sign up at the FICA bookmaker

Now you have found where you want to claim a FICA promotion, you need to create a new account, which is a matter of filling in a simple form with things like your name and address.

Submitting your FICA documents to the bookmaker

Most online bookmakers in South Africa will have an upload section in your new account, where you can place the required FICA documents. Some bookmakers will request you email or fax in your FICA documents. You then need to wait on the chosen betting site to process your FICA application. Once it is approved you are eligible to claim the bonus.

Claim your FICA betting bonus

Now that you have completed the FICA documentation, you will be able to claim any advertised FICA bonus offer. If the bonus is not accessible in your account, contact customer service at the bookmaker, who will then apply the offer.
What is FICA and why does it apply to sports betting?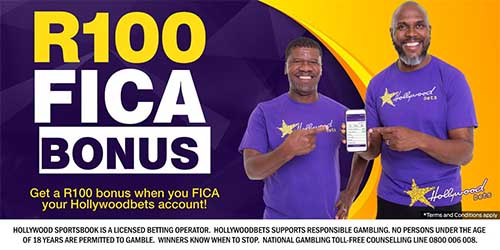 The Financial Intelligence Centre Act (FICA) has been in effect since July 1, 2003. FICA was introduced as a means to stop things like money laundering, tax evasion and other financial crime. FICA does not just operate in the sports betting space, with things like banks and attorneys also required to get to know their customers.
FICA is much like the KYC documentation bettors in the United Kingdom must fill out, before they can make withdrawals. We have not seen any other countries give players a bonus for verifying their account.
If bookmakers in South Africa fail to make customers complete the FICA requirements, they can be liable to police action, with jail sentences and massive fines of up to R10,000,000.
Bookmakers under their FICA obligations must report suspicious activity among other things, with failure to comply leading to the fines we have previously mentioned.
---
Do FICA free bets require promo codes?
FICA free bet are readily available to South Africans, however some betting sites promotions require bonus codes. These FICA betting bonus codes are entered into the bookmaker platform, either during the sign up process, or when you are making your payment at the bookie. These codes, using a made up example, could be something like "WGL500" and give you Rand 500 free when you use it during the sign up process. The South African bookmakers with FICA bonuses that require bonus codes include:
Sportingbet.co.za bonus code
Betway bonus code
---
What documents do I need for FICA betting promotions?
The aim of the FICA verification is that the bookmaker gets to know their customer and verify who they say they are. The FICA documents that are commonly accepted include things like utility bills, scans of licences and passports.
As a general rule a scan of the documents is all that is needed, and it will only take a day or so for these to be processed and you will be able to claim your FICA bonus.
If you have trouble sourcing the correct documents to pass a bookmaker's FICA requirements, talk to the customer service, who can talk you through the process or perhaps find alternative acceptable documents.