Live or in-play sports betting sites in South Africa
Live or in-play betting is perfectly legal at online betting sites in South Africa. This means you can place bets via sports betting sites and apps after events are under way. It can be a good method to hedge your bets or even jump on a team you believe has some momentum that could give them a ride all the way to a victory. In total, there are more than 30 online betting sites in South Africa, with most of them boasting some kind of live betting, although the standard and volume of these in-play betting markets can vary greatly. The best bookmakers with live or in-play betting on major sports events include:
Best sites with in-play betting in South Africa
There are many different online betting sites with in-play betting markets available to South Africans, including some of the top betting companies in the world that have secured a licence from one of the regulators in this country. You can read our reviews of the in-play betting sites we mention below, or in the table to the right, to find out more about the live betting odds and the process of joining the specific betting site. These are our top few betting sites with in-the-run betting markets:
Sports available with in-play markets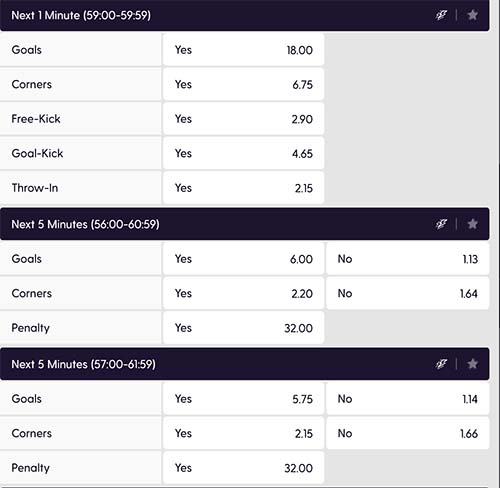 Keeping live markets up-to-date obviously takes some serious manpower, so it's unlikely that you will find in-play betting on smaller sports, however, we have found that the most popular events in South Africa and internationally are covered extensively by the top live betting sites.
Rugby Union:
Rugby is arguably the most popular sport in South Africa, with the Springboks winning the Rugby World Cup in 2019, and you can bet live on under way matches. This means, for example, if you really like a team to win, but they go down a try early, you can reassess or back in your early thoughts and load up on the better odds.
Basketball:
One of the biggest sports on the planet, top basketball leagues include the NBA, European competitions, South American basketball and many other leagues from around the world. Basketball bet types available at live betting sites in South Africa include quarter winners, top scorers or rebounds in a quarter and match winners.
Cricket:
Another insanely popular sport in South Africa, cricket, largely led by the charge of the T20 generation, has become a great sport to bet on after it is under way. For instance Test cricket is played over five days, where games can swing both ways, which allows you to spot shifts in momentum and place your bets accordingly. T20's short format and entertaining gameplay has made it a huge money-spinner for online bookmakers with live betting facilities.
Tennis:
Because of its global appeal, bookmakers in South Africa often cover tennis with live odds, including at grand slams and smaller tournaments from around the world. In-the-run markets on tennis include winner of the next game, next set, who will serve the next ace and of course overall winner of the match.
Football:
Football is a hugely popular betting medium in South Africa, with leagues and International games covered extensively. Soccer is a great sport to bet on live, with wild momentum shifts. Options include player markets and betting on who will get the next corner. They can make watching the sport hugely interesting.
US sports:
The USA is home to some of the biggest sports in the world, and some events which garner significant betting interest, and the good news for South Africans is that many licensed bookmakers boast in-the-run betting on these events. The events covered at ZA live betting sites include the NBA, NFL and Major League Baseball, and international sports.
Live betting scandals and the law in South Africa
Firstly, sports betting and live betting are 100% legal in South Africa, with many regulated sports betting options for the almost 60 million people living in this country. Each of the betting sites with live betting facilities must be licensed by one of nine regulators in South Africa, and abide by certain restrictions placed on them (which are very few in comparison to other countries).
There is a sentiment among some people in South Africa that online, in-the-run betting is more trouble than it's worth, because it opens up a can of worms surrounding match fixing, or players being paid to make a certain event happen during their match which leads to a big score at the bookies' expense. There have even been accusations that top 50 players in the world in tennis have thrown sets at the bidding of cashed-up punters.
Cricket is another sport that is not immune to match-fixing and people trying to manipulate the result, with live bet sites making it even harder to stop sometimes financially struggling players from bowling a wide at the right moment, or being dismissed in a certain over.
The other big concern surrounding live betting in South Africa is that it promotes problem gambling, with more markets and time to bet available to punters. Having said this, South Africa is not on its own having live bets online, with some of the most advanced sports betting jurisdictions in the world allowing live betting, including the United Kingdom. Other major sports betting countries such as Australia have restricted live betting to being done via a phone service.
ZA live betting sites questions and answers
Can you bet on horse racing after it is under way? Unfortunately we have not seen a betting company in South Africa that has live betting on the thoroughbreds. The good news is that we've seen it happening in other countries, such as Australia, where you can bet on a horse after a race has started. It's a pretty cool feature. For instance, if your horse is notoriously poor at jumping out of the gates (Pakistan Star, yes, we're looking at you) and you want to wait and see how a supremely talented horse starts before putting any money down. Other racing features South Africans have to look forward to include features like the ability to fold your bets after a race has started. Essentially you will lose a portion of your stake but mitigate further damage.
What is hedging your bets? This is a betting strategy which means you bet on a different outcome to your original wager to guarantee that you will secure a profit. Hedging your bets can be used in a number of different ways, including reducing risk when odds have shortened.
Can you bet on South African sport after it starts? You will find that some online betting sites have local live markets from time to time, but it's generally only on things such as Rugby Tests. Other domestic South Africa sports we have seen live betting on include cricket, soccer (South African Premier League) and rugby league. Usually the more high profile an event the more chance it will be picked up by a ZA bookie.
Can you live stream at betting sites? This is one of the most appealing things with betting in-play, is that often you can watch the entire event via the bookmaker you are betting with. For instance bookies such as Sportingbet and HollywoodBets have many streams to watch live sports and racing events.