Top free bet offers in South Africa 2023
South Africans are able to claim free bets at many legal online bookmakers, with these including no deposit bonus offers and matched deposit free bets. The World Gambling List has scoured the industry in South Africa and found the best bookmaker freebet offers which total thousands of Rand. Smart punters can utilize ZAR free bet offers and greatly increase their chances of turning a profit while betting on sports and racing. We have broken our listed free bets for South Africans into two distinct categories, no deposit free bets and matched free be offers. Our top free bet offers for South Africans in 2023 are:
Best ZAR free bet offers in 2023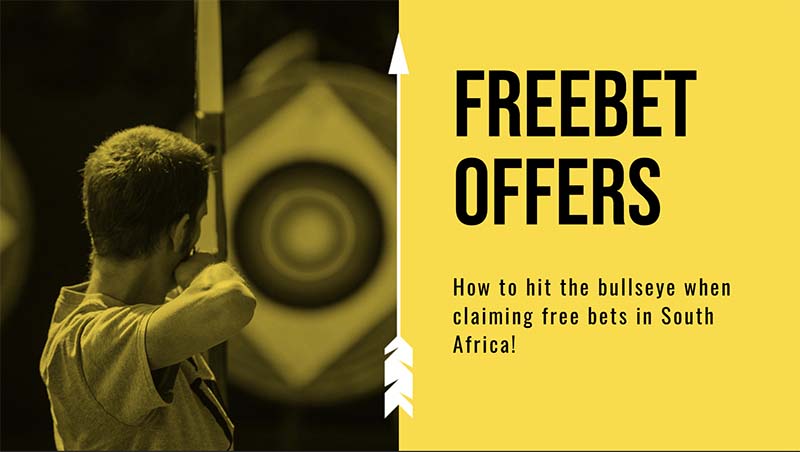 With upwards of 30 online bookmakers plying their trade in South Africa, which means there is no shortage of free bet bonus offers available. The best best free bet offers will cater specifically to the ZAR, which means you will be dealing with a currency that you understand. Below we will go into extensive details about the best freebet deals, including the top South Africa free bet no deposit bonuses. The top free bet and no deposit free bet offers South Africa:
Top 3 Zar no deposit free bets
Betway free bet: Betway has got a 25 Rand free bet which can be claimed by completing your player registration. This is the standard FICA documents with the bonus offer then applied to your account automatically. Betway's freebet also has lenient wagering requirements making it good value for South Africans. Full Betway free bet guide.
SupaBets free bet: SupaBets has got a R50 no deposit free bet, which is credited to your account when you make your first deposit and verify your account. This is one of our best free bet offers for South Africans.
Hollywood bets no do deposit free bet: Hollywood bets no deposit free bet is available to players who activate their account. This is done via providing your FICA documents. Full HollywoodBets free bet guide.
Top 4 ZAR matched deposit free bets in 2023
SupaBets: On top of their no deposit needed free bet, when you make your first deposit at Supabets they will match 100% it up to the value of R10,000. This means you can deposit 10,000 Rand and have a total of 20,000 Rand to play with. Full SupaBets free bet guide.
SportingBet SA: Another of our top free bet offers in the matched category is Sportingbet's offers. Sportingbet is a quality betting site in South Africa that gives players a 100% matched deposit bonus up to the value of R2,000 in bonus funds! It is also the biggest free bet offer available to South Africans in 2021. Full Sportingbet free bet guide.
PlayaBets.co.za: While Playabets is not a suitable online bookmaker for horse racing free bets, they do have some great sports betting promotions. For instance, Playabets will often have cash back deals, where you will receive your stake back as a freebet. Playabets has got a first deposit free bet of up to R10,000, which is one of the biggest free bet bonuses we promote on the World Gambling List South Africa. Check out our guide to the Playabets freebet for more information.
Bet.co.za: A growing sports betting site in South Africa, Bet.co.za has got a nice matched free bet offer for new customers. The Rand 1000 free bet has got lenient wagering requirements on their free bet bonus. This SA bookmaker has also had a no deposit freebet offer in the past, which we hope will return in time. Check out our guide to the Bet.co.za free bet offer.
---
Free bet types and examples
Early days it was easy to define what a free bet was, but with the continually growing sports betting market, it is no longer so easy to define a free bet. This is particularly true in South Africa, when in comparison to other countries, there is very little regulation surrounding free bets. We aim to wade through some of the jargon that confronts punters when they are looing for free bet offers.
This section of our guide to the best SA sports betting free bet deals will teach you about the different types of free bets available and how they work:
---
Matched free bets
These types of free bet deals usually centre around the first bet you place with a bookmaker, with your initial stake being matched. As a general rule the matched bets you will come across will reward you with a percentage. For instance a common matched free bet, could be a 100% match up to the value of R1000, or R2000. We have seen these matched free bets awarded at a rate of anything from 10% right up to 500%.
Matched deposit free bets example
The offer: 100% matched bet up to the value of $R1000.
How it works: When you make a deposit of up to rand 1000 you will have it matched by 100%. For instance if you deposited R100 you would be given R100 in bonus to bet with, on top of your initial deposit.
---
Deposit bonus free bets
While you will have to make a deposit to claim this type of free bet, they are very popular among sports betting sites and punters. Deposit free bet offers work by on a percentages basis. So if it is a 100% matched deposit bonus, and you deposit R100, you would actually have R200 to bet with. As a general rule bookie deposit bonus amounts will be able to be split and spent however a punter wishes to use them.
Deposit bonus free bets example
The offer: 200% deposit bonus up to the value of R10,000.
How it works: If you deposit R5000, the bookmaker will give you an extra R10,000 in free bets. This means in total you will have ZAR 15,000 to bet with.
---
No lose bet deals
These are a great feature that has emerged for new punters at certain SA betting sites. No lose bets essentially give you a free bet if your first bet is unsuccessful. These types of free bets are also called Risk Free Bet in some quarters. While they have no really caught on yet at South African bookmakers, it is probably just a matter of time.
No lose bet example
The offer: If your first bet loses, we'll refund it 100% free bet
How it works: If a player signs up at an online betting site, accepts a no lose bet offer, then deposits and makes their first bet only for it to lose, the betting company will refund your stake in free bonus money.
---
Free bets no deposit South Africa
Free bet no deposit offers involve a player getting something for nothing and it usually involves new customers. Free bets sports no deposit offers are a great way to boost your bankroll when betting online. Usually you will see no deposit free bet offers available before you sign up at a betting site. These types of free bet deals are likely to have reasonably strict wagering requirements.

Free bets no deposit example
The offer: 10 free bet – no deposit required.
How it works? If you accept a free bet no deposit South Africa sports betting offer you will have to clear the wagering requirements before you can turn it into real money. While terms will vary between deals you can almost be certain no deposit freebets will have a minimum odds requirement and a turnover requirement. For instance you may need to bet the free bet amount 3x at odds greater than 1.80. Many of the best no deposit free bet deals that cater to ZAR have favorable wagering requirements, including the Betway freebet.
---
Free bets wagering requirements: How bonus turnover works?
Free bet wagering requirements are the terms and conditions associated with your bonus amount that you need to clear before you can withdraw any winnings that you have accrued. These are applied to most sports betting free bet offers in South Africa, with some of the wagering requirements making the free bet almost worthless.
Nearly all betting free bet offers are subject to wagering requirements, but these can vary greatly from one free bet to the next. Some of the common wagering requirements you will find surrounding free bet bonuses include:
Free bet Turnover requirement: This just means a player has to turn over their free bet total a certain amount of times until they can turn it into real money.
Minimum Bet: Minimum bet wagering requirements generally stipulate you must place a certain bet, or a bet of a certain amount to be given a bonus offer. For instance a popular South African betting site has an offer where you deposit more than R50 and you and receive 3 x 50 Rand wagering requirements. So in summary to pass minimum bet wagering requirements you would need to make a deposit of $R50 and bet it to trigger the 3 x R50 free bets.
Max Winnings: This simply means that you can only win a certain amount of money when converting your free bet to real money.
Bookies right to cancel free bet: This usually centres around a player somehow exploiting a freebet bonus at a South African bookie. It essentially gives them a right to cancel free bets at any moment. We don't often hear of this free bet clause being enacted.
---
Deposit types that void SA free bet bonus deals
When you make deposits to online betting sites, often this is when you will receive free bets to your gambling account. But there are some payment methods at SA online bookmakers that can rule you ineligible for free bet offers. These are usually the deposit options that have higher bank fees, with some web wallets and payment processors falling into his category. Some of the South African bookie payment methods that may rule you ineligible for free bets includes:
---
What sports can i claim free bets on?
The good news is there are very few restrictions on what sports or horse racing events you can use free bets on, although this can vary at different betting sites.
This means all of the major betting sports like basketball, horse racing, football (soccer), grid iron, cricket, greyhound racing and many, many more are covered extensively.
South African bookmakers will also have extensive sports betting markets available on domestic sports events, including things like the Premier Soccer League, local horse racing racing and various rugby competitions. Local betting sites will generally have free bet offers available on major sports and racing events.
Often if there is a big sports event on, you will see bookmakers begin to advertise free bet deals or promotions surrounding it well in advance of it beginning.
For instance prior to the FIFA World Cup, well in advance one of the major sports betting sites in South Africa was giving all customers a 100% matched deposit freebet up to the value of R1000. Other betting sites had no deposit free bets available.
---
SA bookie freebet Q and A
Have you got any questions about South African sports betting free bets and bookmaker bonus offers? You can drop us a message in the box below or email us at contact@worldgamblinglistcom. In this section we answer commonly asked questions about free bet and no deposit needed free bets.
How do free bet wagering requirements work?
Free bet wagering requirements are restrictions that stop people from simply cashing out the no deposit free bet, before they place any bets. Things like betting the free bet a certain amount of times and a max win could apply to free bets.
Why do bookies give customers free bets?
Don't think SA bookies give out free bets out of the goodness of their heart. They are trying to secure you custom and free bets are a great way to do so.
Are free bets legal in South Africa?
Bookie free bets are legal in South Africa as long as the betting site is licensed by a state regulator. Overseas readers should check out our extensive guide to international bookmaker free bets.
Why has my freebet bonus not been applied to my account?
Often in South Africa there will be a requirement to verify your betting account before you can claim any free bets. This is usually called a FICA requirement, where you verify who you are.
What are the best no deposit free bets for South Africa?
The World Gambling List really likes the Betway no deposit free bet bonus, while we are also big fans of the R50 free bet offer up for grabs at SupaBets.