Best South African sports betting sites 2023
South Africans have a fully regulated sports betting industry at their fingertips, with more than 30 online betting sites operating here in 2023. Each of the nine provinces of South Africa has the power to license betting sites, which means we can wager in a safe and heavily regulated environment. This article will run you through the best betting sites for South Africans and teach you everything you need to know about the local sports betting and racing industry. Our top sports betting sites for South Africa are:
Top legal betting sites for South Africa
South Africa has a thriving and legal online betting industry, with many regulated betting sites accepting customers from this region. The best South African betting sites tend to be licensed by the Eastern Cape Gambling Board, with these including well-known brands Sportingbet ZA and HollywoodBets, which are two of the main players in the market. Many of the best online betting sites also have in-play betting, which means you can place wagers after events are under way. The World Gambling List trusts the following ZA betting sites.
---
Best mobile betting sites
Mobile betting sites are undoubtedly the way to go when betting online in South Africa, with more bets placed via smartphones and tablets than any other medium in 2021. With more and more people having access to the internet on their telephone, mobile betting sites are growing quickly.
Already there are more than 40 mobile betting sites available, with these differing in quality and safety levels. The best mobile betting sites include names that are familiar all over the world, including brands such as Betway and Sportingbet, which have had major success internationally.
Mobile betting sites owned in South Africa are also common, with these including Hollywoodbets, which is known for its retail betting operation.
Via mobile, punters can wager on everything they can on desktop, including horse racing and various sports taking place in South Africa and abroad. Promotions and bonus offers are also accessible via these mobile bookmakers.
Mobile betting apps
Another popular way to access bookmakers on mobile is via sports betting apps, which are small software downloads for your smartphones and tablets. Mobile betting apps are much like the mobile website, although they tend to have more features, including dynamic odds, smoother navigation and quicker access.
Many of the top online betting sites we promote on the World Gambling List South Africa have downloads available for their customers. These betting apps are generally either for iOS or Android smartphones and tablets. Our current partners with mobile betting applications include:
---
Sign-up bonus offers & freebets in South Africa
Many of the best sports betting sites have sign-up bonus offers available, with these open to all new customers. Sign-up bonuses at South African betting sites include things such as matched deposit bonus offers, no deposit bonus offers and even things such as an insured first bet.
We are constantly talking to new betting sites and one of the key criteria we look at is the sports bonus bet offers that are up for grabs. The key things to look out for when choosing which freebet bonus offer you want to claim include the wagering requirements, whether there is a cap on winnings and what sports or racing events you can use it on.
Promotions at sports betting sites
The WGL team is constantly finding the top promotions on offer at sports betting sites in South Africa.
---
Sports featured at SA betting sites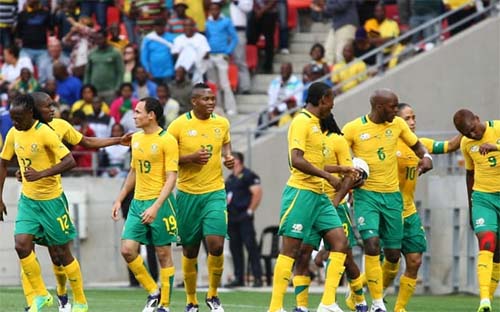 Really the sports you can bet on are limitless, with most professional, and even some not-so-professional, sports having markets framed by leading betting sites. These include sports played in South Africa, such as football, rugby and cricket, and all sorts of international sports events.
This includes international football markets, on popular leagues like the EPL, La Liga, Champions League and basically any match played around the world.
South African betting sites go into overdrive when the national teams are playing, with the world champion rugby team the Springboks the toast of the country. The Bafana Bafana, the men's national football team, and the Proteas, the men's cricket team, are also prominent in betting sites planning. When these teams have a match coming up, there will be plenty of markets available and most likely betting promotions.
Arguably the biggest domestic sports competition is the South African Premier Division (PSL), which is the top-flight soccer competition.
Undoubtedly one of the biggest growth area in sports betting in South Africa is American sports, with the greater access to vision and coverage the internet has provided, giving it greater prominence. NBA, NFL, NHL and other minor leagues are some of the most popular events to bet on at South African betting sites.
Another factor in sports betting sites changing the wagering world is the instant nature of it, with mobile sports betting now possible. This means you can follow games and bet on the outcome all from the same app, or betting website, as long as you have a decent internet connection.
Some of the most popular sports to bet on from around the world include:
Rugby
Best rugby betting sites
Rugby is hugely popular in South Africa and it treated accordingly at the top betting sites, with all Currie Cup and Super Rugby fixtures and other domestic tournaments covered extensively.
South Africa are the world champions in rugby, after shocking many to win the 2019 edition in Japan. This was one of the large major international tournaments before COVID-19 struck and shut down most rugby for a couple of years.
The Currie Cup is the top-flight domestic competition in South Africa, and the best online betting sites will have markets available well in advance of the season.
Other popular rugby events include the Super Rugby competition, played between the best club teams from New Zealand and Australia, and the Six Nations championship in Europe.
Cricket betting sites
Cricket is a popular sport in South Africa, with the national team drawing great attention right across the country. Betting sites in South Africa have extensive odds on all of the Test matches, ODIs and T20 fixtures when the Proteas are playing.
The Sunfoil Series, Mzansi Super League and other first-class fixtures are also covered by local betting sites. While further afield competitions such as the Indian Premier League, Big Bash League and pretty much every first-class cricket match from around the world are covered.
The best cricket betting sites in South Africa include brands such as Betway and Sportingbet, which have local websites, despite being major international gambling brands. These betting sites will give you outstanding coverage of all cricket competitions and international matches.
Basketball betting
Arguably the No.1 sport in the USA, basketball has a huge reach around the world with most countries boasting a professional league. The NBA is a clear No.1, with the EuroLeague, Spanish, Turkish, German, Italian and Australian professional leagues probably the next best in the world.
South African basketball betting sites are common with more than 40 online bookmakers having markets. This means you need to do your homework before choosing a basketball bookie. The BNL is the no.1 basketball competition in South Africa, although the NBA is bigger as a betting medium.
Betting sites will often have basketball promotions with boosted multibets, multi refunds and bonus bet offers all things that pop up from time to time.
Football betting sites
The world game has its biggest fanbase in Europe, but pretty much every country in the world has some interest in football. Often known as soccer in countries such as Australia, New Zealand, USA and Canada. The next FIFA World Cup is due late in 2022 in Qatar. The women's game is also expanding quickly, with the World Cup played in France drawing unprecedented betting in 2019.
The professional football competition in South Africa is the ABSA Premiership, or the Premier Soccer League (PSL), which features teams from all over the country in a promotion-relegation system. All of the best online bookmakers in South Africa will have betting on the PSL.
Soccer is massive in South Africa and draws huge betting interest, on both the local competitions and international leagues. Sports betting sites will almost always have some kind of football promotion running, with cash-back offers, multibet specials and free bets a few of the offers we have seen in the past.
Horse racing
Horse racing is prominent at many of the best betting sites online, with this sport built for wagering. Several of the top South Africa betting sites that we promote, including SunBet.co.za and SupaBets.com, have horse racing markets on the local gallops and all of the major International meetings.
Some of the International online betting companies that have entered the betting landscape in South Africa, like Betway, do not have horse racing betting available.
Betting sites horse racing markets can vary greatly from operator to operator, with many of the top horse betting sites featuring futures betting on major races from all over the world. Closer to race day, you will find betting sites have win/place, quinellas, trifectas and first four on offer. Multi bets are also popular on South African racing.
Golf
The gentleman's game is a great one for those who like betting, with plenty of lucrative opportunities out there. The majors all attract significant betting interest. The World Gambling List has one of the leading authorities on golf betting among its staff. We love betting on golf.
More popular sports South Africans bet on
Rugby League: The other code of rugby is popular in Australia, England, France and New Zealand. In terms of betting, at last check all of the betting sites promoted on this page have markets for various Rugby League competitions around the world. Rugby League at club level is probably at its strongest in Australia, where the NRL takes pride of place.
Tennis: Spearheaded by the four grand slams, tennis betting is popular all year round, particularly in countries with legal live betting. Other popular betting events on the tennis circuit include The Masters series and Davis Cup, which pits country against country. Tennis is also part of the Olympics. Our guide on tennis betting can help you begin your wagering journey. The top sports betting sites in South Africa will have extensive tennis markets available, with some of the popular markets including sets betting, outright tournament winner and even live betting.
Baseball: While predominantly popular in the USA, baseball has many fans right around the world. Most focus is on the Major League Baseball, the top-flight US league. Baseball, with its stats-driven approach, is popular with professional punters. While not highly advertised in South Africa, betting sites will have markets on all the professional baseball leagues around the world.
Ice hockey: Ice hockey betting is mainly done in Canada, the USA and many European countries (that have ice). There are generally futures markets on popular leagues available, plus match-day markets a day out from most pro games. Our guide to betting on ice hockey is a good starting point if you're looking to learn. All of the betting sites advertised on this page have extensive odds on ice hockey competitions from around the globe.
eSports: While we are dubious about the merits of eSports being a true sport (yep, we're picturing heavy-set kids on Nintendos), the numbers don't lie, with billions of people around the globe watching games like World of Warcraft, Call of Duty, Dota 2 and League of Legends. These numbers are starting to result in more bets being placed. There are even dedicated esports betting sites springing up all the time.
Table tennis: One of the most popular sports in the world, courtesy of its insane popularity in China and other Asian countries. Some of the big table tennis events on the world stage include the Olympics and World Championships. Table tennis betting is available at all of the top betting sites.
Swimming: We have always felt swimming would be a great betting sport, with its short races and 1, 2, 3 finishes, just like horse racing and car racing. While it has not taken off as a punting pursuit, we think the emergence of the International Swimming League (ISL) and other new FINA-backed events could breathe new life into the sport. How about actually getting swimming back on television for starters?
---
How to sign up at a Betting Site
The process of signing up at SA betting sites is actually quite simple once you have identified a website that will accept your patronage. We talk more about finding the best betting sites on this page, but not in this section. Instead this article will run you through everything you need to know about the sign-up process:
Find a bookie: South Africa has a regulated gambling sports betting industry and the World Gambling List strongly recommends wagering with a licensed betting operator, and not an illegal offshore option.
Opening a new betting account: After you have landed on your chosen betting site you will need to sign up. This is a straight-forward process where you give over things like your name, address, phone number and other personal details. The top online betting sites we promote on the WGL all boast the highest security protocols and have licences to operate in South Africa.
South Africa betting sign-up bonuses: You need to decide whether you accept a sign-up bonus from a bookie. Remember they come with wagering requirements and are not REAL money, until they are cleared. South Africans can legally claim online betting bonus offers and many of the best online betting sites will have a sign-up offer.
Funding your betting account: South Africans have a plethora of methods to fund their online betting accounts, with these generally being things such as credit and debit cards, web wallets and online payment processors. You can read more about funding your ZA betting accounts below.
Placing bets: If you've managed to get this far, you should be able to work out how to place a bet. Most South African betting sites have similar layouts on both desktop and mobile, which allows you to easily browse markets. After this when you click on the odds your bet will be placed in a bet slip, where you can parlay or accumulate your bets or place them as singles.
Cashing out winning bets: There are generally not as many withdrawal options at betting sites in South Africa, as there are deposit methods. Some bet sites will even make you withdraw using the same method as you deposited with. It's really important to note that you must have supplied your real details, because you will have to verify your account before you can cash out.
---
Rand betting sites payment options
There are many ways South Africans can fund their online betting accounts in Rand, with these including your most popular deposit methods like credit and debit cards. Another really popular deposit option at the top South African betting sites is SID, which is a mobile payment option that allows you to instantly transfer funds from your bank account to your sports betting account.
Instant payment methods at ZAR betting sites
Bank transfer options at betting sites in South Africa
All of the major banks in South Africa legally process payments to online betting sites, with these generally taking 1-3 days to hit your bank account.
First National Bank
Absa bank
Standard bank
Nedbank
** Please read our full bookmaker deposits list for more information about banking and payments at betting sites.
---
Sports betting laws in South Africa
Sports betting in South Africa, unlike the online casino gambling industry, is 100% legal, regulated and a huge business. Each of the nine provinces in South Africa is allowed to license betting sites and in 2023 the number has grown to over 30, including some of the biggest names in online gambling.
While online wagering is now legal, this has not always been the case, with several significant rulings over the years stopping serious progress in regulating sports betting in South Africa.
If you are caught advertising, facilitating, processing payments to (this includes banks) or running illegal, unlicensed betting sites you can be fined up to 10 million rand or face up to 10 years in prison.
There has been several cases of these laws coming into practice in recent years, as the sports betting industry in South Africa is re-evaluated and improved under the guidance of the various licensing bodies.
We expect gambling laws in South Africa to be updated in the coming years to reflect the booming betting and wagering industry. This can only be a good thing for those of us using online betting sites, with regulation generally providing more safety for players.
How is South African sports betting taxed
South Africa's gambling regulators are based in each province, in a similar way Australia polices its industry, with these bodies also responsible for taxing the betting operators.
If you are betting on sports there is no tax applied to winnings in South Africa, however if you bet on horse racing you will be slugged 6% of any winnings. This rule has been a bane of contention for many years in South Africa, with racing enthusiasts claiming it is impeding the growth of the industry.
Sports betting sites licensing bodies
There are number of gambling bodies in South Africa that legally license betting sites, with these regulators based in each of the nine provinces. While the UK has the industry-leading Gambling Commission, South Africa has a similar model, but it works at province level. These organisations also deal with the horse racing and land-based gambling industries in their respective jurisdictions.
Gauteng Gambling Board
Eastern Cape Gambling and Betting Board
Free State Gambling and Racing Board
KwaZulu-Natal Gambling and Racing Board
Limpopo Gambling Board
Mpumalanga Gambling Board
North West Gambling Board
Northern Cape Gambling Board
Western Cape Gambling and Racing Board
On top of the provinces gambling regulators, South Africa also has the following two organisations which play a big role in the gambling landscape.
International Association of Gambling Regulators (IAGR)
National Gambling Board
---
Foreign betting sites in South Africa
Many of the top foreign betting sites will accept customers from South Africa. This is because many of the best online betting sites ignore the local laws, with zero enforcement action taken against offshore bookmakers that are unlicensed. These include some of the biggest brands in online sports betting, although they won't openly advertise to South Africans. This means if you choose to bet with a foreign bookmaker from South Africa there is every chance that you will have to convert your deposit into another currency such as USD or the Euro.
The question we get asked the most about foreign betting sites operating in South Africa, is whether you can get in trouble for wagering with one. While the government does actively block payments, through a deal with local banks, to offshore betting companies in practice it's very easy to get around. So far, there has not been any enforcement action taken against individuals who wager with offshore betting sites, and this is unlikely to change, judging by other countries' betting laws.
Foreign bookmakers tend to have a greater depth of odds and better promotions than locally licensed betting sites, although there are plenty of benefits to wagering with legal companies, including that they must operate under the same laws as you, making it much harder to be ripped off.
While the World Gambling List does not promote foreign betting sites on this page, you can read plenty more about them in our guide to the top International betting sites.
---
Sports betting sites v Retail betting in South Africa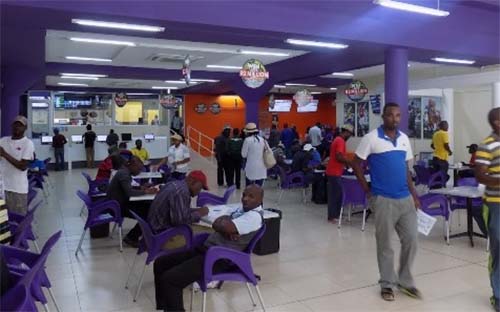 Sports betting sites are growing increasingly popular as internet connections improve across South Africa. More and more people have mobile data connections, and like the global trend, have began gravitating towards online betting sites.
The top sports betting sites for South Africans are licensed and regulated by one of the provinces, and include many of the biggest betting brands in the world, such as Betway and Sportingbet, although they are locally hosted sites, and live casino is the only form of real money gambling you will find.
Retail betting in South Africa is huge, with betting shops dotted right around the country. They number more than 1600 in total, with many of these betting shops also expanding their offering to include online betting. You will not find the full list of South African betting companies on many websites, because most don't have affiliate programs, so there is no money to be made. Trust us though, some of the best ZAR betting sites are ones that you don't see advertised much online.
Some of the reasons that you should bet with South African betting sites, over retail wagering include:
Instant access to thousands of betting markets via telephone, smartphone and computer
Daily betting promotions that include South African bettors
No-deposit free bets for opening new betting site accounts
Easy ZAR deposit options including pay-in-person, credit and debit cads
Watch live sports at many of the top online betting sites
---
ZAR online betting sites Q and A
Becoming a member at a sports betting site can be daunting if you are a first-timer, or maybe you simply want to learn more about SA bookmakers. You can contact us in the box below or at contact@worldgamblinglist.com.
Is horse racing betting legal in South Africa?
South Africa has a thriving horse racing scene and all of the top online bookmakers offer wagering on the thoroughbreds.
What odds format do online bookmakers display markets in?
Globally it's common to find all three of the major odds formats – Fractional, Decimal and American – available at the same betting sites. It's usually just a simple toggle button to select what odds you want to view, however in the ZA betting market you will generally find odds in fractional format, as this is the standard.
Do any betting sites in South Africa have no-data sites?
This is a relatively new concept in online betting where bookmakers may have a website that will not take any mobile phone data to browse. Betway's no-data betting site website provides a great service, most notably that requires no data.
Are online betting sites safe in South Africa?
As long as you do your homework before signing up at one of the best betting sites in South Africa, you will remain safe. Look for betting sites licensed by one of the regulators on this page, with the Western Cape Gambling & Racing Board arguably the most prominent.