Japan horse racing 2023
Horse racing in Japan is enormously popular as a betting medium and its major events attract huge crowds, especially the Japan Cup on the last Sunday each November. Japanese horse racing is attractive for overseas punters, given it is tightly regulated and its horses, riders, trainers and stewards are world class.
Japan racing has blossomed in the past 40 years to the point where some consider it has the best thoroughbreds anywhere. Japanese horses' results on the world stage speak for themselves in recent times.
The best Japanese racing, run by the Japan Racing Association, is conducted on Saturdays and Sundays and some national holidays. The Japan Cup, run over 2400 metres on turf, regularly attracts more than 150,000 fans to Tokyo Racecourse in Fuchu and is one of the richest races in the world.
Japanese horse racing is renowned as being among the best thanks to the country's impressive breeding industry, well-organised structure and eye-watering prizemoney levels.
Japanese horses have proven competitive wherever they have raced overseas, winning many overseas races including Australian jewels the Melbourne Cup, Caulfield Cup and Cox Plate.
---
Betting on Japan horse racing
Punters based in Japan are able to bet on the horse races legally through the pari-mutuel (totalisator) system run by the racing authorities.
There are no legal bookies based in Japan, so Japanese players wishing to bet on fixed odds horse racing are forced to use certain offshore operators which accept Japanese players. This is banned but the Japanese authorities do not block offshore betting sites and have not prosecuted players who use these sites. The penalty also is a minimal fine for first-time offenders, though to our knowledge these are rare.
For those based in other jurisdictions which allow online sports and horse racing betting, most of the operators the WGL recommends will offer extensive fixed odds betting on Japanese racing. The beauty of Japanese racing is it's a premium product and is widely screened on racing channels and websites worldwide.
---
The totalisator (pari-mutuel system) in Japan
Horse racing is classed as one of the "public sports'' alongside cycle and motorcycle racing and powerboat racing. Betting on the races is available on-course and also at ticket booths around the country. The downside is of course the same as with all totalisator systems in that the operator skims around 25 per cent (depending on type of bet) straight out of the betting pools, leaving around 75pc to be carved up among the winning bettors. This is good for government funding but not necessarily for the punter trying to turn a profit.
The Japanese government also offers lotteries and football pools, while baseball, Sumo, rugby union and basketball are other sports widely followed in Japan but which cannot be bet on legally online.
Pachinko parlours are another form of gambling that is enormously popular in Japan, with the turnover measured in the tens of billions of dollars. Pachinko is a mechanical game akin to a cross between a pinball machine and a slots or poker machine, but the operators get around the tough Japanese gambling laws by rewarding winning players with tokens. These tokens can be traded for cash at different outlets, not on the same premises as the machines.
---
How Japanese horse racing works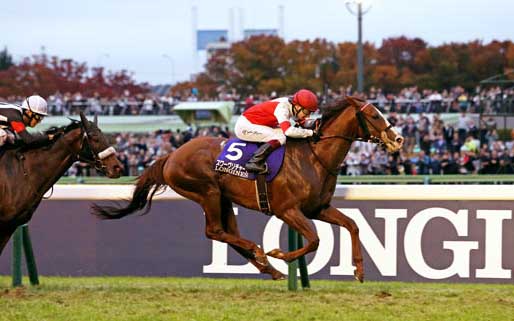 Japan has flat and jumps racing though the vast majority of races are conducted on the flat, with the Japan Racing Association (JRA) the leading racing body.
The JRA conducts the cream of Japan's racing (central racing) at 10 tracks under its control (see below for list of tracks), while the next tier of racing in Japan (local racing) is under the control of the National Association of Racing (NAR).
JRA revenue finds its way to the national treasury, while NAR racing sends revenue to designated local governments.
The JRA holds 288 race days a year, and the horses are generally graded by the amount of prizemoney they have earned. The top class of racing is graded racing; followed by open; three win; two win; one win; newcomer; and maiden races, with races run from 800m to 3600m.
NAR racing is responsible for 15 local racecourses which are under the control of local governments. NAR racing is usually on dirt tracks (Morioka Racecourse has the NAR's only turf track) but it does include several grade 1 events and its best horses and personnel can graduate to JRA racing.
JRA horses can't race in NAR events except for special "exchange races" or dirt-graded events.
JRA race days (mostly weekends) usually feature 12 races, with the first race scheduled for around 10am local time. The racecourses and off-track betting facilities (WINS) open around 9am.
---
Betting on overseas racing from Japan
Horse racing is popular in many countries and Japanese punters love to wager on events overseas, whether they be in Australia, United Kingdom, the USA or elsewhere. Racing happens every day of the year, with Australia, Hong Kong and New Zealand probably the epicentre of the sport. There is also much fanfare around select races in the USA and United Kingdom.
Betting on these races from Japan is a simple process and involves signing up with a horse betting site, with these based overseas. These racing betting sites are brands that many will be familiar with; William Hill, Sportingbet and Betway all do a roaring trade in Japan. You will be able to bet via desktop computer, mobile (including betting apps) and basically anything with an internet connection and web browser.
Read our guides to overseas racing to learn more about the sport globally:
---
History of horse racing in Japan
Racing in Japan can be traced back more than 1200 years, with a unique style of racing held as a religious ceremony which continues today. The races involve samurai riders in two-horse contests and are still held each May at the Kamikamo Shrine, Kyoto.
But for the Western-style horse racing in which Japan has become such a powerhouse, we need to look around the time of the Meiji Restoration, circa 1861. In what is now known as Yokohama, British residents drained a swamp area to hold horse races and formed the Yokohama Race Club. The Negishi Racecourse was built in 1866 and the sport caught on quickly and soon more race courses were built and other clubs formed.
The Japan Racing Association was established in 1954 and it has been onwards and upwards ever since for Japanese racing, with the Japan Cup launched in 1981.
---
Biggest horse racing events in Japan
Some of the biggest and most well-known horse racing events in Japan include:
Japan Cup
An invitational event first run in 1981, it was initially dominated by foreign runners, which won 10 of the first 12 editions, but that is certainly no longer the case. The most recent foreign winner was Alkaased in 2005.
The Japan Cup is run at weight-for-age and attending this day would be on the racing bucket list of many a turf aficionado, with the enormous crowds it attracts.
Japanese triple crown
These are the classic races for three-year-olds, with one of the greats of Japanese racing, Deep Impact, completing the treble in 2005.
The three races in the Japan triple crown are:
1st leg: The Satsuki Sho (Japanese 2000 Guineas), which is run at Nakayama over 2000m.
2nd leg: The Tokyo Yushun (Japanese Derby) at Tokyo over 2400 metres, with no geldings permitted.
3rd leg: The Kikuka Sho (Japanese St Leger) at Kyoto over 3000m, with no geldings permitted.
Japanese fillies triple crown
The second triple crown in Japan racing is for three-year-old fillies and was famously completed by champion filly Almond Eyes in 2018.
1st leg: The Oka Sho (Japanese 1000 Guineas) at Hanshin over 1600m.
2nd leg: The Yushun Himba (Japanese Oaks) at Tokyo over 2400m.
3rd leg: The Shuka Sho at Kyoto over 2000m.
---
Top racecourses of Japan
The JRA is the top racing body in Japan and its courses are spectacular. All of the JRA's group 1 races are held at five tracks: Tokyo, Nakayama, Kyoto, Hanshin and Chukyo. The first four of these tracks are known as the "Big Four" tracks in Japanese racing.
Here is the WGL's guide to the 10 JRA racecourses.
Tokyo Racecourse
The JRA's flagship racecourse and it is extraordinary, with seating for more than 120,000 fans and the capacity for many more. Watch the best of Japan's Group 1 races here and take in views of Mt Fuji.
Direction of racing: Anti-clockwise (left-handed)
Best races: February Stakes, NHK Mile Cup, Victoria Mile, Yushun Himba (Japanese Oaks), Tokyo Yushun (Japanese Derby), Yasuda Kinen, Tenno Sho, Japan Cup.
Nakayama Racecourse
The second course in the capital of Tokyo and it holds meetings alternately with the country's No.1 racecourse Tokyo Racecourse.
Direction of racing: Clockwise (right-handed)
Best races: Nakayama Grand Jump (Jumps), Satsuki Sho (Japanese 2000 Guineas), Sprinters Stakes, Nakayama Daishogai (Jumps), Arima Kinen (The Grand Prix), Hopeful Stakes.
Kyoto Racecourse
The headquarters of racing in western Japan and was built in 1924.
Direction of racing: Clockwise (right-handed)
Best races: Tenno Sho, Shuka Sho, Kikuka Sho (Japanese St Leger), Queen Elizabeth II, Mile Championship.
Hanshin Racecourse
Along with Kyoto this track, built in 1948, hosts the best racing in western Japan.
The two tracks alternate meetings.
Direction of racing: Clockwise (right-handed)
Best races: Osaka Hai, Oka Sho (Japanese 1000 Guineas), Takarazuka Kinen, Hanshin Juvenile Fillies, Asahi Hai Futurity Stakes.
Chukyo Racecourse
Reopened in 2012 after two years of renovations, this course is in Nagoya district, the most densely populated area between Tokyo and Osaka.
Direction of racing: Anti-clockwise (left-handed)
Best races: Takamatsunomiya Kinen, Champions Cup (dirt).
Sapporo Racecourse
In Sapporo City on the northern island of Hokkaido. Has two meetings per year which each feature 6-12 race days.
Direction of racing: Clockwise (right-handed)
Best races: Sapporo Kinen (Group 2), Queen Stakes (G3), Elm Stakes (G3), Keeneland Cup (G3), Sapporo Nisai Stakes (G3).
Hakodate Racecourse
The second track in Hokkaido, located at Hakodate City.
Direction of racing: Clockwise (right-handed)
Best races: Hakodate Sprint Stakes (G3), Hakodate Kinen (G3), Hakodate Nisai Stakes (G3).
Fukushima Racecourse
The major track in Honshu, and holds three meetings per year of 6-12 race days each.
Direction of racing: Clockwise (right-handed)
Best races: Fukushima Himba Stakes (G3), Radio Nikkei Sho (G3), Tanabata Sho (G3), Fukushima Kinen (G3).
Niigata Racecourse
This imposing track built in 1965 sits on the Sea of Japan and has a capacity of about 75,000 with scope for jumps races.
Direction of racing: Anti-clockwise (left-handed)
Best races: Sekiya Kinen (G3), Niigata Kinen (G3), Niigata Daishoten (G3), Niigata Nisai Stakes (G3), Leopard Stakes (G3), Ibis Summer Dash (G3).
Kokura Racecourse
This track is in the industrial city of Kitakyushu on the island of Kyushu. It is on the smaller end of the courses with capacity for about 20,000.
Direction of racing: Clockwise (right-handed)
Best races: Kitakyushu Kinen (G3), Kokura Kinen (G3), Kokura Nisai Stakes (G3), Kokura Daishoten (G3), Kokura Summer Jump (G3, jumps).
List of JRA Group1 races
 (*months can vary)


| | | | | |
| --- | --- | --- | --- | --- |
| Month | Race | Course | Distance | Age/sex |
| Feb | February Stakes | Tokyo | 1600 (d) | 4YO & up |
| Mar | Takamatsunomiya Kinen | Chukyo | 1200 | 4YO & up |
| Mar | Osaka Hai | Hanshin | 2000 | 4YO & up |
| Apr | Oka Sho (Japanese 1000 Guineas) | Hanshin | 1600 | 3YO fillies |
| Apr | Satsuki Sho (Japanese 2000 Guineas) | Nakayama | 2000 | 3YO no geldings |
| Apr | Tenno Sho (Spring) | Kyoto | 3200 | 4YO & up |
| May | NHK Mile Cup | Tokyo | 1600 | 3YO No Geldings |
| May | Victoria Mile | Tokyo | 1600 | 4YO & up f and m |
| May | Yushun Himba (Japanese Oaks) | Tokyo | 2400 | 3YO fillies |
| May | Tokyo Yushun (Japanese Derby) | Tokyo | 2400 | 3YO No Geldings |
| Jun | Yasuda Kinen | Tokyo | 1600 | 3YO & up |
| Jun | Takarazuka Kinen | Hanshin | 2200 | 3YO & up |
| Sep | Sprinters Stakes | Nakayama | 1200 | 3YO & up |
| Oct | Shuka Sho | Kyoto | 2000 | 3YO Fillies |
| Oct | Kikuka Sho (Japanese St Leger) | Kyoto | 3000 | 3YO No Geldings |
| Oct | Tenno Sho (Autumn) | Tokyo | 2000 | 3YO & up |
| Nov | Japan Autumn International Queen Elizabeth II Cup | Kyoto | 2200 | 3YO & up f & m |
| Nov | Japan Autumn International Mile Championship | Kyoto | 1600 | 3YO & up |
| Nov | Japan Autumn International Japan Cup | Tokyo | 2400 | 3YO & up |
| Dec | Japan Autumn International Champions Cup | Chukyo | 1800 (d) | 3YO & up |
| Dec | Hanshin Juvenile Fillies | Hanshin | 1600 | 2YO fillies |
| Dec | Asahi Hai Futurity Stakes | Hanshin | 1600 | 2YO No Geldings |
| Dec | Arima Kinen (The Grand Prix) | Nakayama | 2500 | 3YO & up |
| Dec | Hopeful Stakes Nakayama 2000 2YO No Geldings | Nakayama | 2000 | 2YO No Geldings |
JRA International Jump Races
| | | | | |
| --- | --- | --- | --- | --- |
| Month | Race | Track | Distance | Age/Sex |
| Mar | Pegasus Jump Stakes | Nakayama | 3350 | 4YO & up |
| Apr | Nakayama Grand Jump | Nakayama | 4250 | 4yo & up |
| Dec | Nakayama Daishogai | Nakayama | 4100 | 3YO& up |
* (d) denotes race on dirt
---
National Association of Racing tracks by prefecture
Hokkaido prefecture: Obihiro Racecourse, Mombetsu Racecourse, Sapporo Racecourse
Iwate prefecture: Morioka Racecourse, Mizusawa Racecourse
Saitama prefecture: Urawa Racecourse
Chiba prefecture: Funabashi Racecourse
Tokyo prefecture: Oi Racecourse
Kanagawa prefecture: Kawasaki Racecourse
Ishikawa prefecture: Kanazawa Racecourse
Gifu prefecture: Kasamatsu Racecourse
Aichi prefecture: Nagoya Racecourse, Chukyo Racecourse
Hyogo prefecture: Sonoda Racecourse, Himeji Racecourse
Kochi prefecture: Kochi Racecourse
Saga prefecture: Saga Racecourse