Horse racing in South Africa
Horse racing has long been an important and popular part of the South African sporting landscape, with thousands employed in the industry and millions of rand wagered on the sport of kings weekly.
As in many countries, racing is engaged in a dire struggle for the wagering dollar, with stiff competition coming from the casino industry, both online and land-based, and the rise of sports betting, among other factors.
This has forced the rationalisation of the industry, with a reduction in the number of race tracks, with Flamingo Park the latest to close in December 2019.
The first organised racing in South Africa was around 1797, and the biggest race on the calendar is always the Durban July, which is run over 2200 metres on the first Saturday in July. It has been held at Greyville since its first edition in 1897.
More: ZA horse betting sites
Other leading feature races include the Summer Cup at Turffontein in Johannesburg on the last Saturday in November, and the Sun Met at Kenilworth Race Course in Cape Town on the last Saturday in January.
Because of African horse sickness, South Africa cannot host shuttle stallions but it still boasts an extensive breeding industry and its best horses have been competitive on the world stage. They are renowned for their stoutness and durability and about 3000 foals are produced each year.
The Rainbow Nation is also lauded for producing top-notch jockeys, with legendary horsemen such as Michael Roberts, Basil Marcus, Douglas Whyte heading abroad and dominating on big stages such as in Britain and Hong Kong.
---
Betting on South African horse racing

Online betting from South Africa is legal on racing and sports, as long as you are betting with a bookmaker licensed in South Africa.
You can place bets on South African racing using either fixed odds or by betting into the totalisator pools. Tote bets go into single national pools under the TAB banner.
TAB also bets on overseas racing from places such as Britain, Australia, Dubai, France, Hong Kong, Mauritius, Singapore, USA.
From abroad, South African racing offers an enticing product to be bet on, with well-regulated racing, a smallish horse population, average field sizes of around 12 and racing on 364 days of the year.
It can be viewed in many countries, and many countries share commingled tote pools with South Africa to allow for greater strength in the market.
South Africa is a large and diverse nation and its racing largely falls into four main seasons in Cape Town (November-February), Johannesburg (September-December and February-April) and Durban (May-August for the season's finale).
Punters bet through the tote and using fixed odds with South African-regulated bookmakers online. The two big tote players in South African horse racing betting are Phumelela Gaming and Gold Circle. Phumelela controls tote betting in seven of the nine provinces and also services the Western Cape on behalf of Kenilworth Racing, while Gold Circle rules the roost in KwaZulu-Natal. Their empire includes running the race tracks and training operations as well as hundreds of retail betting outlets (many in bars and restaurants) as well as online operations.
---
How to watch South African horse racing
Phumelela Gold Enterprises (PGE), a joint venture between the major betting operators, holds domestic and international broadcast and information rights to South African racing. PGE owns Tellytrack, the domestic horse racing channel found on channel 239 which also has a streaming service via tellytrack.com.
PGE's other channel, Racing International, has satellite capacity over 80 per cent of the globe and South African horse racing is beamed to more than 50 countries.
---
History of racing in South Africa
Racing arrived in South Africa in the 1790s and as in many other countries came via the British army and its deep ties with the horse.
The first recorded racing was in Cape Town on Green Point Common in September 1797.
Early locally-bred racehorses in the region were known as Capers but the breeding industry was given a tremendous fillip when Sir Charles Somerset turned up in 1814 and imported thoroughbred stallions and mares to boost the local bloodstock.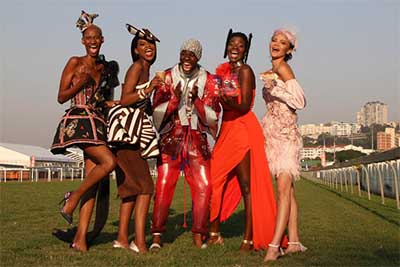 Pretty soon racing was being conducted all around the country.
With the discovery of gold and diamonds in the 1870s came tremendous wealth and pretty soon the well-heeled turned their leisure time to racing. The Jockey Club of South Africa was formed in 1882 and it remains in power to this day, though it is now known as the National Horseracing Authority.
An important event occurred in 1897 with the inaugural running of the Durban July at Greyville, where it has been held annually since and remains the nation's most sought-after race.
---
How South African horse racing works
The National Horseracing Authority (NHRA) of Southern Africa regulates the industry and it is funded by Phumelela and Gold Circle, two major players in betting on South African racing.
There are some 440 meetings per year and fixtures are set by the three racing operators, Phumelela Gaming and Leisure, Kenilworth Racing (Pty) Ltd and Gold Circle (Pty) Ltd.
The premier level of racing is grade 1 and there are 29 of these races held each year.
There are also races held and grade 2 and 3 and listed levels.
---
Racetracks of South Africa
As at 2020, there are seven active racecourses in South Africa, down from eight with the closure in late 2019 of the all-sand Flamingo Park, the track known as Kimberley Racecourse until it was refurbished and renamed in 2005.
The other seven tracks all boast turf surfaces. Greyville hosts around 24 night meetings a year and floodlights have been added at Turffontein.
Here is our guide to each of the active horse racing tracks in South Africa:
Greyville
Location: Durban, KwaZulu-Natal
This 2800-metre, pear-shaped track in the heart of Durban is the home for Africa's most famous race, the Durban July. As well as the main turf track, Greyville also has an all-weather polytrack to the inside which measures 2000m and can accommodate 12-horse fields. Polytrack racing is conducted on Friday nights from September to April. Of course, inside these tracks are the green expanses of the Royal Durban Golf Club's championship course. Greyville has been staging night racing since 1996 when it was the first track in the country to have floodlights installed.
Direction of racing: Clockwise (right-handed)
Number of grade 1 races: 9
Best races: Durban July, Greyville Gold Cup
Tips for punters: Be wary of wide draws in races over 1400m-1600m as these races start on a turn.
Turffontein
Location: Turffontein, Johannesburg South, Gauteng
The testing Turffontein course has been around since around 1887 and has inner and outer turf tracks: the old standside track (circumference 2700m) and the newer inside track. We say testing because there is an uphill run leading up to the final bend that sorts out the contenders from the pretenders. There is a chute to allow for 1200m straight races and this course is flat. Turffontein is the flagship track for the Phumelela operation and there has been night racing there since 2009.
Direction of racing: Clockwise (right-handed)
Number of grade 1 races: 8
Best races: South African Derby, Summer Cup
Tips for punters: On the straight course barriers are of little importance, but it helps to drawn an inside gate in races around 1400m-1600m or on the inside track.
Fairview Racecourse
Location: Port Elizabeth, Eastern Cape
The oval-shaped turf course has a circumference of 2700m with races with a slightly downhill straight course catering to races up to 1200m. The main straight for all races measures 800m. On the inside of this track is the all-weather polytrack which measures 1800m with only a 400 straight.
Direction of racing: Clockwise (right-handed)
Number of grade 1 races: 0
Best races: Algoa Cup, East Cape Derby
Tips for punters: Be wary of wide gates on the polytrack as the final turn can be quite tight. The turf track is slow-draining and remains rain-affected for some time after a wet spell of weather. Wide draws are a positive in the straight races.
Kenilworth Racecourse
Location: Cape Town, Western Cape
Kenilworth consists of three separate tracks: the new summer course measuring 2800m with a 600m straight, the old course measuring 2700m with a 450m straight used mainly in winter, and the straight 1200m course which cuts through the middle.
The straight course is a stern test of a horse's stamina with a climb for the first 200m and another in the final 200m. It often suits horses which excel over 1400m to a mile.
Direction of racing: Anti-clockwise (left-handed)
Number of grade 1 races: 8
Best races: Queen's Plate, Sun Met
Tips for punters: Inside barrier an advantage in all races around the turn. Wet ground can suit certain barriers down the straight course. Back on-pace runners on the old course as there is only a short run-in.
Durbanville Racecourse
Location: Durbanville, Cape Town, Western Cape
A quirky course set in a leafy region littered with vineyards and alongside the Durbanville Nature Reserve. The oval track has a circumference around 2200m, with a 600m straight and all races are run around the bends. The course has superior drainage which makes it a popular winter venue. There is a downhill run towards the finish and this can mean front-runners get a little carried away. Keep an eye out for horses which have done well previously at the course.
Direction of racing: Anti-clockwise (left-handed)
Number of grade 1 races: 0
Best races: WSB Matchem Stakes, Diana Stakes
Tips for punters: Inside barriers an advantage in all races.
Scottsville Racecourse
Location: Pietermaritzburg, KwaZulu-Natal
This oval track is about 2300m in circumference with a cambered home turn and a 550m straight which includes an uphill run to the finishing post. There are inner andf outer tracks which share common back straights and turns; the difference is the outer track joins the 1200m straight course while the inner track has its own finishing straight. The 1200m straight course starts off downhill before the horses must tackle the uphill run to the line. The Golden Horse Casino is attached to the main grandstand. The operation is not far from the city centre of Pietermaritzburg, which lies about an hour's drive from Durban.
Direction of racing: Clockwise (Right-handed)
Number of grade 1 races: 4
Best races: Sun Sprint, SA Fillies Sprint, Gold Medallion
Tips for punters: If you are winning big at the track, maybe go easy at the casino! The straight course can be quirky but because of the camber any races most horses get their chance in races around the turn, although there is a slight advantage to drawing an inside barrier.
Vaal Racecourse
Location: Vereeniging, Gauteng
There are two turf tracks at Vaal, the outer Vaal Turf and the inner Vaal Classic, which was formerly a sand track but was converted to turf in 2015. Vaal Turf has a circumference of about 3000m, with two 1000m straights connected by sharp bends. The 1000m finishing straight is the longest in the country and Vaal also has South Africa's only 1600m straight course. All races up to a mile are straight races. The Vaal Classic, which has a circumference of 2800m, can cater to 1000m straight races, but the 1200m start is in the middle of the turn.
Direction of racing: Clockwise (Right-handed)
Number of grade 1 races: 0
Best races: Spook Express Handicap
Tips for punters: In straight races at Vaal, outside draws can be an advantage especially when the going is rain-affected. Barrier draws are of little consequence in races around the turns, except those on the Vaal Classic course over 1200m and 1400m when it helps to be drawn inside.
---
List of South African group 1 races
.tftable {font-size:12px;color:#333333;width:100%;border-width: 1px;border-color: #729ea5;border-collapse: collapse;}
.tftable th {font-size:12px;background-color:#acc8cc;border-width: 1px;padding: 8px;border-style: solid;border-color: #729ea5;text-align:left;}
.tftable tr {background-color:#d4e3e5;}
.tftable td {font-size:12px;border-width: 1px;padding: 8px;border-style: solid;border-color: #729ea5;}
.tftable tr:hover {background-color:#ffffff;}
| Race | Month* | Age/sex | Distance (metres) | Prizemoney | Track |
| --- | --- | --- | --- | --- | --- |
| Gauteng Summer Cup | December | All horses | 2000m | R2,000,000 | Turffontein |
| Cape Guineas | December | Three-year-olds | 1600m | R1,000,000 | Kenilworth |
| Cape Fillies Guineas | December | Three-tear-olds | 1600m | R1,000,000 | Kenilworth |
| Queens Plate | January | All horses WFA | 1600m | R1,500,000 | Kenilworth |
| Paddock Stakes | January | Fillies, mares WFA | 1800m | R1,000,000 | Kenilworth |
| Sun Met | January | All horses WFA | 2000m | R5,000,000 | Kenilworth |
| Cape Flying Championship | January | All horses WFA | 1000m | R 1,000,000 | Kenilworth |
| Majorca Stakes | January | Fillies, mares WFA | 1600m | R1,000,000 | Kenilworth |
| Cape Derby | January | Three-year-olds | 2000m | R1,000,000 | Kenilworth |
| South African Classic | March | Three-year-olds | 1800m | R2,000,000 | Turffontein |
| Horse Chestnut Stakes | March | All horses WFA | 1600m | R1,000,000 | Turffontein |
| South African Fillies Classic | March | Three-year-old fillies | 1800m | R1,000,000 | Turffontein |
| Empress Club Stakes | April | Fillies, mares WFA | 1600m | R1,000,000 | Turffontein |
| Premier's Champions Challenge | April | All horses | 2000m | R4,000,000 | Turffontein |
| South African Derby | April | Three-year-olds | 2450m | R2,000,000 | Turffontein |
| Computaform Sprint | April | All horses WFA | 1000m | R1,000,000 | Turffontein |
| Tsogo Sun Sprint | May | All horses | 1200m | R1,000,000 | Scottsville |
| City Of Pietermaritzburg Fillies Sprint | May | Fillies, mares WFA | 1200m | R750,000 | Scottsville |
| Gold Medallion | May | Two-year-olds | 1200m | R750,000 | Scottsville |
| Allan Robertson Championship | May | Two-year-old fillies | 1200m | R750,000 | Scottsville |
| Daily News 2000 | June | Three-year-olds | 2000m | R2,000,000 | Greyville |
| Woolavington 2000 | June | Three-year-old fillies | 2000m | R1,000,000 | Greyville |
| Gold Challenge | June | All horses WFA | 1600m | R1,000,000 | Greyville |
| Durban July | July | All horses | 2200m | R4,250,000 | Greyville |
| Garden Province Stakes | July | Fillies, mares WFA | 1600m | R1,000,000 | Greyville |
| Champions Cup | July | All horses WFA | 1800m | R1,000,000 | Greyville |
| Mercury Sprint | July | All horses WFA | 1200m | R1,000,000 | Greyville |
| Premiers Champion Stakes | July | Two-year-olds | 1600m | R750,000 | Greyville |
| Thekwini Stakes | July | Two-year-old fillies | 1600m | R750,000 | Greyville |