PlayUp review
PlayUp.com.au is an Australian facing bookmaker and fantasy betting site that has quickly gained a foothold in the betting landscape. Our PlayUp review will teach you everything you need to know about this fledgling bookmaker, including its promotions, betting markets and offers and what makes them a popular choice with AFL and NRL fans. Use our quick navigation to move around our PlayUp review.
---
PlayUp sports betting review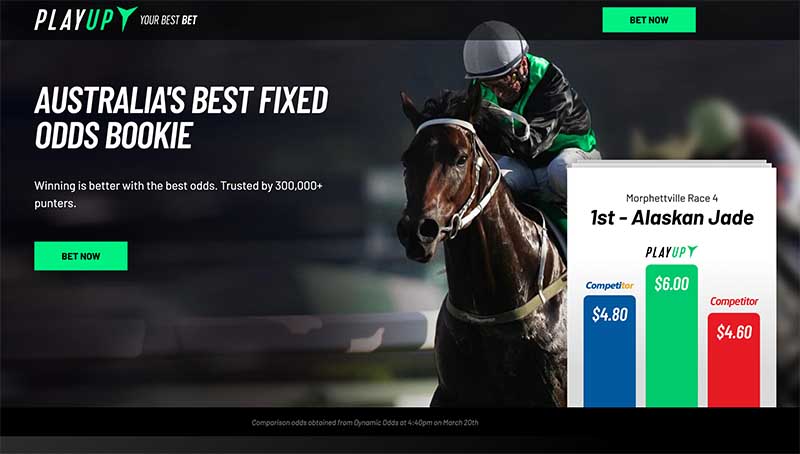 PlayUp sports betting is popular and features both domestic sports and international events, with it providing a good coverage right across the industry.
Surprisingly for sports like AFL and NRL Playup stack up reasonably well against giants like Sportsbet, with the markets on one match roughly around the same number. They will also often have guaranteed $2 lines on AFL and NRL matches, where other bookmakers will usually set the line at $1.90.
PlayUp has got betting markets available on pretty much every sport and event you can think of, with these including major cricket and football leagues from around the world, plus coverage of the smaller events from pretty much any country you can imagine.
Things like reality TV betting and the US Election are also covered extensively in the PlayUp sports betting section, while esports also seems to be a featured area on their website.
Even Australian reality TV shows like Masterchef and Survivor have betting markets available at PlayUp, which is pretty cool, given usually that kind of market is left to Sportsbet.
These sports betting markets available at PlayUp can be accessed across all the various platforms that they support, including mobile smartphones and tablets, where you can either bet via their website or via downloadable apps.
The PlayUp Playbook is another cool feature of this fledgling betting company, with this essentially a blog on the same URL, which features previews or sports tips articles for major Australian sports or racing events.
Upcoming events at Playupcom.au:
---
PlayUp racing review
Horse racing betting is another big part of PlayUp.com.au with markets available on Australian TAB meetings. PlayUp Australia is one of the last remaining 100% owned horse racing operators.
On top of all Australian racing meetings, PlayUp also covers the overseas thoroughbreds extensively, with the races covered including those from the USA, Hong Kong, the United Kingdom and Ireland. Our query as to whether I would be able to bet on European horse racing was also met with an affirmative answer.
Horse racing at PlayUp as a general rule will have promotions surrounding certain
---
PlayUp fantasy sports review
PlayUp's fantasy sports is now available via Draftstars after the company bought this brand from Crownbet Australia. Draftstars is the leading daily fantasy sports betting site in Australia and often has tournaments worth in excess of $100,000.
For those new to tournament betting or fantasy sports it essentially puts a different spin on online wagering, allowing more flexibility in the type of bets you can place and
---
PlayUp mobile review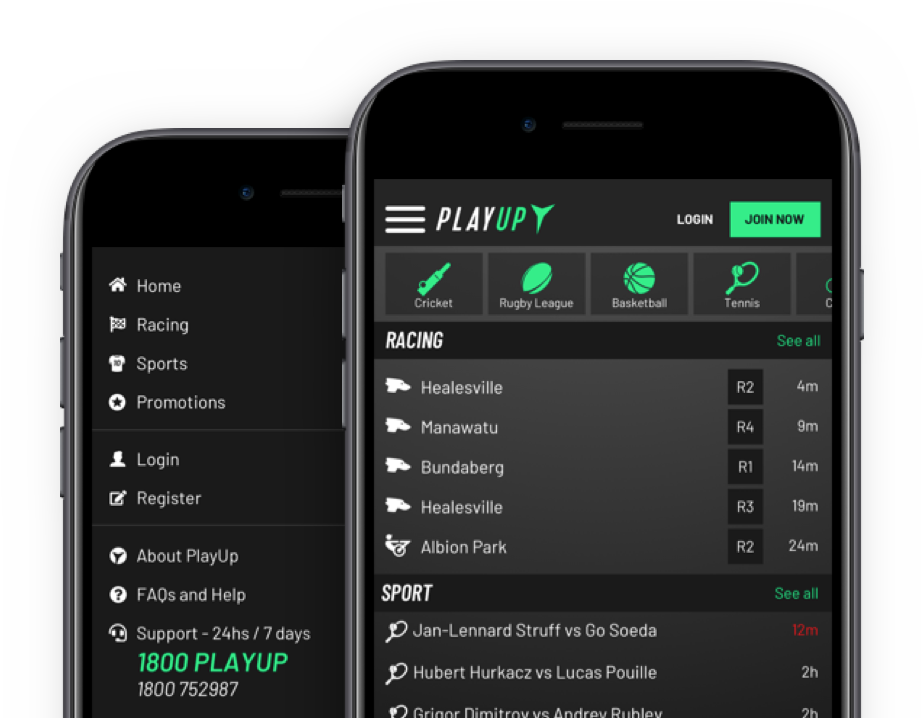 Our Playup mobile review was done using a newer Samsung phone, while we also tested key parts of the site on an iPhone 9, to make sure it had good cross compatibility. Our verdict? the Playup mobile offering is very good and includes a mobile website, an Android App and also an iOS or Apple app, meaning you can bet instantly or download their app.
Navigating PlayUp mobile is a simple process with it essentially just a stripped back version of the desktop site, with it easy to find your way between sports betting, fantasy sports (which is under the Draftstars brand) and horse racing.
While the mobile site is fully functional and works fine if you are planning on betting with PlayUp regularly it's definitely worth downloading the app, even if it's just so it's quicker to access. We love that you can download the app and sign in at any moment, just by using your thumbprint.
While when PlayUp first launched we were a little bit taken aback by how many clicks we needed to navigate around the PlayUp mobile site, the management team seem to have ironed out many of the kinds.
PlayUp mobile payments and withdrawals are the same as on desktop, although when we attempted to deposit with BPAY on mobile it was not working. But we're sure this was just temporary.
PlayUp iOS app
Apple smartphone users can download the PlayUp iOS app directly from the App store, although it simplifies the process if you have already created a new account with the bookmaker.
PlayUp Android app
The PlayUp Android app can be downloaded directly from PlayUp's website after you have opened a new account. If you have any trouble download the app it might be necessary to turn on non-market apps on your device, with this essentially giving your phone or tablet permission to download apps from third parties. Don't worry about the safety surrounding this, it's common practice for betting sites to host their own Android apps, with the Google store not allowing sports betting apps.
---
PlayUp live betting
PlayUp betting does not allow you to bet live via their website, with this service instead restricted to phone, with legislation dictating that all in-play bets must be made over the phone. You can call Playup betting to place in-play bets on 1800 888 001.
For those who are new to online betting in Australia, in-play betting is when you are betting on sports that are underway, or in the running. These types of bets can be a great way to layoff a horse or sports team that you are going to lose on.
---
Playup deposit options
Playup has got several different payment methods for Australians to fund their accounts, with these including popular methods like credit cards, debit cards and POLi. PlayUp payments also include bank transfers, which is great for punters looking to move around big sums of money. The full list of Playup deposit options includes:
---
PlayUp Withdrawal times & options
The withdrawal options at Playup.com.au are rather limited in comparison to other online bookmakers, but with Australia, as a general rule, processing bank transfers overnight it is not too much of a problem.
PlayUp states that as long as you process a withdrawal before 1pm Monday-Friday it will be processed that day, with the length of time it takes to hit your account then depending on the bank you are with.
In our experience withdrawing at Playup as long as we faciliate the withdrawal by 11am on a weekday, we had not trouble getting the money the following day.
---
PlayUp history & reputation
Playup is an Australian-owned bookmaker based out of Sydney with a Northern Territory license. PlayUp Australia was launched in October 2019 and has quickly gained a good marketshare in the super-competitive Australian corporate bookmaker industry.
PlayUp was originally launched as the merged entity of ClassicBet and MadBookie, which were previously wagering brands in Australia. This launch also included previous customers of BestBet and Betting.Club which had merged into Mad Bookie during 2019.
Learn more about Australian online bookmakers!
PlayUp also made their biggest acquisition in the Australian market to date when it announced it was buying TopBetta in April of 2018, a brand which was ultimately merged under the flagship PlayUp moniker.
PlayUp also announced plans in 2018 to launch its own cryptocurrency called the PlayChip, and while it's website is still live, we have not heard anything more about this since that initial announcement and the website does not seem to have any updates since 2018.
While PlayUp is well behind some of the bigger brands in the Australian sports betting landscape, such as Sportsbet and Bet365, they are definitely a safe bookmaker in 2020, that has nice point of difference with its extensive fantasy sports betting.
If we have heard a criticism of PlayUp Australia it is because of their association with News Corp, with many people questioning whether it is appropriate for such a big news company to partner up with a sports betting company, although in Australia the Murdoch press includes an entire affiliate division.
PlayUp continues to grow moving into 2021, with the earlier acquisition of DraftStars giving them a nice secondary market, that is not fully tapped in Australia. PlayUp.com.au has also continued to improve their apps, which had come under some fire in the early days of the bookmaker.
---
PlayUp review verdict
One of the biggest pros we found while writing our PlayUp review (more bookmaker reviews) was that the company is 100% Australian-owned, which we always like to see when reviewing a bookmaker that primarily targets one country. While we were not the biggest fans of the Topbetta interface, Playup.com.au definitely does not mirror this website and their new layout is sleek and modern and easy to navigate across all devices. Playup does not have the clout of some of the other big AU bookies like Sportsbet and Bet365, but the fact they do betting tournaments and have delved into fantasy sports gives them a nice point of difference. If you're looking for an Australian-owned betting site, PlayUp is one of the best options.