Cryptocurrency gambling sites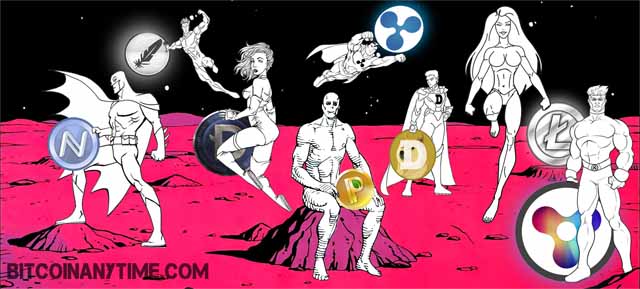 Cryptocurrencies have firmly entrenched themselves into the gambling industry in 2023, with bitcoin the one you are most likely to find online. Having said this, many of the best gambling sites accepting cryptocurrencies will accept several different types for deposits.
All of these cryptocurrencies have one major thing in common — they are all decentralised banking and use the blockchain technology to proof transactions. While it's easy to find flaws with most cryptocurrencies, there are many with strong reputations that can be trusted at online casinos.
This article will run you through some of the most popular cryptocurrencies and point you in the direction of gambling sites accepting different forms of alt coin deposits:
Bitcoin
The no.1 cryptocurrency in the world for gambling banking transactions, bitcoin is firmly entrenched at many leading online casinos. Is powered by the blockchain and is decentralised banking that allows you to move money instantly between a digital wallet and gambling sites. Bitcoin's fluctuating price and a lack of regulation have meant some of the leading jurisdictions in the gambling industry are yet to allow their licensees to accept bitcoin deposits.
Ethereum
A decentralised platform that was proposed in 2013 by Vitalik Buterin and is probably the second most well-known cyrptocurrency behind bitcoin. You will find many online gambling sites accepting Ethereum but they are likely to be licensed in places not as well regulated as others. Ethereum runs on a custom-built blockchain which is shared global infrastructure which allows us to keep a massive ledger of all transactions.
Bitcoin Cash
The fork of the original bitcoin was launched in 2017 and has quickly become one of the most traded cryptocurrencies in the world. When it was launched bitcoin holders were almost given a share split in the new currency. Approximately there are the same amount of bcc coins in circulation as the original bitcoin. This alt coin is known to have faster transaction speeds but does take more memory.
Libra
The Facebook-backed cryptocurrency was announced in June 2019, with Libra expected to go live sometime in 2020. Libra's initial use will be to transfer money between Messenger and WhatsApp users, with it to vary to other cryptos because the price of it will not fluctuate. Read our guide to the best Libra online casinos for further information.
Litecoin
Litecoin began in 2011 and was popular because it was easier to mine and paid out better than bitcoin. There are plenty of uses for Litecoin and it is one of the most stable cryptocurrencies out there. You will find this alt coin available at some online casinos, although it will generally be at sites licensed in places such as Costa Rica and Curacao. You could almost think of Litecoin as 50 cents to Bitcoin's dollar, although this has changed with the introduction of bitcoin cash.
Feathercoin
Feathercoin was launched in 2013 and is almost a clone of Litecoin. Again the parallels to bitcoin are there. You will find it available at the odd online casino, but again it's unlikely to be market leaders in terms of regulation that have this alt coin available.
Peercoin
Also known as PPPCoin, Peercoin is a peer-to-peer cryptocurrency invented by Scott Nadal and Sunny King, coming online in 2012. The big difference between Peercoin and bitcoin is that it does not have a hard limit on the number of coins that can be created. Peercoin claims that it is more environmentally friendly than proof of stake coins such as btc because it doesn't require huge amounts of computing power to secure the network. King, who uses a pseudonym, also invented Primecoin.
Primecoin
Primecoin uses a scientific proof-of-work system and works hand in hand with Peercoin. The source code is registered to a group called Primecoin Developers. Primecoin also claims that its transaction speed is quicker than computer-based proof-of-work cryptocurrencies. Peercoin was the first alt coin to use a proof of work with a practical use.
Quarkcoin
Quarkcoin is a decentralised cryptocurrency which can be used for online peer-to-peer transactions. It uses a unique hashing algorithm which gives it an extra layer of security. Each block in Quarkcoin's proof of work takes 30 seconds, rather than the 10 minutes Bitcon takes.
Dogecoin
Dogecoin produces coins very rapidly, with more than 94 billion produced by November of 2014. This cryptocurrency has become known as the internet tipping system. This means social media bloggers and the like can be given some funds for providing content, something for which they would otherwise have not been paid. Dogecoin is very similar to Litecoin but has been targeted at a certain demographic and problem.
Darkcoin
Darkcoin is positioning itself as an even more anonymous digital currency which is based on the bitcoin currency. This crypto-currency launched as Xcoin on January 18, 2014, but changed its name soon after. While everyone can see every transaction on the bitcoin blockchain, with Darkcoin users cannot follow the history of a block. Created by Evan Duffield, Darkcoin has an obfuscated model of transactions which gives the users a greater degree of privacy. It uses a technology to send money between users known as Dark Send, where all transactions get mixed up during the sending process so no one can tell who had the original coin.
Ripple
Basically the Ripple network is a shared public database with thousands of identical servers around the world. When changes are made to this public ledger, computers active on the Ripple network must manually agree to the changes, but this process is done in seconds, making this digital currency a great peer-to-peer solution. Chris Larsen is currently CEO of Ripple Labs, the parent company of Ripple. Ripple is known for attempting to break down barriers between banks and cryptocurrencies.
Namecoin
Namecoin is based on the exact same code as Bitcoin and they are almost identical in terms of mathematics. But the key difference is that Namecoin is a decentralised web host, a decentralised domain name system, with the obvious benefit being that it could put an end to governments around the world censoring certain websites. These .bit domains have the potential to be misused but so far the reports coming back about Namecoin are largely positive. We have not seen this cryptocurrency at any gambling sites in 2019.