Wimbledon betting 2023
Wimbledon is the only grand slam tennis tournament played on grass and is unequivocally the no.1 event each year. Wimbledon is due to begin on July 3, 2023 and will draw huge betting right around the globe, on both the mens and women's singles and doubles events. Wimbledon betting sites and apps will allow you to wager on the outright winner of all events, head to head matches, set betting and even games betting. Our Wimbledon betting guide will run you through everything you need to know for the 2023 event, including the top Wimbledon betting sites, best Wimbledon betting apps, how to bet on the third grand slam of the year, the most popular bet types, Wimbledon history and the top movies based on this event.
---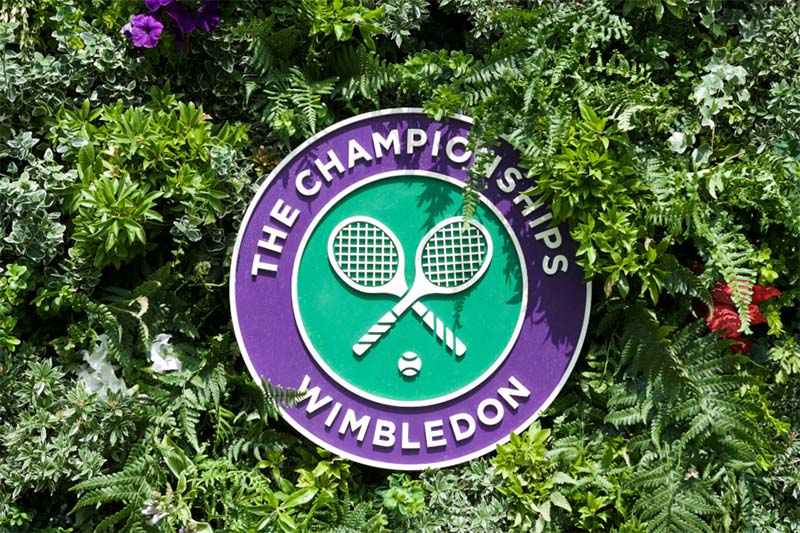 Wimbledon quick reference guide: Dates, prize-money and tickets
Wimbledon dates: July 3 – July 16, 2023
Wimbledon surface: Grass
2022 Wimbledon winners: Novak Djokovic (mens); Elena Rybakina (women)
Wimbledon prizemoney: £40,350,000 (Across all events)
Buy Wimbledon tickets: TBC
---
Best Wimbledon betting sites 2023
Wimbledon is arguably the biggest tennis tournament in the world and draws a lot of wagering interest from punters, with online betting sites the most common way people bet on this tournament.
The top Wimbledon betting sites will have markets on everything from outright tournament winner to making the round-of-16 or semi finals in the lead-up. This goes for both mens and womens singles and all doubles events.
Once the tournament is underway, Wimbledon betting sites will have head to head odds on all matches, while they will also have set betting, games betting and even handicap betting. Basically, Wimbledon bookies set their own markets, while staying within the whims of gambling regulators in each country.
The top Wimbledon betting sites for you will largely be determined by your location and the laws that you are operating under. For instance, UK betting sites are licensed by the Gambling Commission and must abide by various restrictions, including those surrounding bonus offers and promotions and advertising. Other countries, like Australia and the USA, also have regulated sports betting and you will have no trouble finding Wimbledon odds.
Citizens of countries that have not regulated Wimbledon betting sites, like New Zealand, generally will allow their residents to wager on Wimbledon with offshore bookies, or ones based overseas.
Payment options at Wimbledon betting sites are vast, although not all bookie deposit options will be available in all countries. For instance, again using the UK, cryptocurrency is not allowed to be used at Gambling Commission bookmakers. In other instances, region specific payments will be available.
---
How to bet on Wimbledon
To bet online on Wimbledon, follow these steps:
Choose a Reputable Online Sportsbook:

Select a trusted and reputable online sportsbook that offers tennis betting options and has a good track record. Look for a bookmaker that provides a user-friendly interface, competitive odds, secure transactions, and reliable customer support.

Create an Account:

Sign up for an account with the chosen online sportsbook. This typically involves providing your personal information, such as your name, email address, and preferred username and password. Some sportsbooks may require additional verification steps, such as age verification.

Fund Your Account:

After creating an account, deposit funds into your betting account. Online sportsbooks usually offer various payment methods, such as credit/debit cards, e-wallets, bank transfers, or prepaid vouchers. Choose the method that is most convenient for you and follow the instructions to complete the deposit process.

Navigate to Tennis or Wimbledon Betting:

Once your account is funded, find the tennis or Wimbledon betting section on the sportsbook's website. It may be listed under a specific category or prominently displayed on the homepage during the Wimbledon tournament.

Select Your Bet Type:

Browse through the available bet types, such as match winner, set betting, total games, handicap betting, outright winner, or prop bets. Choose the bet type that interests you the most and offers appealing Wimbledon odds.

Place Your Wimbledon Bet:

After selecting your desired bet type, click on the corresponding odds for your chosen player or outcome. This will add the selection to your bet slip. Enter the stake (the amount you want to wager) in your bet slip and double-check the details before confirming your bet.

Monitor Your Wimbledon Bets:

Once your bets are placed, you can monitor their progress and potential returns in your betting account. Some sportsbooks offer live updates and may provide additional features like cash-out options, allowing you to settle your bet before the match concludes.
---
Top Wimbledon betting apps
Wimbledon betting apps are available with most of the top betting sites globally having these downloads available for both iOS and Android smartphones and tablets. Wimbledon betting apps have got the same functionality as the desktop version of the betting companies, although often they are easier to navigate with plenty of effort put into making them outstanding products.
The method to downloading Wimbledon betting apps is slightly different, depending on what device you are using, although both Android and iOS tend to have similar functionality once they are on your smartphone or tablet.
How to download a Wimbledon iOS betting app
iOS Wimbledon betting apps can be downloaded directly from the Apple App Store once you are member at your chosen betting site. Generally you will only find betting apps in the App Store if you are in a country with regulated sports betting. You will need an Apple account to download Wimbledon betting apps for iOS.
Wimbledon Android betting apps
Android Wimbledon betting apps have a few advantages over their iOS counterpart, namely that you can download them directly from a bookie. Once you have chosen a reputable sports betting sites to bet on Wimbledon with, you will need to turn on non-market apps, which essentially allows you to download apps from third parties. In some cases, you will be able to download Wimbledon Android betting apps from the Google Play store.
---
Wimbledon bet types
Wimbledon offers a wide range of bet types that cater to the diverse preferences of tennis betting enthusiasts. Generally Wimbledon bet types will vary from one bookmaker to the next, although there are some staples like match winner bets that will be uniform across the globe. Here are some of the common bet types available for Wimbledon:
Match Winner: This is a straightforward bet where you predict the player who will win a particular match. You can place bets on individual matches throughout Wimbledon, including early rounds, quarterfinals, semifinals, and the finals.
Set Betting: In Wimbledon set betting, you predict the exact scoreline of a match in terms of sets. For example, you can bet on a player to win the match 3-0 or 3-1 in a best-of-five sets format. Set betting can offer higher odds and increased potential returns.
Total Games: This type of bet involves predicting whether the total number of games played in a match will be over or under a specified threshold set by the bookmaker. The threshold can vary depending on the players involved and the stage of the tournament.
Handicap Betting: Handicap betting involves giving one player a virtual advantage or disadvantage in terms of games or sets to level the playing field. You can bet on a player to win with a specific handicap or to overcome a handicap and win by a certain margin.
Outright Winner: An outright winner bet involves selecting the player who will win the entire Wimbledon tournament. This bet is usually placed before the tournament begins and offers the potential for substantial returns.
Prop Bets: Prop bets, short for proposition bets, involve betting on specific occurrences or outcomes within a match. These can include betting on the number of aces, double faults, total games in a set, or whether a match will go to a tiebreaker.
Live Betting: Wimbledon also offers live betting options, allowing you to place bets on matches that are currently in progress. Live betting provides dynamic odds that change based on the ongoing match situation, allowing you to make predictions as the action unfolds.
---
List of Wimbledon events in 2023
Wimbledon, also known as The Championships, is a prestigious tennis tournament that features various events. All of these Wimbledon events will have odds available at the top tennis betting sites. Here is a list of the main events traditionally held during the Wimbledon tournament:
Gentlemen's Singles: The Gentlemen's Singles event is the premier men's singles competition at Wimbledon. It features the world's top-ranked male tennis players competing for the coveted title.
Ladies' Singles: The Ladies' Singles event is the equivalent of the Gentlemen's Singles for women. It showcases the top-ranked female tennis players vying for the championship.
Gentlemen's Doubles: The Gentlemen's Doubles event involves teams of two male players competing against each other. The matches feature intense doubles strategies and coordination.
Ladies' Doubles: The Ladies' Doubles event showcases teams of two female players competing in doubles matches. The event highlights the strategic teamwork and skills of the players.
Mixed Doubles: The Mixed Doubles event brings together male and female players in teams to compete against each other. This event adds an exciting dynamic, as the players must adapt to different playing styles.
Junior Championships: Wimbledon hosts Junior Championships for both boys and girls, allowing talented young players to showcase their skills and compete against their peers in singles and doubles events.
Wheelchair Tennis: Wimbledon includes wheelchair tennis events, providing an opportunity for wheelchair athletes to compete at the highest level. The tournament features both singles and doubles matches for men, women, and quad (mixed) players.
Invitational Events: Wimbledon also hosts a variety of invitational events, including exhibitions and matches featuring retired players, former champions, and other notable tennis personalities. These matches add a touch of nostalgia and entertainment value to the tournament.
---
Wimbledon history
Wimbledon, also known as The Championships, is a storied tennis tournament steeped in history and prestige. Since its inception in 1877 at the All England Croquet and Lawn Tennis Club (now the All England Lawn Tennis and Croquet Club) in Wimbledon, London, the tournament has evolved into one of the most esteemed sporting events worldwide.
Wimbledon is renowned for its lush grass courts, which add a distinctive character to the competition. The tournament has seen significant growth and development since its early days. In 1884, the women's singles event was introduced, followed by the men's and women's doubles in 1885, and mixed doubles in 1913. Subsequent years brought the inclusion of junior and wheelchair events.
Centre Court, Wimbledon's iconic main stadium, holds an aura of reverence and has witnessed countless historic matches. Over the years, it has undergone renovations, including the addition of a retractable roof, enabling play to continue uninterrupted in adverse weather conditions. Other notable courts, such as Court 1, Court 2, and Court 3, have provided the stage for remarkable displays of tennis prowess.
Wimbledon maintains a strong connection to tradition. Players are required to adhere to a strict dress code, upholding the tournament's sense of formality and elegance. The unique titles of "Ladies" and "Gentlemen" are still used to refer to competitors, preserving the event's distinctive charm. Another beloved tradition is the consumption of strawberries and cream, a quintessential treat synonymous with the British summer and Wimbledon.
Throughout its illustrious history, Wimbledon has showcased the talents of legendary players who have left an indelible mark on the sport. From early champions like Bill Tilden, Suzanne Lenglen, and Fred Perry to modern-day greats such as Roger Federer, Serena Williams, Martina Navratilova, and Pete Sampras, the tournament has been graced by the presence of tennis icons who have captivated audiences and forged enduring legacies.
The hallowed grounds of Wimbledon have also witnessed some of the most memorable matches in tennis history. From the exhilarating Federer vs. Nadal clash in the 2008 final, to the groundbreaking "Battle of the Sexes" encounter between Billie Jean King and Bobby Riggs in 1973, and the marathon Isner vs. Mahut match that lasted three days in 2010, Wimbledon has been a stage for epic battles and unforgettable moments.
Wimbledon's significance is not limited to the world of tennis; it holds a special place in British culture and receives royal patronage. Members of the British royal family, including the Duke or Duchess of Kent, attend the tournament and participate in the trophy presentations, further adding to the event's prestige and glamour.
---
Best movies and documentaries about Wimbledon
When it comes to movies centered around Wimbledon, here are a few notable films that showcase the tournament's excitement, drama, and the world of professional tennis:
"Wimbledon" (2004): This romantic comedy-drama stars Paul Bettany and Kirsten Dunst as professional tennis players who form an unexpected connection during the Wimbledon Championships. The film captures the spirit of the tournament while exploring themes of love, ambition, and personal growth.
"Borg vs McEnroe" (2017): This biographical sports drama delves into the historic rivalry between tennis legends Björn Borg and John McEnroe. The film focuses on their iconic clash at the 1980 Wimbledon final, showcasing their contrasting personalities and playing styles.
"Strawberries and Cream" (2008): This documentary explores the history and traditions of the Wimbledon Championships. It provides a behind-the-scenes look at the tournament's inner workings, interviews with players, and insights into the significance of Wimbledon in the world of tennis.
"The Championships Wimbledon" (2017): This documentary offers a comprehensive look at the tournament's rich heritage and its importance in the tennis world. It provides an overview of the event's history, showcases memorable matches, and features interviews with players and key figures associated with Wimbledon.
"Venus" (2006): Although not solely focused on Wimbledon, this drama stars Peter O'Toole and Jodie Whittaker and centers around an aging tennis player who forms an unlikely bond with his rebellious niece. The film highlights the challenges and joys of pursuing a career in professional tennis.