How to play baccarat online with bitcoin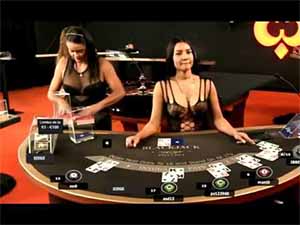 Bitcoin baccarat works in the exact same manner as the game played with real money, except you are gambling crypto-currency, rather than cash.
There are plenty of quality online casinos accepting bitcoin where you can play both RNG-based and live dealer baccarat or Punto Bunco as it is traditionally known.
The benefits of playing baccarat with bitcoin include the fact it can allow players from countries such as China, the USA and France to play, with strict gambling laws in those countries precluding the use of real money to play casino games on the internet.
World Gambling List has played at the below casinos extensively and found both their computer-based baccarat and smartphone versions to be of a high standard and worth your time.
Baccarat rules
Bitcoin casinos usually have both six- and eight-deck shoe baccarat available for players. Generally the live dealer tables will be eight deck while the RNG games will often be six-deck shoes.
Face cards and cards with a value of 10 have no value in baccarat. Cards from one to nine have the value of their faces with suits not having any impact on the result of the game.
To begin the game you must decide whether to bet on the banker, the player or the tie, with each bet having varying degrees of house edge associated with it. You want to bet on the result you think will have the biggest value, keeping in mind an eight and nine are the desired result.
You are initially dealt two cards, any number over nine and you drop the number on the left. So a 10 would be 0, a 15 would be five, etc. The banker will also receive two cards.
Both the banker and player will receive a third card if certain things happen:
If a player or the banker scores an eight or a nine from the initial deal this is called a natural and the hand is over.
If the player draws two cards and they equal five or less, they are given a third card.
If the player doesn't require a third card, the banker must take a third card if they have five or lower and must stand on a six or higher. This is known as the "third card rule".
If the bank scores a two or lower from their two cards, they must draw a third card, no matter what the player's third card is.
If the bank's total is three, they will always draw a third card unless the player's third card is an eight.
If the bank's total is four, then the bank draws a third card, unless player's card was a 0,1,9 or 9.
If the bank scores five, then the bank draws a third card if the player's third card was a 4, 5, 6 or 7.
If the bank's two cards total six, then the bank draws a third if the player's third card was a six or a seven.
Baccarat gameplay
Online baccarat is similar to the game you would find at a regular casino. It is played on a table a similar size to a craps table and usually has multiple players at the table.
Each hand will compromise of at least two cards, with a maximum of three cards.
The deal will go around the circle, or playing online the marker will go around the circle and the casino (if you are playing live dealer) will do the deal for you.
The same player will be the dealer (or begin the deal) until they lose a hand, when at that point it will move to the next player.
You then bet on player, banker or the standoff with all bets paying even money, except the stand-off which pays 8-1 or 9-1.
There is only a minor difference between betting on the bank and the player, with the bank bet costing you 5% commission on winning bets.
You will receive two cards and the dealer will receive two cards.
The game will then stop if there is a 'natural' and if there isn't, more cards are dealt. There is little to do in baccarat once you have placed your initial bet.
Playing online you will also find many variations in gameplay, but having said that, baccarat is always one of the most simple games and always follows the exact same principles.
Some live dealer games will also have banker pair side bet available.
Live dealer bitcoin baccarat
Most of the leading bitcoin online casinos have live dealer baccarat available. This means you watch as a dealer dishes out your cards via a live feed.
The table limits cater to both high-limit and low-limit players at websites such as Bitcasino and Betcoin Casino.
Mobile baccarat
Most of the online casinos we have on this site have strong mobile casinos which will have RNG baccarat games available. The table limit is generally 1BTC absolute max on mobile, which is not that much in a high stakes game like baccarat.
You can read each review (accessible from above table) to see what the mobile casinos are like. Or trust our judgment and get started at BitCasino.io.
Difference between bitcoin baccarat and real money
The only real difference between bitcoin baccarat and real money baccarat lays in the chip values. When playing at a bitcoin casino every bitcoin you deposit equals 1000mBTC (more detailed explanation).
When playing with real money you know how much your chips are in monetary terms. The fluctuating price of bitcoin means 500mBTC could be worth a lot more in 2020, than it is in 2019.
But the baccarat played at most bitcoin gambling sites remains the same when it comes to the gameplay.
Are bitcoin deposits easy?
If you have a cashed-up bitcoin wallet, depositing at a bitcoin casino is a quick and easy process. Just visit your wallet and send bitcoin to an address supplied in the casino's banking section.
Here are some other page to help you get started at a bitcoin casino:
To come.