Credit Card online casino deposits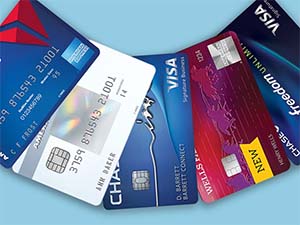 Depositing money at an online casino with a credit card is a very common exercise in 2019, with most online gambling sites accepting it as a payment option.
Having said this, casino players in some countries could potentially run into trouble when attempting to deposit with credit cards, because some governments block payments, or have restrictions, on real money gambling deposits.
An example of a country that may not allow credit card online casino deposits is the USA, although there is every chance that as more states legalise and regulate online casino play this deposit option will begin to appear more.
The United Kingdom is another country that puts restrictions on online casinos from accepting credit card deposits, with limits enacted to help stop problem gamblers from spending money they don't have.
Another category of country that you might find online casino credit card deposits in are places such as Canada, where there are no restrictions on gambling at offshore online casinos, meaning you can deposit however you want.
Best online casinos with credit card payments
There are thousands of gambling sites that will accept real money deposits using credit card, although the accessibility will be determined by your country's laws surrounding credit gambling. In Australia for instance bookmakers are restricted as to what amount can be deposited via a credit card, a restriction that has been placed by local authorities to curb problem gambling.
The following credit card online casinos are all vetted by the WGL team, and have passed our casino review criteria:
Step by step: online casino credit card deposits
Step 1: Owning a credit card: Owning a credit card is crucial to depositing with one. Not every reader of this site will be able to get a credit card, with many countries not really boasting the banking facilities.
Step 2: Finding a casino: This is easy with most online casinos having Visa and Mastercard as a deposit method. To find more information on the casinos we promote read our reviews in the table above.
Step 3: New casino account: After you have found an online casino you want to play at that has credit card deposits, create your new account. Opt in or out to any sign-up bonuses that might be on offer to new players. Often you can double your money or receive free spins on some of the latest online slots games. During the sign-up process you will need to give personal details, which need to be correct because you will have to verify your account before you can withdraw (in most cases).
Step 4: Depositing with credit card: Visit the banking or cashier section of the online casino you have signed up at. This will only be accessible after you have logged in. Choose the type of credit card that you have. If it's a Visa, choose Visa etc. After this you will be prompted to enter in the details of your credit card and the amount you wish to deposit.
Step 5: Confirmation: Complete the payment by following the prompts. You will then be displayed a confirmation screen which shows the final details of your completed transaction. Within a few minutes your online casino account balance should have been credited with your deposit and any bonus amount you may have received. If it takes any longer than a minute or two for this to refresh contact the customer support of the casino.
Common credit card networks
There are many different types of credit card issuers in the world but there are four main credit card networks, with these well-known credit companies used right across the world to deposit at online casinos.
American Express
Discover
MasterCard
Credit card issuers
Credit cards are issued by banks that have an agreement with one or multiple credit card networks worldwide. This means if you are in a country with an advanced banking network you will be able to get a credit card, if your credit history is suitable.
Visa and Mastercard are examples of credit card networks. Generally your issuer, or bank's logo, will be clearly displayed on the credit card, right next to the logo the network is operating on.
Credit card gambling payment blocking
Credit cards are an instant form of payment at online casinos as long as it is not blocked by your bank. Some governments around the world, including that of the USA, have demanded their banks don't process credit card payments to offshore gambling sites. The good news is that many cards, through clever payments systems at online casinos where they use a third-party processor, get past the censors.
Using the US as an example, some credit cards will not work when trying to use them at one offshore website, while you may switch websites and minutes later your card will work. It's just the nature of the cat-and-mouse game taking place between the authorities and gambling sites. Online casino players can get around their credit card not working at a certain website, by simply contacting the customer service of the chosen site and asking what prepaid cards are currently working for deposits. You can then visit a gas station, other retail outlet or an online version and purchase the prepaid card with your credit card.
Another method punters use to get around payment blocking is using a third party to process the payment: a web wallet to be more precise, with these services usually meaning you link your credit card or bank account to a digital wallet, which then allows you to transfer money from your funds to your web wallet. You can then process funds from your web wallet to the online casino, that supports your web wallet. The problem with this, is that many of the most trusted web wallets such as Paypal and Neteller won't operate in countries like the USA which has laws banning offshore online casinos.