Top Echeck online casinos 2023
There are many online casinos that accept eCheck deposits, with this payment method essentially a digital version of a check. The top eCheck online casinos are free to sign up at and will have a high level of regulation surrounding them. These eCheck gambling sites will also allow you to facilitate your money transfer via both mobile and desktop computer, will have great bonus offers and promotions and generally will have you playing instantly. The top eCheck casino sites for 2023 include:
---
What are eCheck casino deposits online?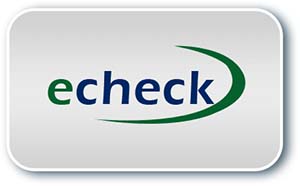 Echeck is a popular online casino deposit method, which allows you to issue a digital version of a humble check.
At an online casino these deposits are generally instant and well-trusted by players, with some of the most respected online gambling sites accepting this type of money transfer.
The following online casinos all accept a form of eCheck or EFT, which can be the same service, depending on where you are in the world. Read below for further information about depositing with eCheck.
---
Best online casinos with eCheck deposits
Whether you have echeck as a deposit method at your chosen online casino will largely come down to where you are. The following online casinos all have eCheck available and you can find out if you can sign up by reading the review of the casino. The best online casinos accepting eCheck payments include:
---
How to deposit at gambling sites with eCheck
To use eCheck at an online casino you must have your bank account set up as a checking account. It then acts like a digital version of the traditional check. You will also need to have enough money in your bank account to cover the cost of your check; this is not able to be used with credit accounts. Follow these steps to deposit real money at eCheck online casinos:
Find an eCheck gambling site

Open an account with an online casino that accepts eCheck deposit.

Source the details of your eCheck account

You will need the details of your checking account, before heading to the banker section of your chosen online casino where you will select eCheck as your deposit method.

Visit the cashier or banking section to begin the Echeck payment

You will need to enter your information, including your name, routing number and the account number of your bank account. You will also need to say how much money you wish to transfer to the casino. This is standard practice when making this type of deposit, don't worry.

Finalise your eCheck casino payment

After you have hit deposit, or send, depending on the casino you should receive a confirmation within minutes. While the money will appear instantly in your online casino account, you may find the balance won't come from your bank immediately.

Check your payment and trouble shooting

Go back to the casino you deposited at and refresh the screen, which should then update your balance being displayed. If you have any trouble, all of the best eCheck casino sites we promote on this page have outstanding customer service departments and we recommend contacting them. Alternatively drop us a message in the box below and we can help with any queries surrounding echeck gambling sites.
---
Is eCheck a safe deposit method at online casinos?
Echeck is one of the most secure and efficient online payment methods that are available today at online casinos.
Not only is it truly versatile and efficient but it cuts out the third party and therefore reduces and practically eliminates banking errors that can occur with other payment methods.
Technically EFT deposits are not the same as eCheck's although they often can be used to describe the same deposit method.
Electronic Funds Transfer is a broader term which encompasses payments directly from your card or bank, while the eCheck uses the Automated Clearing House (ACH) service to process transfers.
Just remember that when playing at an online casino it is important that they have customer service. If something goes wrong with your payment and the deposit is in the ether, you want to be able to contact the casino to find out why. Most online casinos will have phone service, live chat and emails as part of their customer service experience.
---
Which countries have this gambling deposit method available?
Whether you have this deposit method available will depend on where you are. For instance, if you are based in the USA or Australia, where the gambling laws are particularly strict surrounding online casinos, you are highly unlikely to be able to use this deposit method.
However, if you are in a country with regulated gambling and they have a version of the ACH network set up, you will be able to use an eCheck to deposit to your online casino.
Countries that have an ACH network set up and definitely allow gambling deposits include Germany (Deutsche Bundesbank), Denmark (Eurogiro and Nets Group) and Switzerland (Swiss Interbank Clearing).
As a general rule if you are in Europe or Canada you will find an echeck as a standard deposit option at online casinos.
---
Cashing out with eCheck
Withdrawing money from your online casino account to you bank account with eCheck is possible, although it is not as common as depositing with this method.
It is basically the same process as depositing. Visit the online casino's banking section and pick withdrawals. From here you choose eCheck as your withdrawal method and follow the process.
While depositing with eCheck is instant, withdrawing money can take 2-5 days to reach your account, which factors in things like how long it takes the casino to process your request.
---
Echeck casino bonuses and eChecks
When you deposit at an online casino with eCheck you will be given the opportunity to claim a welcome package, which generally is a reflection on your initial deposit.
For instance you might deposit $100 and receive a further $100 in bonus credits to use. Often you will also receive free spins on slots games as part of the welcome package.
You can learn more about the latest casino bonus offers in our detailed guide.
---
Are eCheck casino payments instant?
eCheck casino payments are not typically considered to be "instant" payments. They typically take several days to clear and be processed, similar to a traditional paper check.
The process of an eCheck casino payment involves several steps:
The payer sends the eCheck through the ACH network to the payee's bank.
The payee's bank receives the eCheck and verifies that the payer's account has sufficient funds.
The payee's bank credits the payee's account and debits the payer's account.
The echeck gambling payment process can take several days, depending on the bank's policies and procedures. Some banks may clear eCheck funds faster than others.
It should be noted that some eCheck providers, including at real money casinos, might offer services to speed up the process, but they might have additional fees.
Also, some online payment systems have different forms of eChecks, like virtual checks, which are not as "slow" as traditional echecks but also not instant.
---
Echeck gambling sites verdict
The World Gambling List determines that eCheck gambling sites are safe to play at, with this ACH backed payment option having high levels of regulation surrounding it. While, we would never be silly enough to say it's perfect, eCheck payments to online casinos have been around for years and are a popular way to fund gambling sites. Just do your homework surrounding eCheck casino sites before deciding which one to play at.