Namibia World Cup Rugby betting preview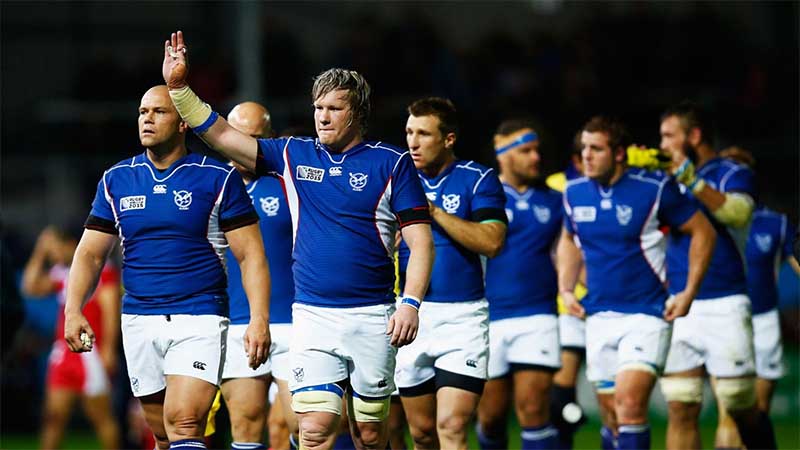 Namibia have played in the past five Rugby World Cups but have yet to win a match. The Welwitschias came agonisingly close in the 2015 World Cup when they lost to Georgia 17-16.
They are unlikely to break through at the 2019 World Cup in Japan and are rated 1000-1 chances to win Group B, in which they come up against New Zealand, South Africa, Italy and Canada.
They must be considered some chance of beating Canada, while they have two wins from three attempts against Italy. A word of warning though, those wins against Italy came almost 30 years ago when Namibia first entered international rugby while Italy were the minnows. A lot has changed and we don't give them any hope against the competitive Italians nowadays.
ALSO READ:
World Cup Rugby 2019 guide
World Cup Rugby top try-scorers betting
Best rugby betting sites 2019
Where Namibia will finish in the 2019 Rugby World Cup
WGL prediction: Eliminated in group stage. Sad to say but we think the winless streak of 19 World Cup matches will be extended here. They will pin all their hopes on the Canada game and it will be party time in Windhoek if they can chalk up that maiden win.
Previous best World Cup result: Group stage.
Namibia's Rugby World Cup draw
Match 5: Italy v Namibia, Sunday, Sep 22, Pool B, Hanazono Rugby Stadium
Match 15: South Africa v Namibia, Saturday, Sep 28, Pool B, City of Toyota Stadium
Match 27: New Zealand v Namibia, Sunday, Oct 6, Pool B, Tokyo Stadium
Match 37: Namibia v Canada, Sunday, Oct 13, Pool B, Kamaishi Recovery Memorial Stadium
Namibia's most recent results
June 15: Russia 20 d Namibia 0, World Rugby Nations Cup, Montevideo
June 9: Namibia 30 d Uruguay 28, World Rugby Nations Cup, Montevideo
June 4: Argentina XV 39 d Namibia 25, World Rugby Nations Cup, Montevideo
Namibia's record against Pool B rivals
New Zealand: Played 1: won 0, lost 1. Points for: 14, Points against: 58
South Africa: Played 2: won 0, lost 2. Points for: 13, Points against: 192
Italy: Played 3: won 2, lost 1. Points for: 74, Points against: 75
Canada: Played 2: won 0, lost 2. Points for: 24, Points against: 89
Namibia squad for the 2019 Rugby World Cup
Coach: Phil Davies
Forwards Andre Rademeyer, Nelius Theron, Desiderius Sethie, AJ de Klerk, Johannes Coetzee, Obert Nortje, Louis van der Westhuizen, Torsten van Jaarsveld, Tjiuee Uanivi, Johan Retief, Thomasau Forbes, Rohan Kitshoff, Max Katjijeko, Prince !Gaoseb, Wian Conradie, P J van Lill, Adriaan Booysen, Janco Venter.
Backs Cliven Loubser, Helarius Kisting, Damian Stevens, Eugene Jantjies, Darryl de la Harpe, Johan Deysel (captain), Justin Newman, J C Greyling, Johann Tromp, Chad Plato, Lesley Klim, Janry du Toit, P J Walters.
Namibia predictions – can the World Cup drought end?
As mentioned their best and probably only chance will come against Canada, but it's a been a tough few years for Namibia, so we don't think they can break through.
Relevant news