NFL releases fixture as Kansas City favourites to win Super Bowl LVI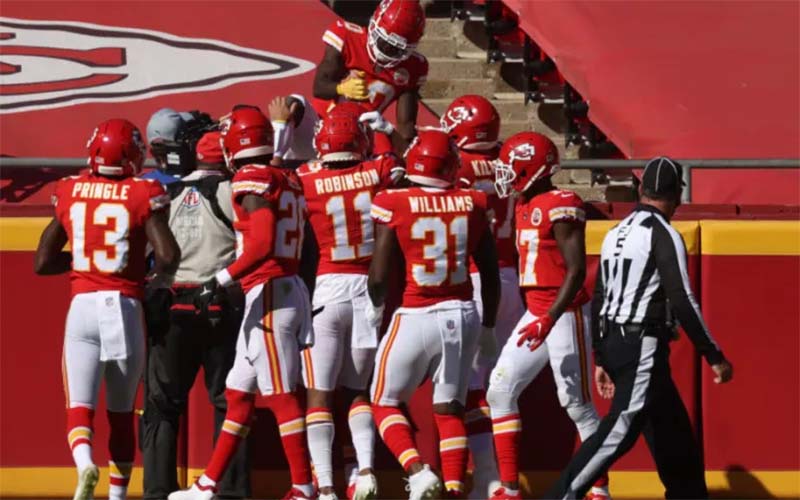 Kansas City Chiefs are the favourites with sports betting sites to win Super Bowl LVI after the NFL season schedule for 2021-22 was released. 
The NFL schedule is the first time the competition will run over 18 weeks and feature 272 games, with it due to begin on September 9 and culminate with the Super Bowl on February 13.
Kansas City lost to Tampa Bay 9-31 in the Super Bowl game earlier this year, but this has not stopped NFL betting sites marking them at 6.00 to go one better. Tampa Bay (7.50), Buffalo Bills (13.00) and San Francisco 49ers (14.00) are next in Super Bowl betting. 
MORE: AMERICAN FOOTBALL BETTING
The 2021 NFL schedule will feature each team playing 17 regular-season games and three preseason games for the first time, providing fans an extra week of regular-season action.
It marks the first change to the season structure since the 1978 campaign ushered in an era of 16 regular-season and four preseason games.
The 17th game will feature teams from opposing conferences that finished in the same standing within their respective divisions the previous season. The AFC was determined to be the home conference for the 17th game in 2021.
The NFL's 102nd season begins with the league's annual primetime kickoff game, as the defending Super Bowl Champion Tampa Bay Buccaneers host the Dallas Cowboys at Raymond James Stadium on Thursday, September 9 (8:20 PM ET, NBC).
Week 1 continues Sunday, September 12, with a double-doubleheader featuring four Sunday afternoon games in every market and intriguing matchups in both conferences.
Defending AFC Champion Kansas City Chiefs host the Cleveland Browns (4:25 PM ET) in a rematch of their memorable 2020 Divisional Playoff game.
The Green Bay Packers travel to face the New Orleans Saints (4:25 PM ET) in a meeting of the NFC's top two seeds from last year's postseason.
Later that day, the Los Angeles Rams host the Chicago Bears (8:20 PM ET) at SoFi Stadium.
Kickoff Weekend concludes on Monday, September 13, with the Las Vegas Raiders hosting the Baltimore Ravens (8:15 PM ET) at Allegiant Stadium.
Super Bowl LVI outright betting odds
All NFL odds for the 2021-22 season are from the top online betting sites.
Kansas City Chiefs 6.00
Tampa Bay Buccaneers – 7.50
Buffalo Bills – 13.00
San Francisco 49ers – 14.00
Baltimore Ravens – 15.00
Los Angeles Rams – 15.00
Cleveland Browns – 17.00
Green Bay Packers – 18.00
Denver Broncos – 23.00
Indianapolis Colts – 23.00
Seattle Seahawks  – 23.00
Dallas Cowboys – 26.00
Miami Dolphins – 26.00
New Orleans Saints – 26.00
Los Angeles Chargers  – 31.00
New England Patriots – 31.00
Tennessee Titans – 34.00
Minnesota vikings  – 36.00
Arizona Cardinals – 41.00
Pittsburgh Steelers – 41.00
Atlanta Falcons – 46.00
Chicago Bears – 46.00
Washington Football Team – 46.00
New York Giants – 61.00
Carolina Panthers – 67.00
Las Vegas Raiders – 71.00
Philadelphia Eagles – 81.00
Cincinnati Bengals – 91.00
Jacksonville Jaguars – 91.00
New York Jets – 91.00
Detroit Lions – 126.00
Houston Texans – 151.00
MORE SPORTS BETTING NEWS
Relevant news