Still Magic: Joao Moreira will win champion jockey in Hong Kong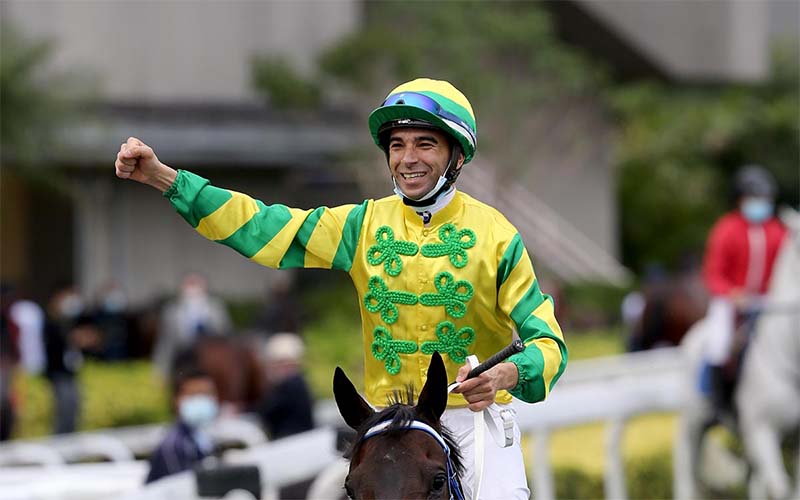 Joao Moreira will be crowned this season's champion jockey in Hong Kong after a suspension to Zac Purton ruled the Australian rider out of the final two race meetings.
Leading 149-122, Moreira's buffer was still possible to pursue but now, with Purton only available for the next two race meetings, the Brazilian will officially be named champion.
"It's a very meaningful win for me, especially because I have been on the bench for three seasons in a row now and I had to find ways to ignite the flame within myself," Moreira said.
"I had a great determination when we started this season, I was more focused, I worked harder and I was more committed, I was hoping that I could really get there and with many other factors as well we did and we can say that now with Zac (Purton) being suspended."
Sealing a fourth title in Hong Kong racing, the 'Magic Man' adds the 2020/21 crown to his previous three in succession (2014/15, 2015/16 and 2016/17) after a season of sustained brilliance in the saddle, which early on, was troubled with an injury to his hip.
"It's been such a different season to any other that I have gone through, I started off with health issues – the hip injury slowed me for a little while," Moreira said.
The Brazilian damaged ligaments in the off-season to his left hip which niggled at him early on through the course of the season before he received treatment in October, 2020.
"It's very obvious that I wouldn't have done it without the support of a lot of people, we all know who has contributed big time and to all of those guys, I just have to express my gratitude to them and how thankful I am for the opportunities to ride such good horses and to also be given the confidence to do so," Moreira said.
This term, Moreira has amassed over HK$208.08 million in earnings for his mounts so far, including a pair of G1s aboard Hot King Prawn in the 2021 Centenary Sprint Cup (1200m) and the 2021 Queen's Silver Jubilee Cup (1400m) atop Waikuku.
He also joined an exclusive club as just the third rider in the history of Hong Kong racing to have ridden 1,000 winners in the jurisdiction alongside only Douglas Whyte and Purton.
"It's obvious that in the last three years I could have won the championship if I didn't make mistakes or if things had gone differently but knowing that just gave me such a bad feeling," Moreira said.
Moreira also snared Hong Kong's most prestigious contest for the second time this term, claiming 2021 Hong Kong Derby (2000m) aboard Sky Darci, who under a superb ride from the 37-year-old overcame stamina doubts to claim the HK$24 million 'blue-riband'.
"The Derby, I would say is my favourite – it's one of Hong Kong's most important races but not just this, the circumstances that we were in with Sky Darci – according to some he wasn't the right horse to be on but to then go and win it was incredibly meaningful and I'm looking forward to the next one," Moreira said.
Eager also for a break after an arduous 2020/21 campaign, Moreira has already begun planning for next season as he embarks on a fifth title in Hong Kong.
"I'm looking forward to the break but if you're a rider and love winning races then you're already thinking of how we're going to make sure that we keep on winning next season and that is already in my mind," he said.
"The preparation for next season has already begun, how am I going to keep it up because there's going to be pressure, everyone will expect me to perform and how am I going to do that, I have to put a lot of thought into all of this."
Following his three titles in succession, Moreira was dethroned as Hong Kong champion jockey by Purton in the 2017/18 season and the Australian held the title in 2018/19 and 2019/20.
Such is the duo's dominance after Purton's initial title in 2013/14, between them they brought an end to Douglas Whyte's supremacy of 13 years and between them have shared the past eight titles, four apiece.
"It seems a long season because of the situation the world is in, the virus has everyone stuck in the same place and we're not allowed to go anywhere, even the break between the last two seasons, it didn't give us the feeling that we had a proper break," Moreira said.
"Last season and this season feel like they have been linked together, it's been a much tougher season for not just me but everyone else."
With four race meetings left in the season, Moreira takes a full book of 10 rides at Sha Tin this Sunday (4 July), while the season's final meeting takes place at Happy Valley on Wednesday (14 July).
MORE HORSE RACING NEWS
Relevant news