Fownes confident Sky Darci can win Lion Rock Trophy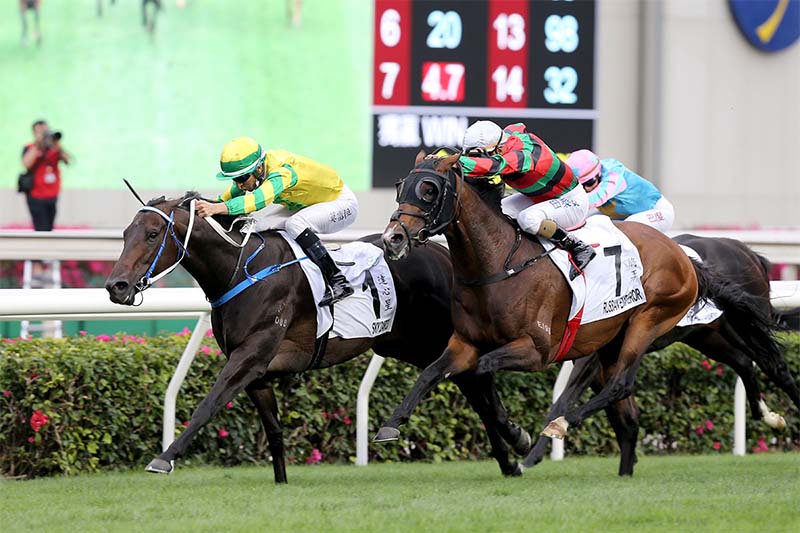 Caspar Fownes is confident BMW Hong Kong Derby (2000m) winner Sky Darci has the quality and versatility to capitalise on favourable weight conditions to bolster the record of younger gallopers in the G3 Lion Rock Trophy Handicap (1600m) at Sha Tin on Sunday.
Sky Darci will carry just 115lb, a probable 1lb over his allotted 114lb – a significantly favourable impost, given four of five winners in the race's brief history have carried 118lb or less with only Ka Ying Star (129lb) hefting more in 2020, when Tony Cruz's charge became the first five-year-old to win the late-season contest.
Fownes is optimistic Sky Darci, to be ridden by Joao Moreira, can add his name to the winners' list and post his seventh Hong Kong triumph from 13 starts.
"I'm extremely pleased, he's had a couple of nice trials, he's ready to go to the races," Fownes said.
"He's come back nice and well, dropping back in trip now, he's got a fresh pair of legs, nice small field, he's going to be competitive. We still respect our opposition in those types of races.
"There are a few nice horses in there carrying lighter weight and obviously at the top end you've got Ka Ying (Star) and More Than This – he looks a good horse as well – but this race normally the lighter weighted horses have an advantage at the end of the season.
"We just had a nice freshen up with him, he's got the miles in his legs to come back at this trip. More than anything, he's ready to go to the races now and I'm very happy with him.
"He might have one more race after this just depending on how he runs and how he pulls up. If he gives us a big effort, there's no reason why I wouldn't give him one more race on the 20th of June."
Fownes suspects Sky Darci has the natural speed to contend while fresh after dropping back from the 2000m Derby trip on March 21.
"I think fresh, he could be a pretty smart sprinter, really – 1200m to 1400m. That's why this race is a little bit of a test for us, coming back and against older horses but at least being a handicap, it should give us some sort of an advantage," he said.
"It will certainly give us a gauge as to where we think he's going to be and what distance we're going to be training him for the coming season."
Trailing John Size 63-65 in the Hong Kong trainers' championship, Fownes has 12 entries across Sunday's 10-race card.
"We're going to be doing our best. I'm glad it's game on. He's doing really well, my stable is starting to fire up. It's going to be close, no matter what. John's had a great season, my horses are starting to run well," the three-time champion trainer said.
"There's a few boys that are chasing us as well, clipping at our heels. It's going to be a final good six to seven weeks and we're going to be there fighting until the last couple of race days."
David Hayes unveils newcomer Naboo Attack in the Class 2 Amah Rock Handicap (1200m), hopeful of building on the stable's recent impetus with the massive gelding, who won five of seven starts for Steve Tregea in Australia when racing as Command 'N' Conquer.
"He arrived at 1400 pounds, so he's a giant of a horse and we've gradually got his weight down to about 1360 (lb). In Australia, he used to race at about 1300 (lb), so he's still got a bit of improvement. I just didn't want to drop his weight too quickly," Hayes, who is a champion trainer in Australian racing, said.
"It's always hard to win on debut in Hong Kong but he's a big horse, shows class in training – he might surprise. Hong Kong tempo is much different to Queensland, they go much faster here and he'll have to go about 1m 08.2s to win and that's not easy to do on debut."
Sitting fourth in the jockeys' championship with 53 wins for the season, Alexis Badel has a full book of rides and expects both Decisive Twelve and Trillion Win to run well.
Decisive Twelve chases his third in five starts for Chris So in the second section of the Class 3 Eagle's Nest Handicap (1200m).
"The horse looks very fit and I'm quite confident he can run a good race again. I think he's quite versatile. If the pace is quite hard, I can just sit behind the leaders – I can also lead if I want to, it just depends on the pace," Badel said.
Manfred Man's Trillion Win is opposed to Naboo Attack in the program's finale and Badel believes the gelding has plenty of scope for improvement.
"He's very fit, he's a young, progressive horse and I believe – from a bottom weight – he has got the ability to win a Class 2 very soon. He's a very nice horse, he's looks in great shape," the Frenchman said.
Irishman Neil Callan returns for the first time since 5 April after taking six rides, including Perfect To Great and Apolar Warrior.
"I don't think I've ever had two months off before. I've kept very fit. I was going up to Beas River the odd time and riding still, so I've kept my eye in and have been watching a lot of racing – it's like riding a bike, you never forget," he said.
With no winner of the Triple Trio last Sunday, a jackpot of more than HK$37 million will be carried over to the pool for Sunday's meeting. In the event that there is only one HK$10 winning unit for the pool, the Triple Trio dividend will reach an estimated HK$60 million, the highest dividend for a Sha Tin meeting since the 2012/13 racing season.
Hong Kong racing continues on Sunday's (30 May, 2021) with a 10-race fixture at Sha Tin kicks from 12.45pm with the Class 5 Tsz Wan Shan Handicap (1800m).
MORE HORSE RACING NEWS
Relevant news