Fownes knocks Size off in Hong Kong trainers champonship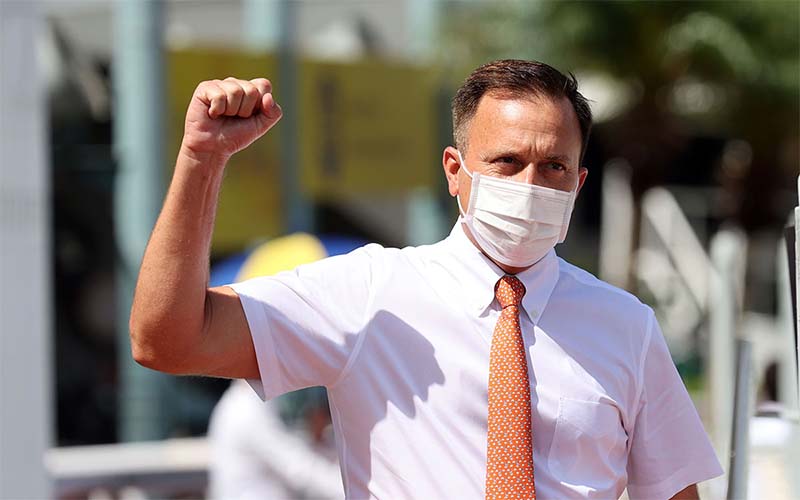 Caspar Fownes has claimed victory in the gripping battle with John Size for the 2020/21 Hong Kong trainers' championship after a pulsating final Sha Tin meeting of the season on Sunday (July 11) saw Fownes emerge with an unassailable lead.
With only nine races left at Happy Valley's season finale on Wednesday night, Fownes leads 79-72 with 11-time trainer Size guaranteed only three certain runners ahead of declarations on Monday, while Fownes has entries in every race.
The HK champion trainer in 2006/07, 2008/09 and 2013/14, Fownes was jubilant after Green Envy delivered the stable's 79th victory of the current term in the first section of the Class 4 All You Wish Handicap (1400m), stretching his lead over Size to nine wins.
"I think it's all over now because there's not enough races, what am I nine in front with 14 races to go? I'm pretty safe," he said.
"I'm pretty happy. We've worked hard this year to get this result. Extremely happy for all of the team. We've all worked hard and it's been a great challenge, a great fight – and a lot of fun. It's exciting.
"We've had a very big season and the pressure has been on the last couple of months."
Size, who finished Sunday's program with a double, credited Fownes' outstanding season.
"I have to be satisfied with it (the season), 72 winners is a pretty good score. I'm reasonably pleased with the outcome," he said.
"Caspar's horses run straight and true every week and when you get up near 80 you deserve to win."
With a seven-win buffer heading to Happy Valley horse racing on Wednesday night, Fownes, 53, believes the turning point of the season arrived on May 23, when Size surged to a six-win lead.
"When John went six ahead of me on the 23rd of May, it was going to look quite tough to come back and beat him because he's such a great trainer and a great champion over the years," Fownes said.
"When he won those early races in the day and he went six wins in front and I came back and won three races at the end of the day and he was three in front.
"I like to fight. I like the challenge and I was there for it all season. It's wonderful how it's worked out. We've put a lot of hard work in and we've got a lot of good horses in the stable.
I'm looking forward to next season already, but it's been a magic season.
"I always felt I had a good chance this year. We had the horses in great positions and they were in form.
"We got a lot of seconds, a lot of thirds and now a lot of winners, so it's been a wonderful season."
Fownes' highlight during a resurgent season was the Hong Kong Derby (2000m) triumph of Sky Darci.
Size cut the deficit to seven on Sunday with Drops Of God, whose effortless victory in the Class 3 Pingwu Spark Handicap (1200m), and unbeaten Blaze Warrior, victor in the Class 3 Contentment Handicap (1400m) gave Joao Moreira a quartet – and his 1100th winner in Hong Kong.
"Nice horse (Drops Of God), gave me such an amazing feeling in the straight when I put him under pressure. Each furlong, he was finding more and more. This guy has a bright future here," Moreira said before acknowledging his latest milestone.
"It's meaningful. I wouldn't ever dream to get to this mark when I started off but I was blessed enough to get there but I did not get there alone.
"I had great support from the family – psychologically big-time. That's what it's all about and I'm glad I didn't let them down."
Harry Bentley celebrated his most important success in Hong Kong racing when the Englishman piloted Preciousship to record-breaking success in the Class 1 Sha Tin Mile Trophy Handicap for Ricky Yiu.
The son of Iffraaj clocked 1m 32.24s to topple retired champion Beauty Generation's 1600m record, leaving Yiu surprised – but delighted.
"I was so surprised but the track condition is on the firm side, but the tempo suited my horse," Yiu said.
"This horse is half a class better because he was carrying a light weight (116lb) and he's a small horse, but he's got a massive heart.
"The good draw helped, the tempo helped and the firm track helped. Harry did a good job. He's still learning and he'll be an even better jockey next season."
Bentley's fourth winner of the season delivered a timely boost for the young Brit.
"Of late obviously I've been getting some better horses and being more in the frame, which is fantastic," he said.
"To be able to get one of these races over the line is really great. I've had a couple of near misses in Class 2 which has been a bit frustrating but this makes up for it."
Francis Lui's Lucky Patch continued the record-breaking spree under Jerry Chau in the Class 1 Hong Kong Racehorse Owners Association Trophy Handicap (1200m).
The El Roca gelding clocked 1m 07.61s to lower Sacred Kingdom's Class 1 mark of 1m 07.80s set in 2007.
Lui believes the four-year-old can progress to better class.
"If he can improve, I think he can be a Group horse. We might look at racing him in the Chief Executive's Cup on opening day," he said.
Sidelined recently with chickenpox, Chad Schofield posted a double with David Hayes-trained Lucky With You and Gluck Racer for Jimmy Ting.
Schofield was impressed with Lucky With You, winner of the first section of the Class 4 Entrapment Handicap (1200m).
"The margin wasn't big, but it was softer than it looked. He showed his speed, got to the front, spat the bit out and just relaxed completely," Schofield said.
"I kept him going between the 400m and the 200m, he was all alone out in front and looking around, so it was just a matter of keeping him going to the line. He's a nice young horse.
"Fantastic Treasure is five out of five and a Class 2 winner – this guy has just won a Class 4 but he's a very nice horse himself and I think next season you'll see a lot of him."
Gluck Racer claimed the second section of the Class 4 Victory Marvel Handicap (1200m) for Ting, who sealed an early double after Alloy King's success.
"It's nice to have a win (after the illness), he's a nice pick-up – first reserve and he got a run. I was booked to ride him on Wednesday night but he came with a good draw today and he had the run of the race and won very softly," Schofield said.
The opening to the meeting featured a string of drought-breaking performances.
Antoine Hamelin and Ting combined to propel Alloy King to victory in the Class 5 Mr Award Handicap (1200m) – the Zoffany gelding's first success at his 16th start before Karis Teetan and Yiu produced Super Mission in the second section of the Class 4 Big Profit Handicap (1400m). By Super Easy, Super Mission had been placed in four of his previous 10 outings.
Chris So and Vincent Ho continued the theme in the Class 5 Medic Kingdom Handicap (1400m) when Jiangxi Stamina prevailed at his 12th start.
Ho leads Chau 59-57 in the race for the Tony Cruz Award, which is presented to Hong Kong's leading home-grown rider.
Hong Kong racing continues with the season finale at Happy Valley on Wednesday (14 July).
MORE HORSE RACING NEWS
Relevant news