India v Pakistan preview, player tips & predictions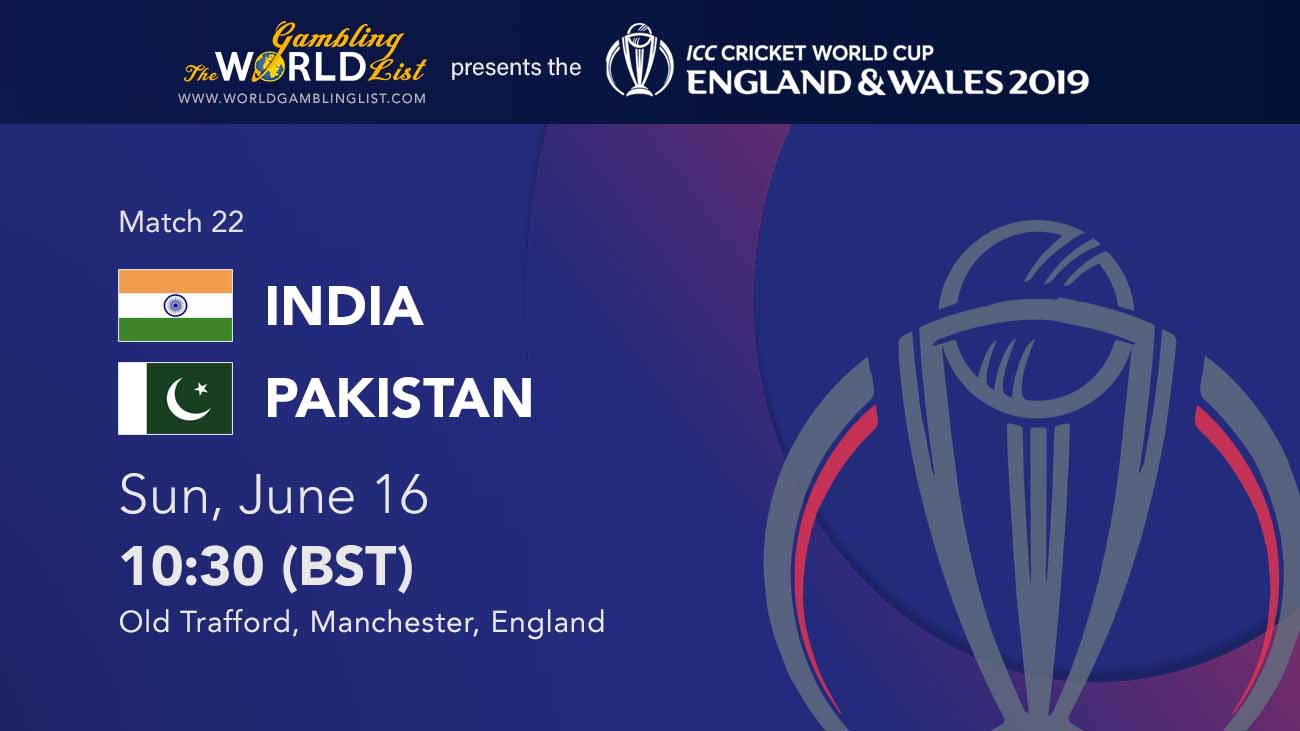 ---
MATCH INFO
India v Pakistan
Venue: Old Trafford, Manchester, Sunday, June 16, 10.30am (British time)
Head to head odds: India $1.40; Pakistan $2.90
Last time they met: India 1-238 (39.3 overs) d Pakistan 7-237 (50 overs) in Dubai, September 23, 2018.
---
In this India v Pakistan match, we have arguably the most hyped match of the tournament unless the pair happen to meet again in the final.
This is cricket's ultimate derby but in this case it goes beyond a mere sporting conflict to claim bragging rights.
Pakistan and India have been at each other's throats for decades and tensions have flared again recently across the defacto border in the disputed region of Kashmir.
Old Trafford has a capacity of 26,000 for this match yet there were 800,000 applications for tickets, and World Cup organisers expect up to 1 billion people to watch the match.
So as always when they meet there is a lot at stake. India have been near perfect so far, while Pakistan are going to struggle to advance having lost twice and suffered a washout.
Yet Pakistan showed what it is capable of with a memorable win against hot favourites England, and seem certain to dig deep for this occasion.
Our favourites British cricket bookie William Hill is offering all sorts of markets on this fascinating clash.
This India v Pakistan betting preview will run you through some of those betting options for match 22 of 48 of the Cricket World Cup 2019.
India v Pakistan odds:
For full markets visit the William Hill website.
HEAD TO HEAD BETTING:
India $1.40, Pakistan $2.90
Prediction: India are a perfect six from six against their most bitter rivals in World Cup matches. But of course every win brings you a closer to a defeat, so we have an inkling it could be a day for Pakistan to cause a shock. They certainly have the firepower, given their T20 No.1 world ranking.
TOP RUN-SCORER BETTING:
India:
Top five in betting: Virat Kohli $3.25, Rohit Sharma $4, Shikhar Dhawan $4.50, Lokesh Rahul $4.50, Vijay Shankhar $7.50.
Top scorers from past five ODIs:
v New Zealand: Match abandoned
v Australia: Shikhar Dhawan 117
v South Africa: Rohit Sharma 122no
v Australia: Rohit Sharma 56
v Australia: Shikhar Dhawan 143
Pakistan:
Top five in betting: Babar Azam $3.75, Fakhar Zaman $4.50, Imam-ul-Haq $4.33, Mohammad Hafeez $6, Haris Sohail $8.
Top scorers from past five ODIs:
v Australia: Imam-ul-Haq 53
v Sri Lanka: Match abandoned
v England: Mohammed Hafeez 84
v West Indies: Fakhar Zaman 22, Babar Azam 22
v England: Sarfaraz Ahmed 97
Top batter prediction: India's top order has been superlative; if Dhawan or Sharma don't get you then Kohli will! But of course the line-up does not end there. We will try MS Dhoni at big odds given his tremendous record against Pakistan. Similarly, for Pakistan Mohammad Hafeez ($6) has traditionally done well against India.
TOP WICKET-TAKER BETTING:
India:
Top five in betting: > Jasprit Bumrah $3.50, Yuzvendra Chahal $4, Bhuvneshwar Kumar $4.50, Kuldeep Yadav $5, Mohammed Shami $5.
Top wicket-takers from past five ODIs:
v New Zealand: Match abandoned
v Australia: Jasprit Bumrah 3-61, Bhuvneshwar Kumar 3-50
v South Africa: Yuzvendra Chahal 4-51
v Australia: Bhuvneshwar Kumar 3-48
v Australia: Jasprit Bumrah 3-63
Pakistan:
Top five in betting: Mohammad Amir $3.75, Wahab Riaz $4, Hasan Ali $4.50, Shadab Khan $4.50, Shaheen Afridi $5, Imad Wasim $5.
Top wicket-takers from past five ODIs:
v Australia: Mohammad Amir 5-30
v Sri Lanka: Match abandoned
v England: Wahab Riaz 3-82
v West Indies: Mohammad Amir 3-26
v England: Shaheen Afridi 4-82
Top bowler tip: Mohammad Amir is having a barnstorming World Cup and we have been on the bandwagon, tipping him to top his team's match wicket-takers. He will be vital to his team's chances again. Similarly we have spruiked hard for Jasprit Bumrah and have no reason to abandon the world's no.1 ODI bowler at $3.50. Check for enhanced odds at William Hill in the lead-up to the match.
WGL best bets: India v Pakistan
Each of our ICC World Cup betting previews will highlight some potential wins for punters, or where our cricket tipsters think there is value to be found.
MS Dhoni man of the match $17
This match will require cool heads and they don't come any cooler than Dhoni's. The veteran keeper may conceivable not even get a look in with the bat, but we have an inkling he may be called upon for a big knock. There is sure to be huge pressure on the earlier batsmen right from the start. Just a small bet on him anyway.
Total match six under 9.5
Going with the theme the match will be tight, maximums could be hard to come by. Under 9.5 at $1.83 seems fair, maybe a leg for a multi into the winning team.
India v Pakistan prediction
A match for the ages and viewers need no more incentive to watch it. We are just excited to see two fierce rivals go at it. India are a wonderful team, while Pakistan vacillate between wonderful and plain. Which will they be in this clash? Just sit back and enjoy the theatre of it all.
ALSO READ:
ICC World Cup 2019 betting guide
ICC World Cup 2019 leading wicket-taker
Cricket betting sites
ICC World Cup 2019 leading run-scorer
ICC World Cup 2019 player of tournament
Relevant news